Lancaster Playwriting Prize
About The Prize
The Lancaster Playwriting Prize is an initiative arising out of the cultural partnership between Lancaster University and The Dukes Theatre, Lancaster; it is supported by Lucy Briers (actress and Lancaster University alumna). The Prize aims to discover new voices from a diverse range of backgrounds; each year, it has different entry criteria in order to reach underserved playwrights. In 2018, the Prize was aimed at unproduced Black, Asian, Ethnic Minority and Refugee writers from North West England.
In 2019, the Prize was focused on unproduced writers aged over 55 who are based in the region.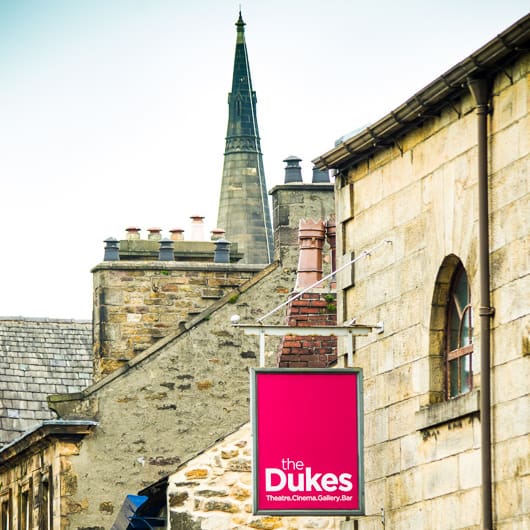 2019 Lancaster Playwriting Prize Shortlist
Entries were read initially by a team of Lancaster University students; the final judging panel this year comprised Lucy Briers (actress, Lancaster University alumna and prize funder), Eugenia Caruso (actress and Lancaster University Creative Writing student), Dr Tajinder Singh Hayer (Lecturer in Creative Writing at Lancaster University and Prize director), Karen O'Neill (Chief Executive of The Dukes) and Nick Quinn (literary agent from The Agency).
The £1500 prize was shared by Alison Chaplin (for her play, Dancing Backwards) and Harvey Cox (for his play, Burial Detail).
All the shortlisted writers – Alison Chaplin (Dancing Backwards), Harvey Cox (Burial Detail), Suzanne Jeans (An Absence of), Karen Rigby (Dusty Bates throws like a girl) and Amanda Webster (For One Night Only) – will receive mentoring from Dr Tajinder Singh Hayer.
Competition Deadline
The deadline for the competition has now passed.
What we're looking for
Criteria for the next Lancaster Playwriting Prize will be announced in the 2020-21 academic year.