Contagious – Jonah Berger
About the Author
Jonah Berger is a marketing professor at the Wharton School at the University of Pennsylvania. He is also the author of the New York Times and Wall Street Journal bestseller 'Contagious: Why Things Catch On'. Jonah has published dozens of articles in academic journals whilst consulting for a number of different Fortune 500 companies. He has spent the past 15 years studying social influence and how it causes ideas and products to go viral which has lead him to become one of the world's leading authorities on the matter.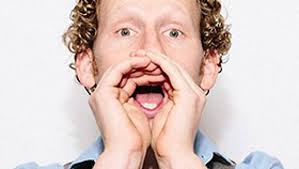 Intro
In Contagious Jonah Berger explains how influential word of mouth is in the decision making of consumers. Word of mouth he says is so big because people love to share things with those around them and what those around us say influences everything we do, say, read and buy. It is actually the biggest contributor to virality over anything, being the primary factor for twenty to fifty percent of all purchasing decisions. The main reasons for this are a) We are much more likely to listen to what our friends say about a product over an advertisement. This is because ads are biased whereas our friends will tell us what they honestly think. b) Word of mouth is also targeted, so we are unlikely to tell our friend about a product they have no interest in but will tell them about a product related to their interest. c) Even when ads are directed at an interested audience, the audience may not need the product the ad is pushing as they already have it.
So that is why word of mouth is influential, but how can we best use this to our advantage?
To answer this question we will explore 4 of the key principles the book offers:
1. Social Currency
People love to look cool and disclosing information about the self is intrinsically rewarding, this is probably because about forty percent of what we talk about is our own personal experiences and preferences, so if your product can provide social currency you're onto a winner.
You can provide social currency in 3 ways:
a) Find inner remarkability – The fact is people love talking about remarkable things, which is why you will need to make your product or service surprising, novel or interesting. When people share remarkable things with others the story gets exaggerated and details are lost in order to make people look better. This leaves the core details of your product and the more remarkable they are the better. Offering things that are deemed impossible, mysterious or controversial are great ways to find inner remarkability.
b) Leverage game mechanics – This is literally incorporating a game into your product or service. The best example of this is the McDonald's Monopoly which happens every year. It is so effective because it is a challenge to win prizes which everyone enjoys, you have the opportunity to achieve things which entices people, it also enables you to compare your progress with others and it gives you the opportunity to boast to your friends about how many of the tokens you have or how close you are to getting all of one colour. Being able to look good in front of people increases social currency tenfold.
c) Make people feel like insiders – If you can make people feel like they are part of an exclusive club or they gain perks from being a part of your service this can increase social currency massively. Examples of this are secret bars, listing products as limited edition or having a membership providing paying customers with perks non-members don't get.
What word of mouth do you want?
Before we get into the next principle it is important to mention that there are two types of word of mouth, immediate and ongoing. Opening a funny email and telling your friend next to you would be immediate word of mouth but ongoing word of mouth would be talking about something or using something weeks or months after you first heard about it. Different products and services rely on different types of word of mouth, movies for example rely on immediate word of mouth as they are trying to sell big when they release, an anti-bullying campaign on the other hand would be ongoing as they are hoping to cause ongoing change to stop people bullying. When something is remarkable or interesting it is very good at getting immediate word of mouth but research has shown that there is no difference between an interesting and boring product when it comes to ongoing word of mouth. So what causes the difference?
2. Triggers
Top of mind – There are always things which are more top of the mind than others. What is top of mind is influenced heavily by what is around us or what we are fanatics about, a football fan may always have football at the top of their mind because that is what they love. All of the things in our surrounding environment that our senses pick up trigger what is at the top of our mind. These triggers can be both direct (smelling pizza so thinking of pizza) or indirect (seeing a jar of peanut butter and thinking of jelly). The reason we want to trigger things to be at the top of people's minds is because those accessible thoughts turn into actions and ultimately sharing.
How to use triggers – When we are conversing with others the main thing we have in mind is to keep that conversation going in order to show that we aren't poor conversationalists, so we will say whatever is at the top of our minds in order to do that. This is why things that are triggered in our everyday lives are so important as they influence what we talk about. Research has shown that triggered products get more ongoing word of mouth than non-triggered products so it is important that we use these triggers to our advantage. Here are a few different ways you can do that:
a) If something is used every day it stays at the top of the mind which leads to it being at the tip of the tongue. You want a product that is triggered by your everyday environment, the more interesting the better but that doesn't matter as much as triggers as products that are triggered more frequently get 15% more word of mouth.
b) Another thing you can do is to have your product link strongly to something else that is frequently used, just like peanut butter is strongly linked to jelly. Take note however that the link must be unique and strong, red and coca cola go together but you will probably think of other things first when you see the colour red.
c) You also need to consider the context, so think about the environment of the people a message or idea is trying to trigger. Different environments have different stimuli, so certain triggers will be more effective depending on where people live. The 100 dollar cheesesteak would not have worked if it had been outside a city famous for its cheesesteaks for example.
Social Currency gets people talking but triggers keep them talking.
Now you will have noticed so far that the more we see things the more we are triggered by them, which leads us to the next principle which is making your product public.
3. Public
For a product to be public it needs to be visible to other people. We are always looking to others for information on how to behave, what to wear, what products to use so it makes sense that we are more likely to buy something that we see other people using, as the product has social proof. Apple for example made the decision to flip the logo on their laptops. Originally the logo would appear the correct way up to the user when they closed the laptop however it would appear upside down to anyone observing that person use the laptop. Now this made it difficult for people to see what the laptop owner was using as it wasn't designed to look good to others. Noticing this Apple flipped it so other people could see the logo the right way up. They decided that having it look good to other potential buyers was more important; this gave the laptop social proof and also massively increased their sales. The more visible a product is to observers the more likely we are to buy it.
So what happens when your product is not a public product, but a private one?
The fact of the matter is people are more likely to be influenced to buy a t shirt than a tube of toothpaste; simply because of the amount of social proof that comes with a public product (t-shirt) over a private one (toothpaste), and that we very rarely see the brand of toothpaste people use. This does not mean however that we cannot make something that is private public. A fantastic example of this is Movember, which helped to spread the awareness of prostate cancer. By growing moustaches randomly, which is both unusual and visible, it sparked people to ask those with moustaches why they were growing them. They would then be informed of the reason and the cause behind it.
So we have looked at social currency, we have looked at triggers and we have looked at making your product public, what else is there to make your product go viral?
4. Emotion
Emotion has been known for quite a while to be an effective tool for spreading word of mouth however it has always been quite hit and miss. Originally researchers thought that the reason emotions were so effective at spreading word of mouth was because they made us feel good, so things like awe, excitement and contentment all caused us to spread the word. When actually running experiments with different emotions researchers found that there was an increase in word of mouth from both positive and negative emotions just like sometimes where there would be no effect whatsoever. So what is the reason for this? Why do some emotions cause virality and why don't others? The general conclusion is that for an emotion to cause word of mouth it needs to cause a state of high arousal, regardless of whether that emotion is a positive one or a negative one. Emotions that do this are those like humour, excitement, awe, anger and anxiety. Emotions that cause low arousal such as contentment and sadness do not cause virality. The reason high arousal emotions work is that they make us take action. You are not going to take action when you are sad or content as you are relaxed and slowed right down whereas anger, anxiety or excitement raise the heart rate like fight or flight and make you much more likely to talk about or share something.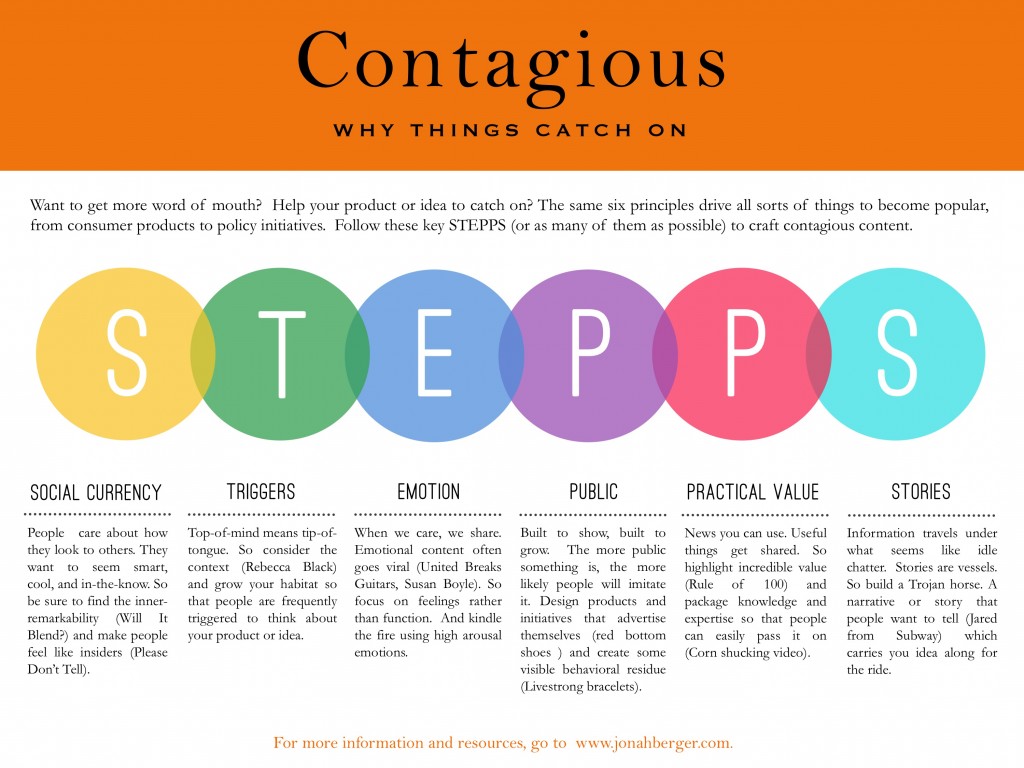 Conclusion
So, next time you try to get your product to go viral have a think about the boxes you need to tick. Does your product make people look cool and provide them with social currency? Will your product be triggered often enough for people to think about it? Does it cause high arousal emotions? And is it in the public eye? If not how can you go about making it public? Doing all of these things can set you up a very powerful marketing campaign and give you an edge when it comes to marketing. There is more to each of these principles however and we have not covered practical value or storytelling, so after reading this, buy the book, it should really be your marketing bible.