Ready Unlimited is a small team that makes a big impact
Amanda Brooks, Enterprise Education Development Manager in The Lancaster University Enterprise Team reflects on learning from the recent International Educators Conference:
At the International Enterprise Educators Conference in Glasgow Caledonian University in September, I met Managing Director and principal consultant Catherine Brentnall of Ready Unlimited who was there to share and launch a draft of her guide for Secondary School teachers to support the development of careers and enterprise through the curriculum.
The guide – The Bootleg Benchmarks – 'Eight ideas for Careers and Enterprise through the Curriculum' – was developed through a project funded by Enterprise Educators UK, and delivered in partnership with the University of Hertfordshire.
The guide, and an accompanying pedagogy survey, helps identify pragmatic actions which subject teachers can utilise, adapt and experiment with in their own classroom.  Catherine shares the Lancaster University's Enterprise Team's vision that through education, young people develop the enterprising and entrepreneurial knowledge, mind set and behaviours relevant to the challenges and opportunities of the 21st century. To achieve this, her mission, like our own, is to work with a community of educators so they can incrementally create and strengthen enterprising and entrepreneurial teaching and learning for all young people, through the curriculum.
Catherine welcomes feedback on Bootleg Benchmarks, and although it was designed with secondary schools mind, it's an excellent starting point for teaching staff in HE wanting to innovate their practice.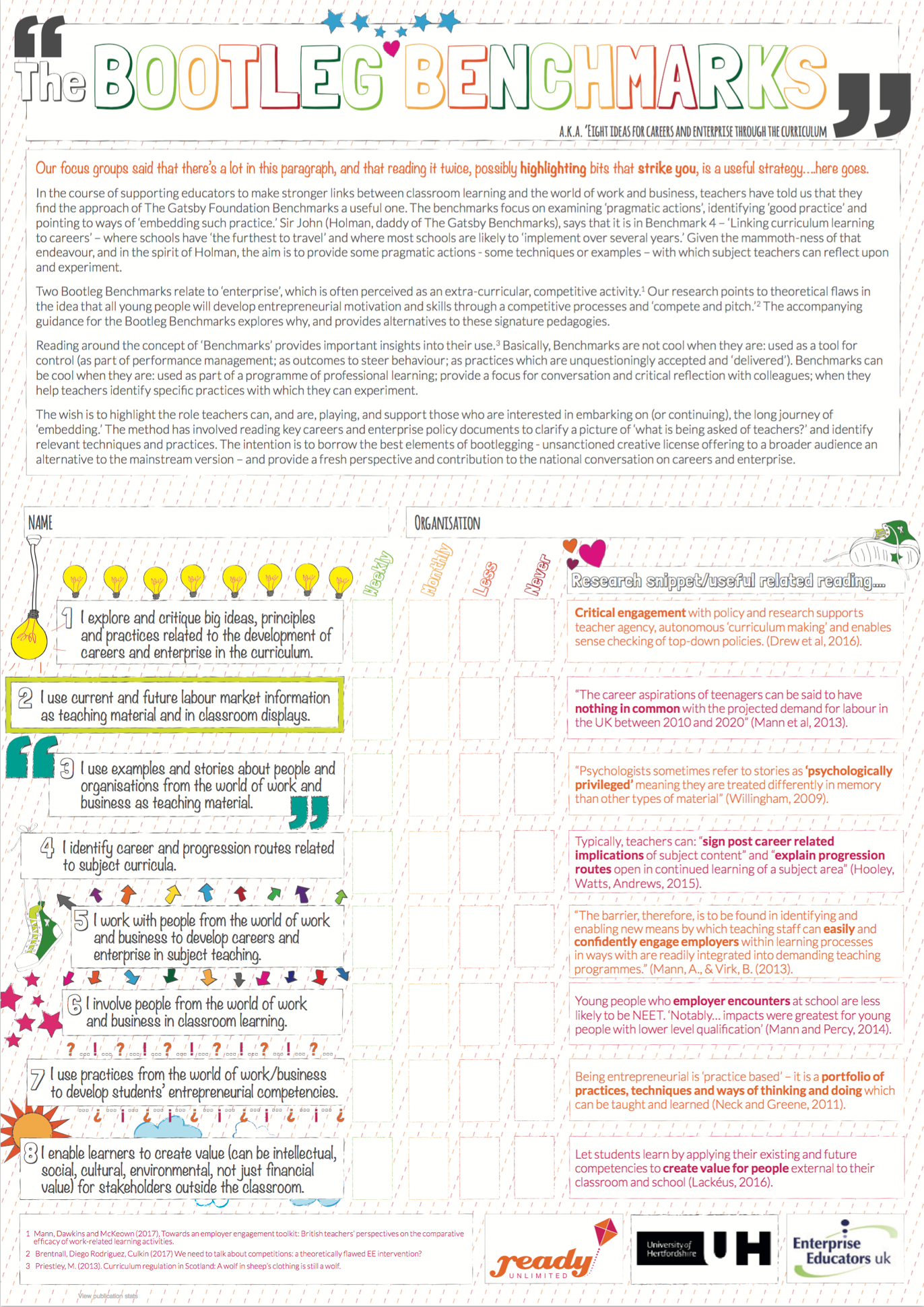 Catherine works with hundreds of teachers and Head Teachers every year across the UK and abroad.  Her unique combination of skills and expertise enable her to bridge the gap between academic entrepreneurial learning theory and practice by effecting real change in classrooms.  '"If you give teachers the time and tools to develop enterprise education for themselves, they can change the experience of every student that comes into their classroom.' said Catherine. Teachers involved in developing enterprise and Entrepreneurship education in the curriculum say it has enabled students to:
Have a sense of belonging and purpose in their community
Develop a love for lifelong learning
Connect with the world of work and business that they will one day move into
Develop enterprise capability, financial capability and economic and business understanding
See and make opportunities
For teaching staff at Lancaster interested in learning how they might start to introduce Enterprise into their modules the Bootleg Benchmarks offers a helpful eight-point check list from which to benchmark current practice.
Further reading on Enterprise and Entrepreneurship in the Curriculum in the QAA's Enterprise and Entrepreneurship Guidance:  http://www.qaa.ac.uk/en/Publications/Documents/enterprise-entrepreneurship-guidance.pdf
For the academic Year 2017/18, The Enterprise Team will be working with faculty teaching staff who offer curricular placements, consultancy projects and/or competitions, to design and promote co-curricular enterprise sessions to enable students to build a foundation for their commercial awareness and concepts of value creation in preparation for contact  with organisations. This offer is enhanced by the opportunity to join a community of enterprise learners in the weekly 'Labs' in the Learning Zone.
To get connected with other teaching innovators at Lancaster you can join LEEN (Lancaster Enterprise Educators Network) for updates on events and opportunities available to teaching staff at Lancaster by registering here
EEUK's International Enterprise Educators Conference happens every year in Early September. Slides and themes from this year's event can be seen here and here. Lancaster university is a member organisation of EEUK and staff can attend the EEUK best practice events throughout the year for free. Regular updates through LEEN.
Careers and Enterprise through the Curriculum – guide to accompany pedagogy bench marking tool. (PDF Download Available). Available from: https://www.researchgate.net/publication/319872913_Careers_and_Enterprise_through_the_Curriculum_-_guide_to_accompany_pedagogy_bench_marking_tool [accessed Sep 17, 2017].
Amanda Brooks, Enterprise Education Development Manager
Lancaster University Enterprise Team