Edward Roberts Court Remodelling
Now enriched with a cluster of popular retail outlets, Edward Roberts Court has been remodelled improve accessibility, re-shaping the pedestrian route and creating an attractive social space that features new landscaping and seating areas.
A Food and Social Destination.
Lancaster University invested £1 million in the transformation of its main food and social destination on campus in 2018. The two year project commenced construction in June 2019 and completed in February 2020.
The court was originally constructed in 1995, following the Death of American Disability Rights activist; Edward Roberts, as an accessible link between North and South campus. It was completely remodelled as part of the recent project, bringing the ramped design up to modern standards for accessibility.
The space was furnished with communal benches and 'Spanish Steps' that provide additional seating; ideal for relaxing and hosting social events. The project aimed to provide a multi-function space that could be utilised by Students' Union societies and Lancaster Arts for live performances and pop-up shops. Bringing the space to life.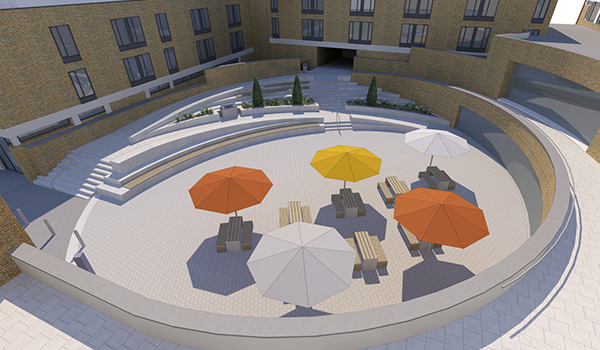 A Place to Relax
The new space has been opened up to encourage friends to relax and enjoy a break together. Seating in the court resembles Alexandra Square, accommodating large groups, as well as smaller groups or individuals. The ramp has been widened, cutting through the seating area, with landscaped greenery throughout the space to make Edward Roberts Court a relaxing and welcoming environment.
Business as Usual
A phased approach to construction meant that retail outlets could stay open throughout the project.
Accessible to Everyone
The food court was constructed in 1995 to provide a wheelchair accessible route between North and South Campus. The project plans improved accessibility by overhauling the pedestrian route, widening the ramps and creating a gentle incline. The designs followed the University's Minimum Design Specification Standard for Accessibility, an in-house minimum specification of design and build that was produced by the University in 2019, to ensure campus exceeds current best practice.