Proceedings of
The International Symposium on
Using Corpora in Contrastive and Translation Studies

(UCCTS 2008)
Edited by
Richard Xiao, Lianzhen He, and Ming Yue
<![if !vml]>

<![endif]>
Zhejiang University, Hangzhou
25-27 September 2008
UCCTS 2008 Organizers

Beijing Foreign Studies University

Lancaster University

Shandong University

University of Central Lancashire

Zhejiang University

Conference Sponsors

School of International Studies, Zhejiang University

John Benjamins Publishing Company

Zi Corporation, Canada

Academic Committee

Dawn Archer (University of Central Lancashire)

Michael Barlow (University of Auckland)

Silvia Bernardini (University of Bologna)

Lianzhen He (Zhejiang University)

Huaqing Hong (National Institute of Education, Singapore)

Defeng Li (Shandong University / SOAS, University of London)

Tony McEnery (Lancaster University)

Scott Songlin Piao (Manchester University)

Paul Rayson (Lancaster University)

Kefei Wang (Beijing Foreign Studies University)

Anne Wichmann (University of Central Lancashire)

Richard Xiao (Zhejiang University / Edge Hill University)

Jiajin Xu (Beijing Foreign Studies University)

Ming Yue (Zhejiang University)

Local Organizing Committee

Jieping Fan

Lianzhen He

Richard Xiao

Yaping Yao

Hang Li

Shangchao Min

Liqing Qiao

Aijin Que

Jie Wang

Xing Wenren

Licheng Xie

Haihong Wang

Yannv Wang

Shasha Xu

Wenwen Ye

Shulin Yu

Ming Yue

Songbo Zhou

Ye Zhu
---
Preface
The international symposium on Using Corpora in Contrastive and Translation Studies (UCCTS) aims to provide an international forum for the exploration of the theoretical and practical issues pertaining to the creation and use of corpora in contrastive and translation studies. The conference is related to, but not restricted to the following themes:
<![if !supportLists]> ¤ <![endif]>Design and development of comparable and parallel corpora
<![if !supportLists]> ¤ <![endif]> Processing of multilingual corpora
<![if !supportLists]> ¤ <![endif]>Using corpora in translation studies and teaching
<![if !supportLists]> ¤ <![endif]>Using corpora in cross-linguistic contrast
<![if !supportLists]> ¤ <![endif]> Corpus-based comparative research of source native language, translated language and target native language
<![if !supportLists]> ¤ <![endif]> Corpus-based research of interface between contrastive and translation studies
The UCCTS 2008 conference, which took place in the scenic city of Hangzhou, China on 25-27 September 2008, has been organized jointly by Zhejiang University, Beijing Foreign Studies University, Shandong University in China, and the University of Central Lancashire and Lancaster University in the UK, and sponsored by the School of International Studies of Zhejiang University, John Benjamins Publishing Company as well as Zi Corporation, Canada. We have had the great honour and pleasure of welcoming about 60 conference delegates from 38 institutions in 14 countries and regions. The languages covered in the papers presented at the conference range from English and Chinese to French, German, Dutch, Italian, Portuguese, Arabic, Persian, Japanese, Uyghur as well as Tok Pisin.
I would like to take this opportunity to express my gratitude to all conference delegates, especially our keynote speakers and presenting authors for their willingness to share their research outcomes, to the Local Organizing Committee for their unfailing support, without which this conference would not have become possible, and to our local postgraduate volunteers for their hard work, which has contributed greatly to ensure the success of the conference and to make the event more enjoyable. Thank you!
Richard Xiao
Chair, UCCTS Organizing Committee
October 2008
---
---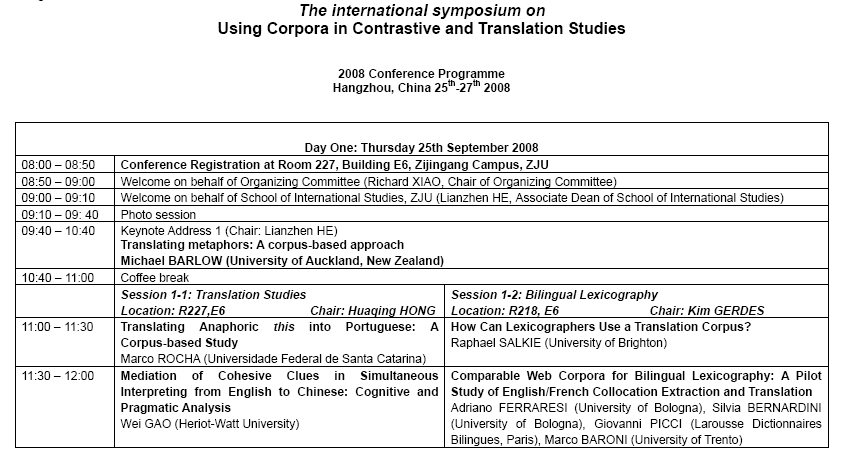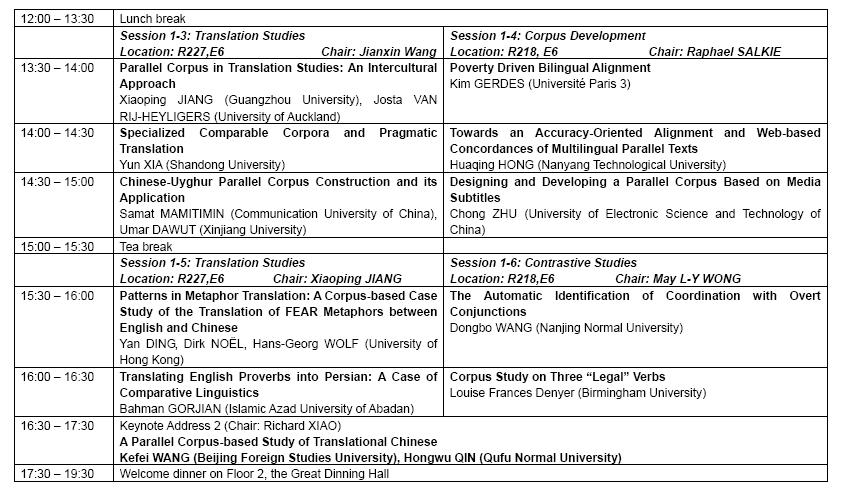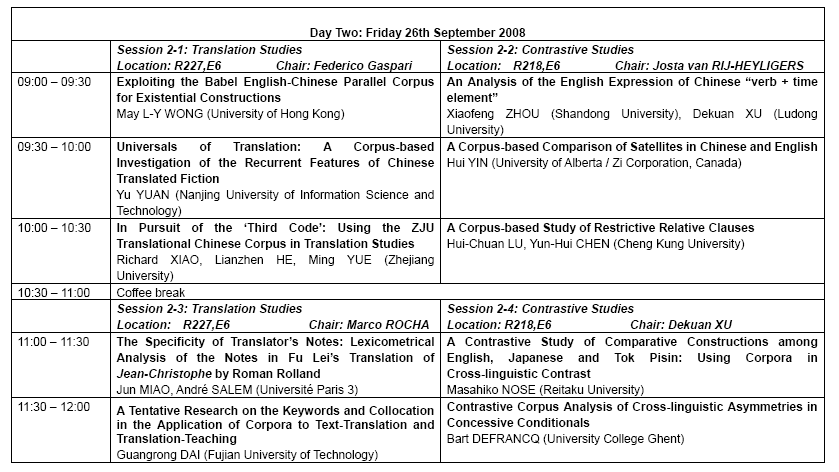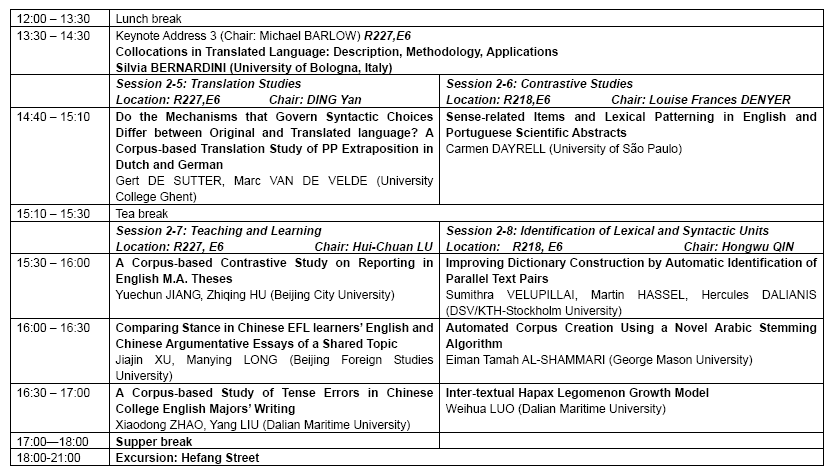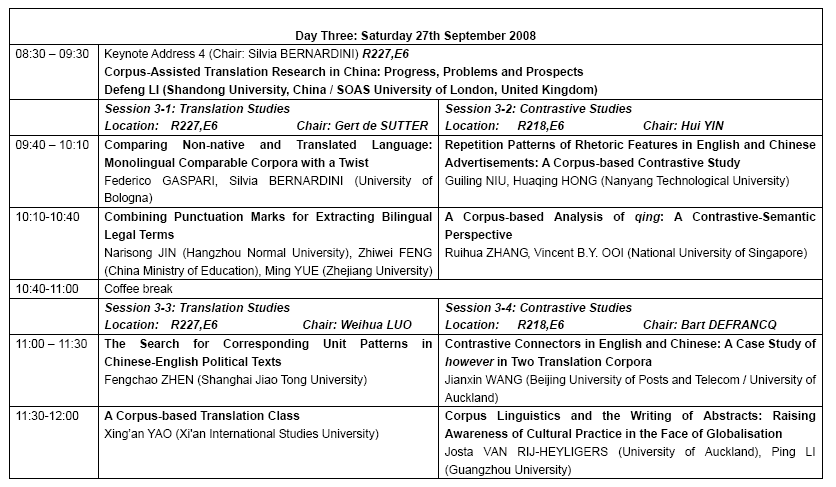 This page is best viewed with Internet Explorer.