The seal of the Muscovy Company, 1555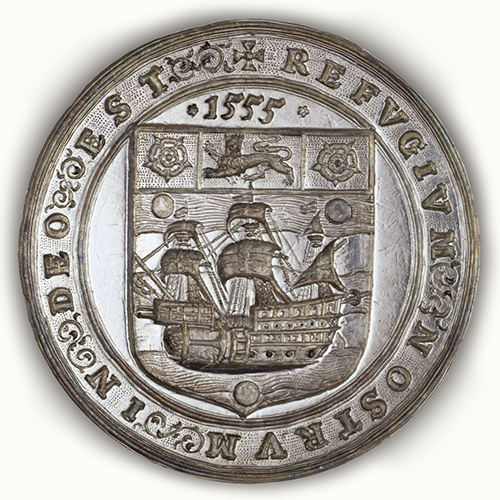 The Muscovy Company, originally The Company of Merchant Adventurers to New Lands, was renamed and reconstituted after Richard Chancellor's successful expedition to Russia in 1553. Chancellor sailed round the top of Scandinavia and arrived at Kholmogory on the Northern Dvina, where there was an important trading monastery. From there he made the 600-mile journey by sleigh to Moscow. Tsar Ivan IV (Ivan the Terrible) welcomed the English, because they seemed to have opened up a viable Russian sea-route to the West (the Baltic was not yet available). Chancellor returned to England in 1554 bearing letters from the Tsar, and the Company was given its charter given its charter in 1555 by Queen Mary Tudor. He returned to Russia the next year, but was shipwrecked off Scotland on his return. He drowned, but the Russian ambassador, Osip Nepeya, survived and eventually made an impressive Entry into London.
This image of the Company's seal-die, with its motto ' +REFVGIVM NOSTRVM IN DEO EST' is © The Trustees of the British Museum. Museum number 1928,0315.1, Asset number 35065001. Reproduced under Creative Commons 4 licence (CC BY-NC-SA 4.0). Go to British Museum website for an enlargeable image and more information.