The Research
"Taxonomy at a Crossroads: Science, Publics and Policy in Biodiversity" is a 3 year interdisciplinary research project which brings together social and natural scientists to explore contemporary innovation in the taxonomic sciences.
We are witnessing interesting shifts in the ways in which taxonomy is practiced - especially with the recent introduction of DNA barcoding techniques - an introduction which has provoked a whole spectrum of reactions from the taxonomic community.
The implications of these changes for scientific, public and policy communities are beginning to be felt and observed. As such, a social scientific insight is welcome as the futures of taxonomy and of biodiversity science gradually take shape on a global playing field.
Read project briefing document»
Main Contact: Dr Rebecca Ellis
Research Team and Partners
The project is being undertaken by a team of social scientists at Lancaster University in collaboration with a team of natural scientists at the Natural History Museum, London.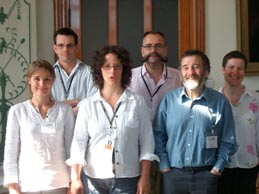 Our Partners include:
Funding
The project is funded by the UK's Economic and Social Research Council. The ESRC are strongly committed to funding social scientific research which explores the roles contemporary science and technologies can have in society today.
Project Outcomes
Academic publications in social scientific and natural scientific journals
Research briefing pamphlet for sponsors of taxonomic institutions and scientific community
Final Project Conference to share and discuss project findings with all project participants
Interdisciplinarity and Innovation
"Taxonomy at a Crossroads" has developed from a previous fruitful interdisciplinary research project "Amateurs as Experts". Aside from being a further example of interdisciplinary research, we believe there is something particularly innovative about this project. This is because it uses a 'Consortium Building Methodology' to ensure that real and open dialogue is ongoing between the research team and project participants. This means that through our research, social and natural scientists will be able to work together to reflect upon and potentially shape the possible futures for taxonomy and biodiversity science in general.