Enhancement Groups and Networks
Active Learning Network
The aim of the Active Learning Network Lancaster is to share, discuss, support and amplify existing ongoing practice at Lancaster (and beyond) that relate to active learning and teaching methodologies. The 'Active Learning Network' will provide a forum/network to raise awareness of existing and emerging active learning methodologies, for example 'Team Based Learning' and the potential of 'digital technologies' that might support and enable those methodologies.
It is the aspiration of the network as we move forward through the coming years to (a) create a forum/sandpit in order to bring like-minded people together to share practice and ideas, (b) to create an infrastructure to support active learning at Lancaster University (and beyond), and (c) become research active.
The Active Learning Network Lancaster will have local, national and international reach, and it has already forged links with the UK 'Active Learning Network' community (University of Sussex).
(The Active Learning Network Lancaster hosted an inaugural event, Discovering Active Learning, December 2018)
Main contact: Phil Devine, Digital Learning and Teaching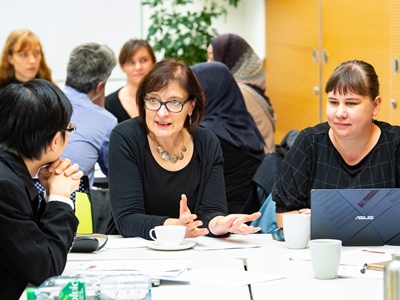 Community of Practice: Online Submission, Assessment and Feedback
The FST-LUMS Community of Practice has a specific focus on sharing best practice around online submission, assessment and feedback. Both academic and professional services staff that have an interest in this topic are welcome. This community was formed to provide support and guidance to departments wishing to benefit from the efficiencies and improvements in experience that implementation of online methods can offer. Colleagues interested in this topic may also like to visit the University guidance for online submission.
Discussion topics might include (but are not limited to):
Examples of how online methods have led to positive change in the student experience in departments.
Discussions about both positive elements and drawbacks of online methods, and how staff have mitigated these.
Specific case studies of marking methods that have proved most effective.
Efficiencies gained in teaching offices through implementation of online methods.
Discussions about NSS impact, environmental and wellbeing impacts of moving online.
Main contact: Ben Gill, Faculty Change Manager, Faculty of Science and Technology
Senior Fellows Network
Lancaster University Senior Fellows Network is an initiative aiming to make a leading contribution to Lancaster's community of educational practice, striving to raise the profile of teaching across the university, to support the highest quality teaching and learning experience for our students. All colleagues at the University that have achieved recognition as either HEA Senior or Principal fellows are automatically members of the network.
The Senior Fellows Network operates by the following principles:
Collegiality - Supporting our colleagues' and our own CPD and the scholarship of teaching and learning, fostering an inclusive community of educational practice at Lancaster.
Communication - Both within our network, and with the wider institutional teaching community who we work with.
Championing - Contributing our experience to help challenge and inform responses to strategic themes of educational enhancement, and to be able to advocate institutional initiatives from an informed perspective.
Collaboration - Developing visible, meaningful outputs that support the aims of the network.
Main contact: Simon Allan, Educational Development
Inclusive Learning Network
An open network designed to bring colleagues from across the university together to provide an opportunity to share inclusive good practice covering all aspects of the student life cycle. Representatives from careers, Disability Service encompassing Transitions Team, Educational Developers, Faculty outreach and success, Learning Developers, Learning Technology (broader ISS), Library Academic Liaison, LUSU, Women's Network, and colleagues with a particular interest in Race Equality attend to share details of their service. Faculty and Departmental administrators, academics and teaching fellows attend to share their good practice and raise issues or ask questions about inclusive provision.
Disability Network
The Disability Network brings together colleagues from across the institution to provide an opportunity to share information, advice and guidance related to supporting teaching and learning for disabled students. All staff from Professional Services and academic departments are welcome to join the network which has formal representation from Departmental Disability Representatives. Departmental Reps provide a formal link with academic departments, acting a source of information for colleagues as well as champions of good practice who work to ensure that consideration of disability is integrated into departmental developments.
The Disability Network meets termly and is facilitated by Dr Leanne Thompson, Disability and Inclusion Manager. For further information contact The Disability Service.