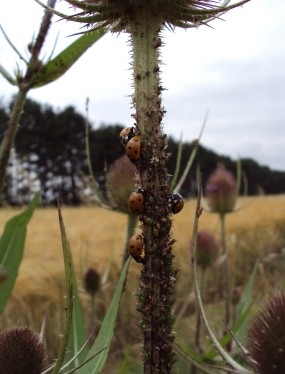 When Charlemagne said "let my armies be the rocks and the trees and the birds in the sky", food production and the war we wage against crop pests would have been far from his mind. However, in a changing agricultural environment growers are increasingly turning to nature to provide important ecological services, including pest control and crop pollination. The creatures that naturally provide these services - primarily insects - are part of our 'Functional Agro-Biodiversity', and encouraging them into our farm-scape is the focus of a 5-year research programme headed by Prof Felix Wäckers of Lancaster University.
The project, funded through Defra's Horticulture LINK programme and carried out in partnership with the horticulture industry, levy bodies and major retailers, aims to use selected flowering plants in field margins to recruit all forms of Functional Agro-Biodiversity, from bees to hoverflies and parasitoid wasps. Once present in numbers these beneficial insects will assist growers in producing their crops in a more sustainable and environmentally-friendly manner. Farmland birds should also benefit from an expanded menu featuring a host of juicy insects and a plentiful supply of seeds.
Non-crop vegetation in agricultural landscapes can provide a range of important ecological services, including conservation of native flora/fauna and the enhancement of pollination efficacy and biological pest control. Not only pollinators, but also many biological control agents depend on flowering vegetation as a source of nectar and pollen. The scarcity of floral resources in modern horticultural and arable systems severely constrains predator survival, limiting the effectiveness of biological pest control. In addition, flowering field margins can also be a crucial element in the divertion or interception of pest insects (trap crops). However, the effectiveness of field margins in delivering pest control services strongly depends on their botanical composition. Currently, non-crop elements are typically designed for one particular ecosystem service, often rendering them suboptimal for other functions.
In previous work, we have been able to show that it is possible to stack and optimize conservation and agronomical benefits through an informed selection of floral resources and a rational design of agro-ecosystems and landscape structure. This largescale project applies this multifunctional approach to focus on ecosystem services that are of direct benefit to UK agriculture, and conservation.
The project aims at developing species compositions for perennial field margins. It involves composing and testing field margin prescriptions across horticultural rotations that support biological pest control and pollination, combined with benefits in terms of bird conservation. The project will focus primarily on horticultural crops, where special challenges exist in maintaining high produce quality. Developing alternative pest control techniques in such crops is of paramount importance in the light of factors such as the EU Sustainable Use of Pesticides Directive, compliance with supply chain stewardship schemes, and increasing consumer concerns regarding the use of synthetic pesticides on food produce.
Funding for the work is being supplied through Defra's Horticulture LINK Programme (project HL0192: Perennial field margins with combined agronomical and ecological benefits for vegetable rotation schemes), providing a partnership between industry, government and academia. This partnership brings together the whole of the supply chain on the Project, including several well known retailers, seed suppliers and organisations representing horticultural and arable growers.
The final output will include recommendations for use and management of these field margins with a proposed goal of their inclusion in future Environmental Stewardship Options. A database will be set up to collate experience and knowledge from this and related functional biodiversity projects in order to make this information accessible to end-users.
Specific objectives include:
Develop a seed mixture for perennial field margins that has the potential to optimize pest control, pollination and conservation benefits while minimizing potential risks for vegetable rotation schemes
Quantify the impact of field margins on biological control agents, pests, pollinators and farmland birds.
Support predator population build-up through provision of non-pest prey in field margins.
Quantify the impact of perennial field margins on pest levels, crop quantity/quality and pest management costs
Communicate best practice to commercial growers in the form of 'blueprints' for margin establishment and management, drawing upon knowledge generated in the proposed project as well as in ongoing European biodiversity projects.