Finding an Item
If you are looking for a specific book, always use OneSearch. You'll then know if the book is on loan or on the shelf and where to go to find it.
Go to OneSearch on the Library website or on the dedicated PCs in the library
Click on the Books and more tab
Enter the title of the book and click on Search, eg:
‌
4. Note the floor and classmark: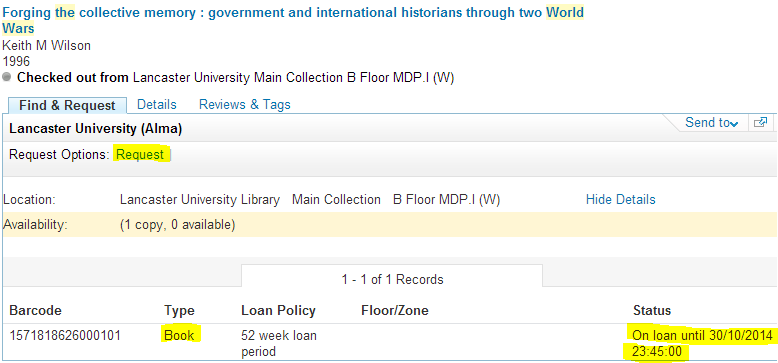 5. Click on Find and Request and note the format of the book (under the heading Type) and the availability (under the heading Status)
This example shows a book which is on the shelf: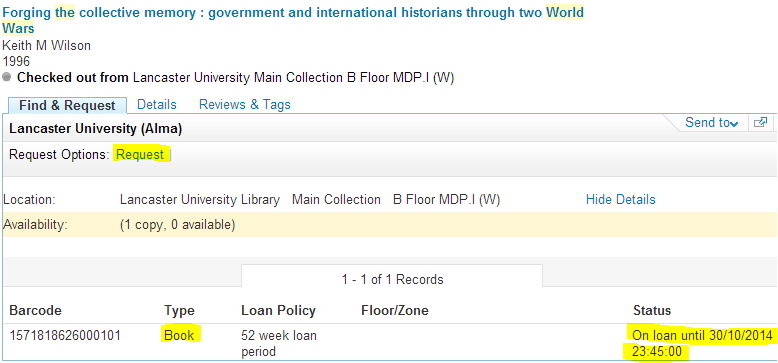 If the book is showing as 'Item in place', go to the right floor and look for the classmark. The classmark is on the spine of the book. The classmarks are shown on the end of the shelf rows to help you find the right place quickly.
Pamphlets and oversize books
Pamphlets and oversize books are shelved at the end of each book section – they are marked on the ends of the rows.
Requests
This example shows a book which is currently on loan: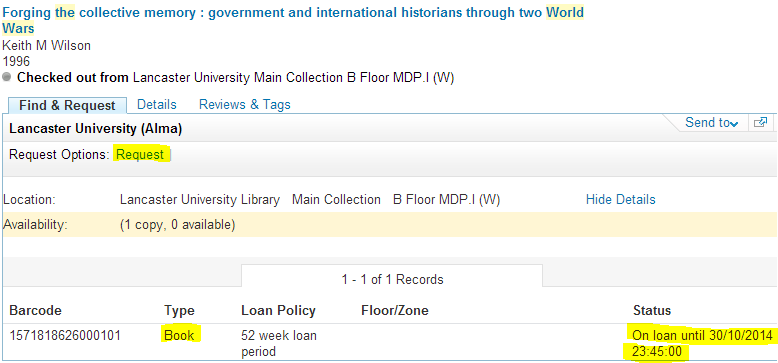 If all the copies of a book are on loan, you can request the book – please see the Requests and Recalls page.
What is a classmark?
A classmark is a set of letters (and sometimes numbers) assigned to books and other library material so they are arranged by subject on the shelves.
The classmark tells you the exact shelf location for a particular item, eg TDG (H).The main part is a set of letters representing the subject of the item. The letter in brackets after the classmark is usually the first letter of the author's surname (or sometimes the title) and is used to shelve books which have the same classmark in a logical order.
Each subject has its own letter. The subjects are then subdivided, eg:
| | |
| --- | --- |
| Classmark | Subject description |
| T | Economics |
| TD | Business Economics |
| TDG | Management of Industry |
As well as capital letters we also use numbers, stops and lower case letters for different aspects of the subject. Lower case letters indicate a geographical region. On the shelves it would look like this:
| | | |
| --- | --- | --- |
| Form | Classmark | Subject description |
| Capitals | WAKD | Discourse Analysis |
| Numbers | WAKD5 | Conference on Discourse Analysis |
| Stops | WAKD.J | Discourse Analysis Relating to Education |
| Lower Case | WAKDf | Discourse Analysis in France |