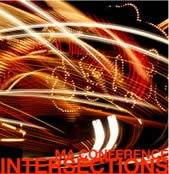 Our first issue has come out of the 2008-2009 post-graduate conference, held by Lancaster University's Department of English and Creative Writing. The students' chosen theme for this year's conference, was 'Intersections' and, as you can see from our selection of papers, the range of papers this title inspired was really fascinating!
'Symbols of Suffering: Characterisations of Fate in the novels of John Irving'
Kate McKellar (MA)
Despite the novels of John Irving being concerned with such relentless themes as tragedy, mutilation, alienation and the uncompromising nature of Fate, there is also an undeniable sense of hope which threads throughout Irving's narratives. This paper will explore exactly how – through shaping sadness into real and palpable companions - Irving contrives to lift his novels from the depression into which they could easily sink. Read»
'The Comic Gothic'
Lynne Woodcock (MA)
I will be looking at the purpose of comedy within gothic texts. Analysing how comedy is utilised to celebrate gothic extremes from over the top emotional outbursts, to the absurd plots and to themes like transgression and madness. Following a brief look at how gothic criticism is satirised I shall turn to an analysis of how Beetlejuice depicts social anxieties of possession and changing domestic arrangements. I aim to show the diversity of the comic turn within the gothic and how comedy revitalises the gothic by reimagining its stylings and tropes for a postmodern audience. Read»
'An 'impulsive leap into the real': How 'portal' narratives offer a return to the Lacanian real'
Chloe Buckley (MARes)
The aim of this paper is to consider why contemporary fantasy for young adults is so dominated by the 'portal narrative' form. Portal narratives are books which tell of the hero(es) journey from everyday reality to a world ruled by magic and the supernatural. By examining one such contemporary portal narrative, Sabriel by Garth Nix, this paper will show that what is particular to portal narratives comes from the fact that they operate in a liminal space, the borderlands, and, consequently, offer the reader a doorway into the Lacanian Real. Read»
The Offstage Theatre: Theatrical Intersections in Dickens's Novels
Anna Dever (MA)
Charles Dickens famously asserted that, 'every writer, though he may not adopt dramatic form writes, in effect, for the stage.' The theatre was evidently an intrinsic component in Dickens's writing, where his enthusiasm for and interest in the theatre has been well documented by literary critics in the last century. However, Dickens's fiction also explores the world offstage. This is a strange world, one where clowns are not performing jocundities, but are frightening beggars, a place that becomes a 'maze of dust…on the wrong side of the pattern of the universe.' My paper will focus on this world offstage, a place that can reveal social realities and strangeness behind performances. Read»
We'd like to thank the conference committee, the staff and students who attended, DrCatherine Spooner for her keynote presentation, and to those students who submitted their papers for publication.