Construction Catalyst
Peer-learning programme designed to help Lancashire Construction businesses collaborate to develop new low carbon innovations for a profitable and sustainable future.

About the Catalyst
This Construction Catalyst is designed for SME leaders looking address the opportunities and challenges posed by the Net Zero Carbon agenda.
By creating the space to innovate and collaborate, this fully funded programme works to build resilient, sustainable innovation ecosystems in various sectors across the North West and for this catalyst we are looking to target the Construction sector in Lancashire.
The Innovation Catalyst is a proven and powerful way of helping individual companies with shared issues to develop effective long-term solutions that capture greater value for them and for the wider region.
Over a six-month period we will facilitate a series of action-focused 'Innovation Collaboratory' workshops to collectively map out your goals, challenges, and innovation needs - drawing in the right expertise at the right time for you. The aim of the Catalyst is to build an ecosystem of businesses and industry experts, academics and public sector bodies and other interested organisations to solve both individual and shared challenges.
This programme is designed and delivered by Lancaster University Management School and forms part of Eco-I North West, a £14m project led by The Centre for Global Eco-Innovation at Lancaster University and in partnership with the universities of Central Lancashire, Cumbria, Liverpool, Liverpool John Moores and Manchester Met.
Cohort 4 is designed for the Lancashire Construction sector and commences 12th October 2022.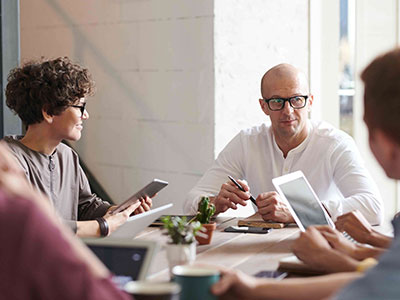 What's Involved?
To participants will be grouped based on a shared challenge which they will address with a solution-driven, collaborative approach. As a result, programme content is ultimately shaped by you and the other business leaders in your group.
Tab Content: Catalyst Activation
The Catalyst begins by forming the 'Innovation Catalyst' at a two-day, induction event designed to stimulate ideas for tackling challenges in the construction sector. This will help the peer-learning group to develop; build trust, create and develop bonds to activate ideas to tackle the challenge. The process works through mapping goals, challenges and needs. A shared commitment will be formed.
A speaker from The Fox Group will join the group to give a larger organisational perspective, to provide additional knowledge and expertise and to help inform decisions.
Tab Content: Innovation Collaboratories
Expertly facilitated by Lancaster University Management School, 'Innovation Collaborations' are a solutions focused space to share knowledge and expertise and resources to accelerate innovation and encourage exponential change. This will allow the opportunity to experiment with new ideas and discuss solutions to challenges with policy makers, influential business leaders and academic experts.
Tab Content: Challenge Action Groups
These break-out sessions will be formed independently by delegates in either pairs or smaller groups (accompanied by an Engagement Fellow). They will provide the group with space to test and learn from ideas developed during facilitated activity. This could include researching innovation barriers such as resource constraints, organisational structures, processes, or stakeholder conflicts. Findings will be shared with the wider group. This process seeks to develop insight and idea generation - accelerating innovation.
Engagement Fellows are Lancaster University students who provide insight, perspective and resource as equal members of the Catalyst taskforce. Recruited from faculties across the university, they bring diverse knowledge, expertise and ideas to the Challenge Action Groups. As representatives of the future generation of innovators, Fellows actively contribute to ideas generation and project planning, inform process through research and development, and accelerate progress through collaboration.
Tab Content: Closing Symposium
This session will reflect on the groups journey and ensure that action is planned to continue to tackle the challenges outside of the Catalyst. Regrouping and sharing of activity. By this point, the group will have developed an ecosystem of firms, industry experts, academics, support service providers and others that has the ability to solve/has solved both individual and shared challenges.