Glossary
The exploration of GIS technology necessarily involves the use of specialist terminology: a technical vocabulary which may be alien to some user of this site. Listed below are definitions for some key terms which have been used across the 'Mapping the Lakes' pilot website. For a more comprehensive glossary, however, see Ian N. Gregory, 'A Place in History: A Guide to Using GIS in Historical Research' , pp. 64-72.
Attribute data: Data that relate to a specific, precisely defined location. The data are often statistical but may be text, images or multimedia. These are linked in the GIS to spatial data that define the location. In the 'Mapping the Lakes' pilot project, the attribute data was the place names mentioned by Gray and Coleridge in their respective accounts of regional space.
Base Map: The term 'base map' is used, throughout this site, to signify those GIS cartographies which chart a writer's movement through place over time. In other words, the 'base map' indicates where a writer claims that he was situated on a particular day in history.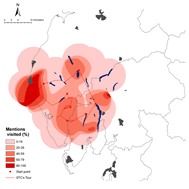 Coordinate pair: An x and y coordinate used to represent a location in two-dimensional space.
Database Management Systems: Software systems specifically designed to store attribute data.
Data capture: The process by which data are taken from the real-world (primary source), or from a secondary source such as a paper map, and entered into GIS software. From primary data this is usually through the use of Global Positioning Systems or remote sensing. For secondary data it is usually through digitising or scanning; and, in the 'Mapping the Lakes' pilot project, this process of data capture involved the digitisation of the texts by Gray and Coleridge.
Digitising: In GIS this has a more precise meaning than in other disciplines. It usually refers to extracting coordinates from secondary sources such as maps to create vector data.
Drape: Involves laying features over a digital terrain model to provide information on features that lie on the terrain. Ther terrain model provides the shape of the terrain. Draped features may then include a satellite image of the terrain to show land-use, and vector data to show features such as roads.
Exploratory Maps: This term is used, throughout the 'Mapping the Lakes' site, to refer to those GIS cartographies which represent more abstract writerly responses to landscape and environment. These exploratory maps test whether there is any correlation between geo-specific locatedness and, say, aural experience, intertextual awareness or other non-localised geographies.
Fuzzy geography: Spatial analysis generally depends upon the accumulation of quantitative data and the use of clearly-defined systems of classification and categorisation. 'Fuzzy', or vernacular, geography, however, seeks to explore the ways in which everyday spatial practice is characterised by fluid, vague and boundless concepts of what it means to be-in-the-world; 'fuzzy geography' involves the mapping and study of qualitative data. In constructing a textual GIS, then, the work of the literary cartographer will inevitably overlap with that of the 'fuzzy' geographer.
Gazetteer: Often used to standardise place names or to locate place names within a hierarchy. These are often stored in a Relational Database Management System. The 'Mapping the Lakes' pilot project used the Digimap Gazetteer made available by EDINA at the University of Edinburgh.
Geographical Information Science: Methods of exploring and analysing spatially referenced data that take account of the benefits and limitations of such data.
Geographic Information System (GIS): A computer system that combines database management system fuctionality with information about location. In this way it is able to capture, manage, integrate, manipulate, analyse and display data that are spatially referenced to the earth's surface.
Geo-referencing: The process of applying a coordinate system to a layer of data. This often involves converting to a real-world coordinate system such as the British National Grid. In this pilot project, the process of geo-referencing was facilitated by the use of the Digimap Gazetteer.

Global Positioning Systems (GPS): A system based on satellites that allows a user with a receiver to determine precise coordinates for their location on the earth's surface. These are a primary source of spatial data. The further development of a geo-specific literary GIS will require the use of such technology.
Layer: The GIS data model represents the world by sub-dividing features on the earth's surface according to a specific theme. Each theme is georeferenced. Examples of layers for a study area might include: roads, railways, urban areas, coal mines and so on. A layer usually consists of both spatial and attribute data.
Line: A spatial feature that is given a precise location that can be described by a series of coordinate pairs. In theory a line has length by no width. As has been indicated elsewhere on this site, however, the use of such lines is problematic when mapping out the frequently circuitious movements of both Gray and Coleridge.
Overlay: A formal geometric intersection between two or more layers of spatially referenced data. A layer produced by an overlay will contain both the spatial data and the attribute data from the input layers.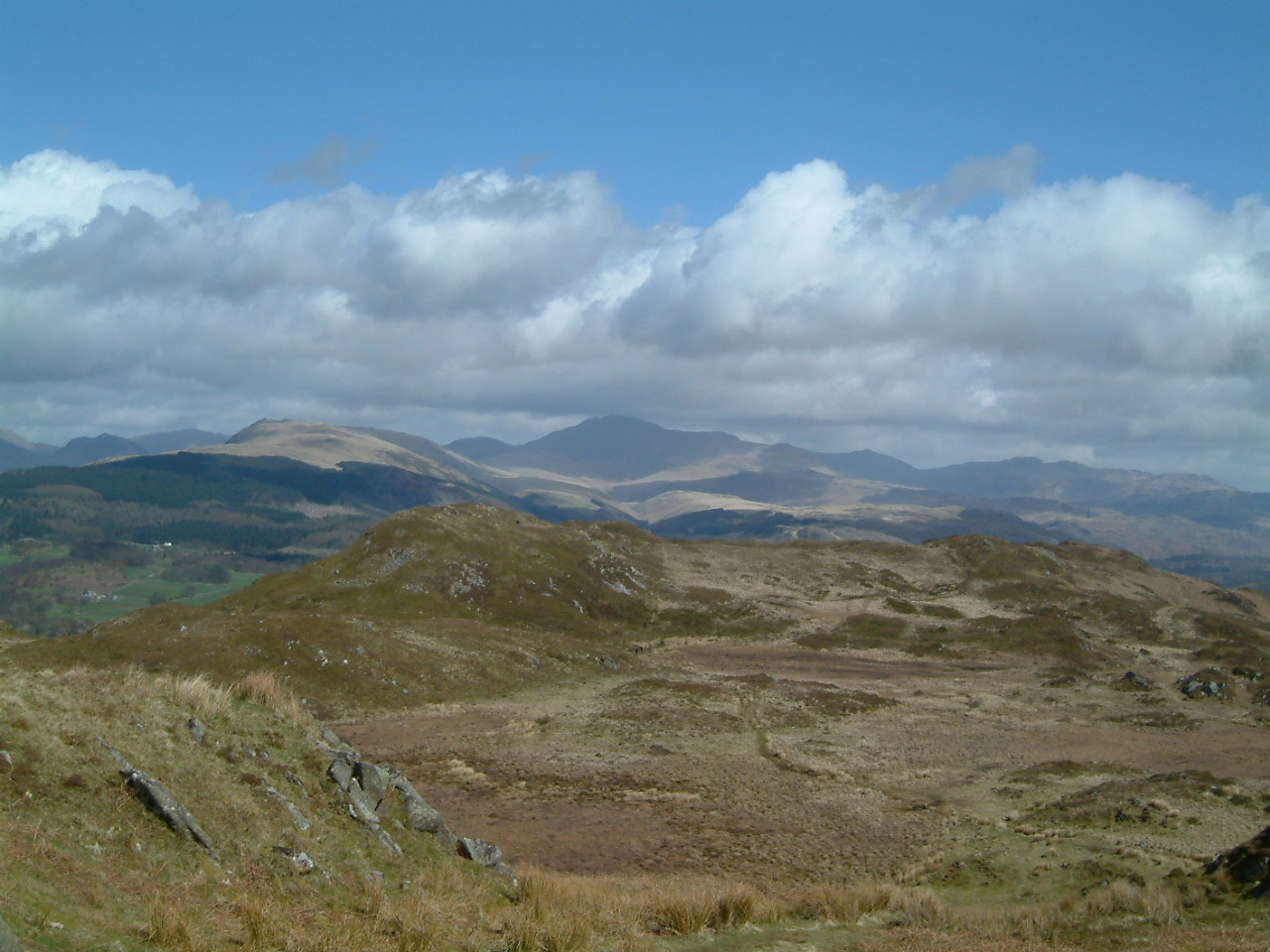 Points: Spatial features that are given a precise location that can be described by a single coordinate pair. In theory a point has neither length nor width.
Relational Database Management Systems: Software systems that store data in such a way that tables can be joined together based on one or more common items or keys. In the early stages of the 'Mapping the Lakes' pilot project, Microsoft Access was used to create a database which brought together the use of place names and geographical coordinates.
Smooth surface technique: A way of representing data in a raster (grid) format when multiple features would otherwise be layered upon one another at a single point. The data is added together, averaged and distributed over adjoining squares. This smooth surface technique provides a visual representation of the 'density' of data: in the context of the 'Mapping the Lakes' pilot project, this means the frequency of place-name references within a particular text.
Spatial analysis: A way of analysing data that explicitly incorporates information about location as well as about attribute. This term may be used almost interchangeably with geographical data analysis. There is a need, then, for the literary critic to develop a new kind of spatial analysis predicated on the use of GIS technology.
Spatial data: Date that define a location. These are in the form of graphic primitives that are usually either points, lines, polygons or pixels.
Surfaces: A surface is a way of modelling space that attempts to treat it as continuous rather than sub-dividing it into discrete features such as polygons.
Vector data model: Divides space into discrete features, usually points, lines or polygons.