Student and Alumni Stories
Our graduates go on to a wide variety of careers and some of their stories are below.
Helen Barnett
Helen's interest in the subject was first kindled when she studied Mathematics and Statistics at undergraduate level at Lancaster. Her highly positive experience has led her to recommend the University to fellow applicants.
A friendly environment
Helen was immediately struck by the community atmosphere of the campus, the quality of the course and the friendly nature of our staff, leading her to be convinced that Lancaster was her ideal place to study. "I really liked the atmosphere when I came to visit the campus, and everyone was so friendly," she says. "I liked the look of the course, and everyone I spoke to from the Department was really helpful."
Helen was also impressed by Lancaster's collegiate system upon her initial visit. We are one of only a handful of universities in the country to adopt a collegiate system, and each of our nine colleges has its own unique features, communities, and character. Helen felt that the collegiate system helped her to ease into university life, providing an effective bridge from her A Levels to degree level study. "I liked the collegiate system because it felt more personal than other universities, so not as big a step up from 6th Form," she says.
Student support
The support that Lancaster University offers, both in terms of academic support and the general welfare of our students, also contributed to Helen's positive experience studying here. "My tutors were always really helpful answering my questions in workshops, and the lecturers were always happy to help when I went to see them in their office hours," she says. Helen also praised the support for student welfare that is available through the University colleges and student based services. "Each college has a support system, so if there are any welfare issues that are affecting your studies, they can help," she says." Although I never needed it, it was reassuring to know that the support was there."
An engaging subject
After choosing medical statistics as a third year module, Helen chose to undertake a PhD in the subject. As well as giving her a passion for this area of statistics, it allowed her to develop skills that would prove invaluable when undertaking her PhD. "It showed me how we can use mathematics and statistics in practice to make real life decisions," she says. "I use concepts I learnt in this module quite regularly." These skills and concepts included the proficiency that Helen gained in statistical computer programs, which she has subsequently found highly useful during her PhD. "I used computer programs like R and MATLAB during my degree," she says. "Although I found them hard to use at first, I now use R every day in my research with ease, so starting it early did help."
A versatile degree
Although Helen isn't yet certain where her career will take her, she is aware that her degree has given her a wide range of skills that are attractive to a variety of employers. "I haven't chosen a profession yet, but studying at Lancaster has taught me lots of key skills that are useful in most professions: teamwork, time management and scientific writing," she says.
Advice for applicants
When asked what advice she would give to potential applicants considering studying at Lancaster, Helen was quick to recommend the University. "Lancaster is a great place to study Mathematics and Statistics," she says. "When deciding which university to study at, be sure to take a look around the campus, and look at the course itself. It's 3 or 4 years of your life, so you need to be somewhere where you'll be happy, and Lancaster is a great choice!"
Helen concludes: "I've had a great time studying the subject I love and have made friends for life -it has always felt like a home from home!"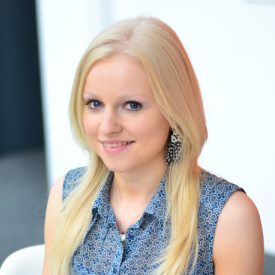 Rhian Davies
Rhian believes that the content of her course at Lancaster, as well as the skills that she has gained during her degree, have prepared her well for her current PhD studies.
Challenges and support
Now undertaking a PhD in Statistics and Operational Research with the STOR-i Centre for Doctoral Training, Rhian Davies transferred to Lancaster after spending a year at Chester University, attracted by the challenge that Lancaster's course presented. "I originally started at Chester University, found the course not to be challenging enough and transferred to Lancaster straight into my second year," she says. Upon arriving in Lancaster, Rhian was particularly impressed with the level of support on offer for students. "Whenever I had problems with the weekly homework assignments, I was able to chat with my personal course tutor," she says. "Also, the administrative staff are fantastic."
As well as the support that she received, Rhian was also struck by the friendly, community atmosphere of the Department. "Lancaster's Maths Department has a very supportive and friendly feel," she says. "Over the course of my undergraduate degree, I got to know my tutors, lecturers and the admin staff well, which meant that it was much easier to ask for help."
A flexible degree
Despite originally taking all of her third year modules in Pure Mathematics, the flexibility of Lancaster's degree schemes allowed her to change these when she discovered her passion for statistics. "At the end of my second year, I chose my third year modules, all of which were in Pure Mathematics," she says. "However, over the summer I did a STOR-i research internship on a statistics project, and found my love for statistics! Julia Tawn helped me to change my third year modules to study more statistics instead, and now I've ended up doing a statistics PhD."
In addition, Rhian found the content of her course to be engaging and enjoyable. "My favourite topic during my studies was 'Stochastic Processes', where I learnt how to analyse Markov processes and how they can be used to model queues and populations," she says.
Strong career foundations
Rhian believes that the content of her course at Lancaster, as well as the skills that she has gained during her degree, have prepared her well for her current PhD studies. "The opportunity to tackle interesting, challenging problems encouraged me to go on to further study," she explains. "The opportunity to do a research internship in the summer of my second year also gave me the confidence to continue into postgraduate research."
Rhian also feels that the skills that she has gained through the internships that she undertook during her undergraduate degree have helped to prepare her for her current studies. "During my second year, I took a summer internship on the STOR-i programme at Lancaster University," she says. "I had the opportunity to carry out real research, and discover what it's like to continue postgraduate research in statistics. After third year, through a member of staff, I secured an internship working as a data scientist at Unilever Research, where I did some time series analysis."
Excellent facilities
Rhian was grateful for the facilities available to students in the Department of Mathematics and Statistics, as well as those available to all Lancaster students, making full use of them during her time here. "The University has a Learning Zone where I could study with friends in a group," she says. "I prefer working in a chatty environment, so the Learning Zone offers a more comfortable learning environment than the library for me. We also have a 'maths café' - a weekly informal gathering where third year students help first year students with maths assignments."
Advice for students
Having had a fantastic experience at Lancaster University, Rhian highly recommends the University to prospective students, and advises them to attend a Visit Day if they can. "The department offers a challenging course, and I made some great friends for life along the way," she says. "If you're thinking of studying mathematics here, try a Mathematics Visit Day. There are always plenty of maths staff and students to chat to!"
Jon Barry
Former Mayor of Lancaster Jon Barry completed a PhD in Statistics at Lancaster in 1996.
Jon arrived as a research worker in the Centre for Applied Statistics in 1987 and went on to lecture in the department, finishing his PhD in 1996 and leaving in 1998. He was elected as a Green Party Councillor in Castle Ward in 1999, one of a batch of five who were the first Greens elected to the Council. The numbers have fluctuated since then, but there are now 10 City Councillors and 1 County Councillor. Jon has been a member of the Council's ruling cabinet for 12 years in a variety of rainbow coalitions – political parties are rarely able to get an overall majority in the Lancaster District.
He allocates two days a week to Council work (and lots of evenings!) and three days to his 'proper' job when he works as a statistician for the Centre for Environment, Fisheries and Aquaculture Science (Cefas) which is a Government agency of Defra. He works from home for three weeks and then spends the fourth at the laboratory in Lowestoft (which is a long train ride from Lancaster!).
Jon and his colleague advises 200 scientists on numerous different areas including setting up Marine Conservation Zones, surveys on the amount of litter and plastics on the sea bottom, how bad dredging is for the environment, numbers of eels and jellyfish, why are salmon numbers declining, how to analyse underwater video surveys etc.
Life is never dull and always busy. His dual roles mean that at one moment he is trying to sort out some tricky algebra and the next trying to sort out why Mrs Smith's bin hasn't been collected.
Eddie Bell
In his handmade raw-selvedge Oni 512 jeans, one might guess that Eddie Bell is a designer, but this data scientist works for an E-fashion company and has coined his own title of 'fashematician'.
The Lancaster University Computer Science graduate now spends his days at London-based Lyst, using maths in the fashion industry to train computers to recognise specific makes of clothes, or to pick up on colours from fashion industry descriptions and to predict individuals' clothes-buying preferences. He also has a clothes allowance.
Nothing could be further from the predictions that Bell would have made for himself as a shy, geeky, first year computer science undergraduate who almost did not apply to university and who arrived at Lancaster from his home in Blackpool terrified of making friends and unsure what he was doing in higher education.
He says: "Lancaster opened up my eyes to study and gave me social skills. Without those two, I would not be doing what I am today."
He was not a high achiever at school and did not think about university until the last minute when, to his parents' surprise, he applied. It transformed his life. He had known he was interested in computing because he had done some in his spare time at school, but now he knew he wanted to study it. The crucial blue touch paper for him was a lecture in his first few weeks at Lancaster from Dr Joe Finney about the elegance of computer programs and ways of designing beauty. This really transformed his thinking and almost overnight he decided he would probably need to do a PhD.
"Computing is not a cold and sterile science, " says Bell. "it is more like an art form."
He had applied to do computer science, but heard a lecture by Paul Rayson in the computer department about artificial intelligence. This was enough to convince him that this was the field in which he wanted to spend his life.
Socially he says he initially found it "a massive shock to the system" and remembers a painful evening standing in a corner of a club not talking to anyone in Freshers' Week after accepting an invitation from the JCR. But the many hours he spent in the labs and doing team work brought him in contact with other people and brought him friends. A number of them were in the philosophy department as he had chosen this subject as a 'minor'.
He was an enthusiastic member of the computing society, which gave him the chance to teach others about games and even how to write little viruses! Away from computers he and his new-found group of friends learned to cook together and went to Heavy Metal gigs.
Another life-changing experience for Bell, was to be offered a place under the Erasmus scheme to spend his second year in Norway in the tiny University of Tromsø on the Arctic Circle. He says: "I left a bit wet behind the ears but it matured me." Whilst there he had the chance to sign up for Masters' level courses in computer science, which he loved. The young man who left the UK terrified of what he had signed up for found himself relishing hiking, visiting the Northerly Norwegian islands and going to numerous gigs. He'd only decided to go because one of his friends volunteered, but then his friend dropped out at the last minute but he took the plunge of going alone.
Under the influence of Pete Sawyer, he did his undergraduate thesis on understanding language using artificial intelligence but felt the need for higher-lever maths, so he decided to stay on to benefit from Paul Rayson's ideas and did both a Master's in Statistics and a PhD in Discrete Mathematics with him.
At the end of his time at Lancaster he knew he wanted to be involved in the 'real' world rather than academia, so started off in finance with Bloomberg on the currency trading platform, but found the company's huge size difficult to cope with. After a year he was approached by a small fashion technology company called Lyst, which he joined as a data scientist. Three years later it had grown to become one of the largest fashion technology companies in the UK,with a staff of 120 people, a turnover of $60m and a site featuring 3 million products from 11,557 designers and stores.
He admits he has been 'bitten by the fashion bug'. Out have gone the T shirts and 'Metal' garb of his university days, to be replaced by raw edged denim and street wear. He says: "Our company has the most fashionable geeks in London!"
He thoroughly enjoys his work and runs a team of eight people. Much of his time is spent thinking up ideas, trying them out using Artificially Intelligent models and using data to try and predict trends. His colleagues have PhDs in a number of fields ranging from astrophysics to biology.
He says: "If anyone had told me in my first year undergraduate year what I would be doing now, I would have said they were crazy. I could not have done it without Lancaster."