Meet our Students
Graduating students and alumni can give you a real flavour of life at Lancaster and how we can change your life and launch your career.
Roland Kanda
MSci Mathematics, Pendle College 2014-18
"Having lived in the South my entire life, I wanted to study in a completely new location to expand my horizons - living in Lancaster has definitely been a fun and unique experience."
"I really enjoyed attending my workshops at the end of each week as it gave me the opportunity to speak with my tutors about any (many!) topics I struggled understanding. Some of my lecturers were my tutors so it also gave me the chance to get to know my tutors as well my lecturers - which made me much more comfortable in asking for any queries I had. I would like to pursue a career which allows me to apply the skills I have learnt here, such as problem-solving and data analysing."
Extra-curricular
"I enjoyed being able to join and participate in clubs and societies I haven't particularly done before (Basketball, Trampoline and Table Tennis). Trampoline, in particular, I really enjoyed travelling with my squad to different universities across Northern England and Scotland to compete during the weekend and at the same time, enjoy my weekend by exploring around the city I'm in."
Advice to first years
"At the end of your modules, you will have an End-of-Module Test, which will determine your overall understanding of the module and will contribute to your overall grade. Make sure at the end of each week you are on track with your Workshop and Assessed Exercises so you know which areas you find okay and others you may need to spend more time with." Emily Granger
BSc Mathematics with Statistics (Study Abroad)
Emily Granger is glad to have chosen to study at Lancaster, feeling that the excellent reputation of the Maths and Statistics Department is well-earned. "Lancaster's Mathematics and Statistics Department has an excellent reputation, and now I have studied here for three years, I can see why. I would recommend this University to anyone thinking of studying maths. However, wherever you may end up going, my advice is to make the most of your time and your maintenance loan!"
Although Emily has greatly benefitted from the academic aspects of her degree, it was the opportunity to spend a year abroad, as well as her involvement with student societies, that proved to be the highlights of her time at Lancaster. "In my first year, I tried out many things such as kayaking, climbing, going out with RocSoc (Rock Society). All of these I enjoyed, but what I have been most involved with is Lancaster Amnesty International Society and Lancaster Oxfam Society. I was quite shy before coming here. Still, by coming to Lancaster, I have been given opportunities such as being part of an executive for a society, completing an internship at the University and even living in Canada for a year! I knew that Lancaster has great study abroad opportunities and I have a strong interest in travelling. All of these (amongst others I haven't mentioned) have not only been a lot of fun to experience but have filled me with confidence, and I feel much more prepared for what comes next after university. The opportunities that Lancaster has given me have been the best thing about studying here."
Emily feels that the skills and knowledge that she has gained at Lancaster will prepare her adequately for her career in the future, as she wishes to undertake a career related to statistics. "I would like to become a medical or environmental statistician, or if not, work for a non-profit organisation such as Amnesty International or Oxfam," she says.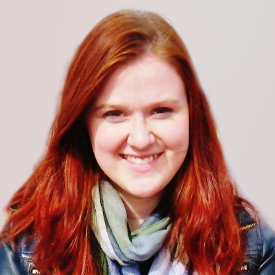 Maddie
MRes Statistics and Operational Research
Having already completed an MSci Theoretical Physics with Maths at Lancaster and looking to do a PhD in Statistics and Operational Research next year, Lancaster has been Maddie's home since the moment she first came here. "I always say to people on the visit days it's like when you go and look around houses and you get the feeling. It was like that – I came and it just felt like home, and none of the other universities I looked at did".
A course for me
Having chosen an eclectic mix of A-Levels (Maths, Further Maths, Physics, Spanish and Fine Art), Maddie was really undecided as to which route she wanted to take - but finding out about Lancaster's Theoretical Physics and Mathematics helped her make up her mind: "[the course] encompassed the maths side of the physics, which was what I was really interested in. And all the maths for the course was taught by the maths department here, and I didn't really see anything else like that at other unis. So that is when I decided I wanted to go down the Maths and Physics route".
When she started at Lancaster, she quickly fell in love with the Pure Mathematics aspects of her course. "I really liked learning all these really complex and pure areas of maths and then applying them to areas of physics like quantum theory. It was really great to see how the two subjects fitted together and complemented each other". During her final year, her project contributed towards the particle physics research at CERN and was even included in an academic paper.
Friends for life
Although Maddie was nervous when she first started, she found campus living made it easy to meet people and make friends, and Freshers' Week made it all the more easier. "Freshers' Week is really, really good for making friends.", she says, and "even if you're a bit shy and less confident, they have freshers reps who'll get you talking to everyone".
Her course was where she met some of her closest friends: "I naturally made friends with the people on my course, and they're the ones I spent most of my time with throughout the degree then. We made a really good group of friends, and we still all call each other weekly now that we have all gone on to PhDs at different universities".
Winding down
Lancaster University offers a variety of extra-curricular activities, and Maddie had no trouble finding something for her. During her undergraduate years, she was an active member of the Yoga Society and attended classes twice a week. "I joined the Salsa Society too in my fourth year," she says, "so I started going to Salsa classes once a week on campus too". Walking also became a hobby of hers too - and "there are some lovely routes around campus" that can be accessed by anyone to enjoy.
Aside from campus societies, the city of Lancaster and the surrounding area also had plenty to offer." I went into town every weekend as well, just to have a look around the shops (I didn't normally buy anything because student budget!) But I'd normally have a look around the clothes shops. In my fourth year, my flatmate and I started going into town on Saturday's together, and we'd go for lunch in the veggie café".
Glen
BSc Mathematics
Having studied Mathematics, Further Mathematics, Physics and Computing at A-Level, Glen was convinced to study at Lancaster because of our community atmosphere and outstanding mathematics degrees. "I chose Lancaster for a number of reasons," he says. "Firstly, after visiting the campus on Open Days and Department Visit Days, I loved the welcoming and friendly atmosphere. The campus provides a comfortable and focused area in which to study and enjoy the social events. The course structure and content was highly appealing, and the use of end-of-term tests in first year was a great way to make sure you fully understood the material. In final year, the opportunity to choose modules from a wide selection meant that you could really focus on what area of maths you wanted to study."
In addition, the excellent teaching and friendly, supportive staff proved to be the highlight of Glen's time at university. "The best thing about studying at Lancaster is the high level of teaching," he says. "All of the staff are extremely friendly, and most have an open door policy where you can go and ask them about any problems you are having."
A wealth of opportunities
Glen has greatly enjoyed participating in the Archery Club since arriving at Lancaster, and his pursuit of the Lancaster Award has boosted his CV and enhanced his career prospects. "In my first year I joined the Archery Club and have been a member for all three years," he says. "It has been highly enjoyable getting involved and learning a new sport that before coming to Lancaster I hadn't done. There is a huge range of societies and clubs, so there really is something for everyone.
"I have also completed the Lancaster Award which is a programme designed to enhance your CV. It involves completing six (or more) activities to enhance your career prospects - for example, work experience and campus and community development. You then have to reflect on what skills you have learnt and also complete an application form and interview. I found completing the Award highly enjoyable, and it also really enhanced my CV."
Advice and further study
When asked what his plans were after graduation, Glen replied that he is going to continue studying at Lancaster at postgraduate level, undertaking an MSc in Statistics. He has advice for prospective students wishing to study in the Department, encouraging them to take part in extracurricular activities and to take advantage of the extensive support offered by the University. "I would say to get involved with activities outside your course to enjoy your time here - it is amazing how quickly the three years passes," he says. "Also, don't be afraid to go ask for help from the staff if needed. I found it daunting at first, but soon I realised that they are friendly and often want to help."
Megan Winter
MSc Statistics
Having graduated with a BSc in Mathematics in 2019 and an MSc in Statistics in 2020, Megan embarked on her career as a Statistician with the pharmaceutical company AstraZeneca. Having relocated to Cambridge, she now works within the Oncology department.
A place like home
When choosing a University, there were several features that made Lancaster stand out against the crowd - but it was the collegiate system that sealed the deal. "This turned into being one of my key considerations in looking at Universities as I found it really worked for me: having a very friendly atmosphere, all amenities on campus, and having that extra level of support [...] I was a member of the Cartmel JCR during my 2nd/3rd year; I felt really involved with my college and enjoyed this new opportunity, putting on events for the college, and looking at that collaboratively. There was the availability to mix with other colleges and that's a really big part of your university life; members of my college grew to be like a second family".
Finding my passion
When it came to the course itself, Megan loved the opportunities that the Mathematics undergraduate offered her: "the lecturers appeared to be very involved and friendly, the course very much hit all of my key interest areas, and it allowed me the flexibility to tailor it to my future goals as well." It was in her third year, though, that she found her passion for Medical Statistics. "I had 2 favourite modules during my BSc: Medical Statistics and Graph Theory. Whilst Graph Theory wasn't highly statistical, I found the real-world aspects of this module really interesting and engaging. The Medical Statistics module is what first sparked my interest in the field I now work in." Lancaster's array of options and the ability to tailor the course to her interests were what really made the University the place for her. "During my 3rd year", she says, "I really enjoyed being able to choose all of my own modules. I was always drawn to statistics and was able to focus upon this in my final year".
Plenty of support
Lancaster University prides itself on its pastoral and academic support, and Megan found that she felt she had people to turn to, no matter what the issue. "Within the colleges, there were SCRs and JCRs; they can help with any issues from flat/accommodation problems to welfare. Within the department, you are given an academic advisor who is a lecturer in the department when you first arrive. They were there to make sure that we were coping and keeping up with your studies, they could act as references, and really help point us in the right direction". The Base (ASK) on campus also offers plenty of careers advice, from listings of job opportunities to CV writing workshops - "all of the support you could ever really need during your degree is at your fingertips".
Adrian Hall
Teacher Adrian Hall has little patience for people whose response to philosophy is to question the existence of the table in front of them. For him the subject is much more important and relevant.
He loves to use philosophy with his pupils at Queen Elizabeth School in Kirkby Lonsdale, as a means of thinking about the big questions – whether humans should build machines as intelligent as ourselves, the morals of rationing health care, whether animals have souls and whether states should be able to dictate whether a woman can have an abortion.
As assistant head at a school numbering 1400 pupils from 40 primary schools drawn from three counties – Cumbria, Lancashire and North Yorkshire – much of his teaching time is assigned to mathematics. However in formal philosophy courses, and informal discussions with pupils, he loves to challenge them to play with ideas, and not to be afraid of tackling important issues.
The challenge of sharing his passion for ideas continues to fire his professional life. After 20 years as a teacher he counts himself fortunate still to be in a job he loves: "I still get up feeling that I have a moral purpose and that I am doing something worthwhile – it is a job where you change people's lives."
Adrian holds Lancaster University responsible for inspiring his philosophical interests. The three-subject option in the first year was the greatest draw for him as an 18 year old, straight from a mediocre comprehensive school in the West Midlands. He was, he says "a typical mathematician" with a liking for finality, but the opportunity to study philosophy alongside mathematics and ICT, opened up his thinking in new ways.
Mathematics was enjoyable but it was the philosophy courses that really felt exciting and relevant. Of course he wrestled with the meaning of life and with courses on existentialism and Nietzsche, but he also tackled issues like artificial intelligence and the separation of mind, body and brain, that continue to be hot topics for discussion today. He dropped ICT after the first year, but continues to use it at school when teaching mathematics.
He felt instantly at home on the campus and spent most of his time socialising there outside lectures, with people he met on his course and in college. Having bars to hand made it easy to drop in and chat to people over a drink, without it turning into "a session". He and his friends also took advantage of the nearby Lake District to explore the fells.
Adrian also met his wife, Tina (née Mant) in Bowland. Tina was doing psychology. She is now a speech and language therapist and they have three children.
At the end of his course he was interviewed for maths-based jobs such as actuarial work, but found them 'lacking in heart'. He applied to do a PGCE at St Martins and immediately felt he had found his niche. Since his first teaching job at a high school in Chorley, he has moved to other maths teaching positions around Lancashire, until arriving in his current job in 2007. Today half his time as an assistant head teacher of an Ofsted-rated 'outstanding' school, focuses on staff and professional development, classroom teaching methods and developing links with the community as a Teaching School. He is also trying to develop links between the school and universities including Lancaster.
He feels Lancaster University prepared him for teaching and inspired his love for philosophy, which lives with him daily. He says: "Lancaster got me excited. I have a critical eye on the world and my time there helped me to think about and try to resolve issues."
Stacy Westhead
Many people express surprise that Stacy Westhead has made such a successful people-based career in marketing, given that her degree is in mathematics.
As a recent winner of Media Week's Rising Star award for entrepreneurs under 30, Westhead does not see anything particularly special about inhabiting more than one world at once. Lancaster University helped to prepare her to do so.
She says: "I have a nice balance of logic and being comfortable with numbers, but also the social element of life and marketing. Lancaster University was all about broadening and making me realise that there was more to my world than my small background."
Now as Director of atom42, her day is spent ensuring that clients and her work teams are happy, mentoring and overseeing the company's strategic direction - a total people job - but she would never have predicted this career direction.
The decision of her 18-year-old self to study at Lancaster was made on the basis that she was good at maths, she was keen on a campus university, and the open day presented an idyllic scene to her of students sitting outside the George Fox building in the sunshine, with rabbits jumping around them.
She arrived as a confident fresher from a small local comprehensive in Tewkesbury in Gloucestershire and rapidly realised how narrow her horizons were and how sheltered she had been from different cultures and nationalities. She was excited and eager to find out about life.
One aspect of that was addressed in her first week, when she met a second year sociology student, Gareth Westhead in the Grizedale bar at a freshers event. They dated throughout university providing her with stability during her studies. They married in 2012 on the 10th anniversary of their meeting at Lancaster.
"I loved it at Lancaster," she says. "I always felt safe in the college community. My one regret is perhaps that I did not get involved in more student organisations."
Grizedale became the centre of her social life and friendships have continued beyond university, to the extent that a quarter of their wedding guests were from their old college. Her confidence grew to the point that she felt able to go alone to the USA for three months with CCUSA to work on a summer camp after her second year - a choice which would later come to change her career path completely.
Academically she found Lancaster tough. Having breezed through the first year, the second year came as a challenge with many compulsory modules of pure maths. Westhead reckons she would have foundered without the support of Gareth and other friends who were also struggling with the shock of the second year.
Light dawned in the third year, when she took modules in teaching maths with St Martin's College and another in marketing, both of which were demonstrations of maths in action, with words often doing the work of the Greek alphabet. She realised how much she had missed dealing in language, rather than formulae.
The day after she was accepted to train as a Maths Teacher at St Martin's College, an email circular from CCUSA dropped into her inbox, which changed her life. It required former scheme participants to go round UK universities to recruit - a marketing job, but with no experience required. She took it and decided she could always come back to teaching if it did not work out.
When she went down to London to join Gareth nine months later, she now had marketing experience as well as a mathematics degree. She soon gained a job at PHD Media in search marketing, where she gained experience working at a large media agency. The person who appointed her there, Andy Atalla, moved on after a year to set up on his own as atom42. She decided to join him in setting up the company.
Seven years later atom42 is thriving with clients like AOL, National Accident Helpline and Drinkaware. She finds that maths makes total sense in a people business, providing the skills to forecast, plan and report accurately in order to implement creative ideas and concepts for her team and clients.