Lancaster University announces £80 million refinancing
08/10/2009 16:43:46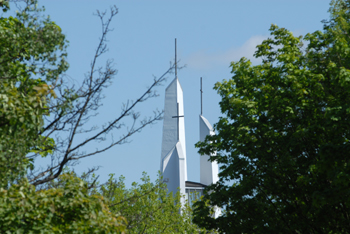 Plans for Lancaster University to refinance its 1995 Debenture Stock were passed following a meeting of its Bondholders held on 13 August. The mechanics of replacing the bond with a new facility agreement with the Royal Bank of Scotland will be concluded over the next few days.
The University has also secured credit approved terms from RBS for a revolving credit facility to support its ongoing Capital programme.
Professor Paul Wellings, Vice Chancellor of Lancaster University, commented that the refinancing would give Lancaster greater flexibility to pursue its strategic plan: "This will give Lancaster opportunities to invest further in exciting new projects to improve the student experience, boost research and maintain excellent teaching."
Lancaster's Director of Finance, Sarah Randall-Paley, said that the timing of the refinancing was a prudent move for the University, "Rates of interest are currently low, much lower than when the University issued its bond 14 years ago so it makes sense for Lancaster to make an arrangement which will result in both better terms and in greater flexibility to realise its strategic objectives."
Lancaster's financial security places the institution in the top group of UK universities. Over the past 7 years the University's compound annual growth rate has averaged 9.3%, research income has increased by 68% and dependence on HEFCE funds has fallen to 29% as income streams have diversified.
In 2007 the University's credit rating was raised to 'A' from 'A-' by Standard & Poor's Ratings Services. The new rating reflects the University's underlying strengths especially its reputation for teaching and research, consistent overall student demand and strong financial performance relative to its peers. Lancaster is one of only a few UK Universities to have a public credit rating.
More than £300m has been invested into the estate over the last 5 years, transforming the campus. Key developments include new academic centres of excellence, student social facilities, and improved teaching spaces and one of the largest student residences project in the UK with 3385 new rooms. The latest phase of building has resulted in a further 963 'eco friendly' rooms which have won a number of environmental awards.
The revolving credit facility (together with the University's own resources) will be used to drive the next cycle of capital investment at Lancaster.
Future plans include:
Further development of the Lancaster University Management School

new facilities for the Lancaster Institute of Contemporary Arts

new facilities for the School of Health & Medicine
Lancaster University was the first UK University to float a Debenture on the stock exchange and launched its £35 million First Mortgage Debenture Stock in April 1995. This was to fund capital investments on the campus which included an extension to the existing Library and the creation of the Ruskin Library.
Around £45 million will be spent on redeeming the outstanding 9.875% debenture, including compensation to the bond holders for redeeming the bond early. The bond was due to mature in 2025.