Swimming Lessons
We offer a range of adult and children's swimming lessons based on ability - from absolute beginners, to people training to become lifeguards. All taught in a relaxed and friendly environment by qualified instructors. To book a lesson simply phone reception or visit us to pay and secure your place.
Adult lessons - all abilities welcome
Adult swimming classes are aimed to improve confidence, technique, and safety in the water. Lessons are progressive and suitable for everyone, from complete beginners to experience swimmers who may need additional coaching to improve their technique which could move you into the competitive side of swimming or join a Master's club, (adults over 18 years).
We teach adult swimming at three levels, aimed at anyone from 16 years of age. The lessons are based on your general ability and to book you can simply visit the reception desk and pay to secure your place.
Lesson Times
Lessons are held throughout the week as you'll see below. If you are unsure which course is right for you, you can contact the reception desk who will be happy to help.
Learn to swim
Learn to swim is where you will learn the basic stroke techniques. The course will help you develop the right skills to feel safe, comfortable and confident in the water.
Monday: 12:15pm - 1:00pm
Wednesday: 7:00pm - 7:45pm
Thursday: 12:15pm - 1:00pm
Improvers
Improvers sessions are aimed at improving your stroke technique and stamina to help you reach your goals and learn new skills.
Wednesday: 7:45pm - 8:30pm
Friday: 12:00pm - 12:45pm
Life savers and swimming courses
We run a comprehensive programme of RLSS UK awards and courses such as the Drowning Prevention Week, National Pool Lifeguard Qualification, Survive and Save and the Rookie Lifeguard Programme for children. Take a look at the latest courses here.
Heading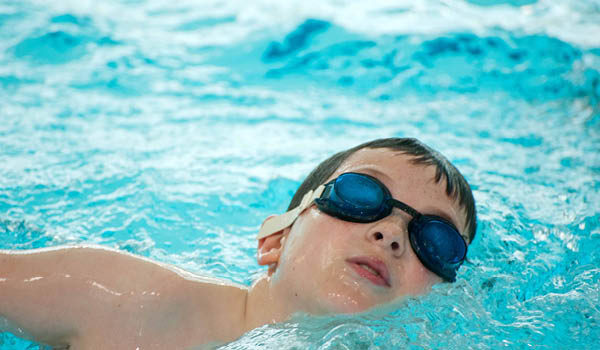 Children's lessons
Our children's swimming lessons follow the Swim England Learn to Swim Programme delivering a high standard of safe, inclusive and effective teaching syllabus for all ages with clearly defined progression stages. Children are encouraged to develop their skills in a fun and progressive way whilst learning the 4 strokes together with aquatic skills to complement the strokes and continual assessment from their teacher.
Lessons are structured into ability groups starting with adult and child lessons through to lifesaving. Classes can be booked by contacting the Reception Team.
Take a look at some frequently asked questions.