Phil Leigh's End to End attempt September 1999
The End to End is the route between Lands End in Cornwall and John O'Groats in Scotland. The distance is 850 miles along normal roads (avoiding motorways). Philip Leigh of Kent Valley Road Club set out in an attempt to improve the Roads Records Association (RAA) record for a solo bicycle at 9am on Friday 17th September 1999. The RRA have recognised a record for the end-to-end for over a hundred years and the original record took around six days. However, Phil was aiming to beat Andrew Wilkinson's record time of 1 day, 21 hours, 2 minutes and 18 seconds, set in 1990.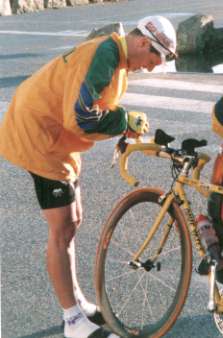 Phil makes some final adjustments to his bike at Lands End.
Some of the support crew prepare for action. Phil made an excellent start for the first 120 miles to Exeter, maintaining an average speed of 23 mph. He continued along at a good pace through Bristol, the Midlands and northwards towards Carlisle. However, the forecasted strong southerly winds failed to materialise and, after a drenching in the Bristol area, Phil was starting to suffer from a serious case of saddle soreness!
An early feeding stop for Phil, followed by a rather later feeding stop for some of the crew. Josie, in support car 1, would like to point out that not all the crew were this fortunate!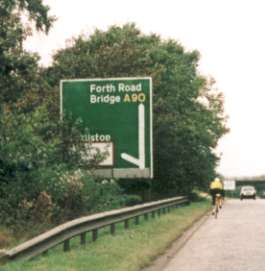 Phil crossed the border into Scotland near Gretna and carried on over the Beeftubs climb near Moffat to the Forth Road Bridge north of Edinburgh. However, it was decided that with strong cross winds and a required speed of 20mph to the finish, the record was off. Phil had peddled 580 miles in 31 hours, leaving John O'Groats "only" a further 270 miles up the road!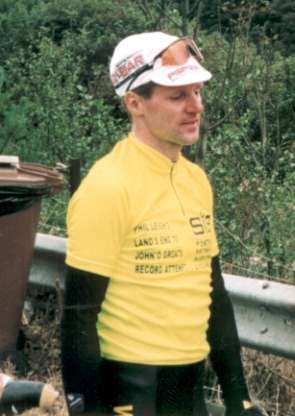 A rueful Phil on the north side of the Forth Road Bridge, at the end of his magnificent effort.
---
Updated 29th July 2003. Home