From an early age, John Ruskin had attempted a systematic study of the history of art, concentrating on Italian Renaissance painting, which was to remain a passion almost equal to his love of architecture.
After several visits to Italy with his parents, John Ruskin returned again and again to study the country's painting and architecture. When visiting Florence and Venice in 1845, he discovered the work of Fra Angelico and Tintoretto respectively. He believed that drawing from the original was the best way to study a painting and spent a lot of time in front of Fra Angelico and Tintoretto's work, making sketches and highly detailed studies. The study of a sheep below, from the group illustrating St Dominic preaching to Heretics, was drawn in the Spanish Chapel in Florence and can be found in Ruskin's 1874 sketchbook.
"I have copied the head of the very pious, but slightly weak-minded, little lamb in the centre, to compare with my rough Cumberland ones, who have had no such grave experiences."
John Ruskin, Mornings in Florence (1875-7)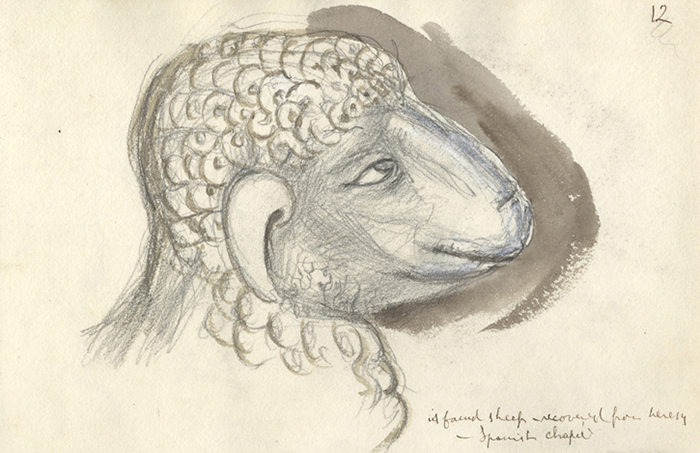 Ruskin's understanding of Old Master painting is illuminated in his letters and diaries, and by the drawings and watercolours that he made in Milan, Assisi, Florence and Venice. In addition to these, works by his associates and copyists including Edward Burne-Jones, Angelo Alessandri and Charles Fairfax Murray were featured in this exhibition.
Ruskin published several items about or containing references to the Old Masters. Most of his later writings on art were on the Florentine and Venetian painters, beginning with Val d'Arno (1874) and the lectures published as Ariadne Florentina in 1875-77. He also made material for a number of guides; these include Mornings in Florence (1875-7), which he wrote for cultured tourists, and the Guide to the Academy at Venice (1877), inspired by his winter stay in the city in 1876 and largely devoted to studying the work of Vittore Carpaccio. One of Ruskin's last written works was a preface to A Popular Handbook to the National Gallery (1888), compiled by E.T. Cook using quotations from Ruskin.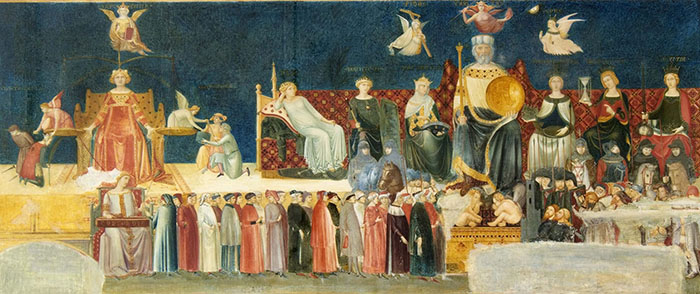 Charles Fairfax Murray: Allegory of Good Government (after Lorenzetti), 1338-39