Exploring John Ruskin's experience of Venice through its history, art and architecture.
It is impossible to exaggerate the importance of Venice to Ruskin's life, emotionally as well as intellectually. After experiencing a taste of Italy in 1833, John Ruskin's earliest visit to Venice came two years later, in 1835. Further visits in 1841 and 1845 (the first without his parents) convinced him that it was "the paradise of cities".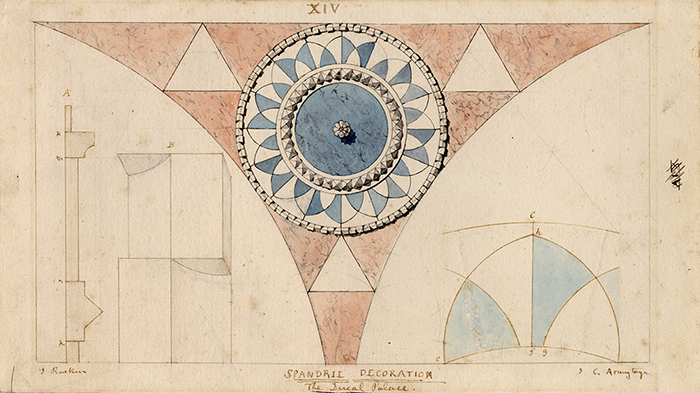 John Ruskin: Spandril decoration, the Ducal Palace, 1851 (The Stones of Venice, Vol. 1)
Like so many English visitors, he was initially seduced by its romantic beauty, but later he chose to undertake a far deeper study of its history, art and architecture than anyone had previously attempted, specifically in his major work The Stones of Venice (three volumes). In total, he made eleven trips to the city.‌‌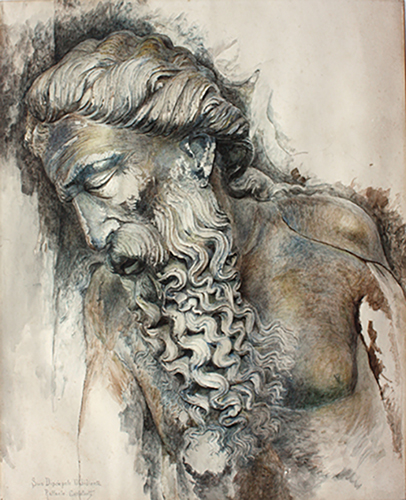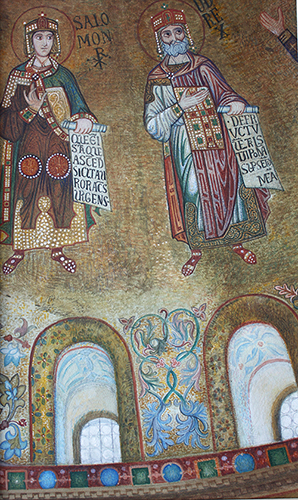 Raffaele Carloforti: Head of Noah, from the Vine Angle, 1876; John Wharlton Bunney: Solomon and David, from a Mosaic in St Mark's, Venice
This exhibition portrayed the depth and scope of Ruskin's experience of Venice and included many of the detailed sketches and architectural studies he made for The Stones of Venice. It also displayed a variety of rare Venetian books from the fifteenth and sixteenth century that were of interest to Ruskin, as well as paintings of Venice by artists that Ruskin knew. These included T.M. Rooke, J.W. Bunney and Angelo Alessandri, who were all commissioned by Ruskin to record images of Venice before it was destroyed through its 'restoration'. Such paintings were featured to show the atmosphere and romantic beauty of Venice that many of Ruskin's own drawings and studies do not.