A two-part exhibition featuring some of the most famous items in the Whitehouse Collection.
'Treasures of the Ruskin Library' focused on some of the most interesting, as well as representative, items in the Whitehouse Collection. The drawings shown included major examples of John Ruskin's early work, alongside that of his mentor Samuel Prout. Selected pictures from the Ruskin Family Collection were also on display, such as William Henry Hunt's Peach and Grapes and Interior of a farm shed, the latter of which was bought by Ruskin's father in 1845.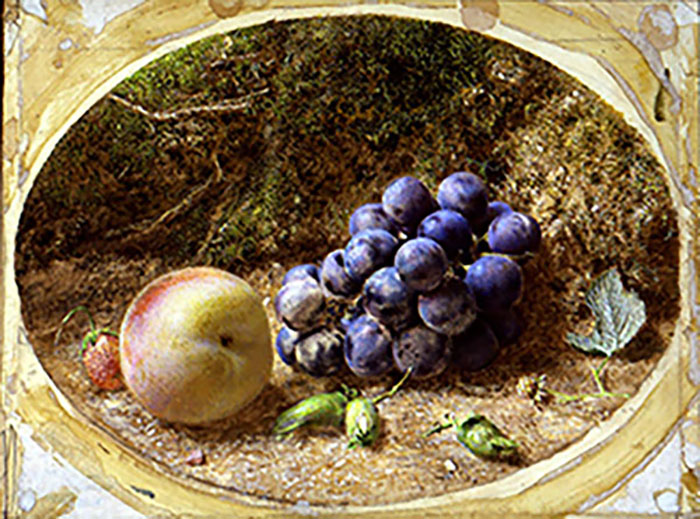 William Henry Hunt: Peach and Grapes, c. 1850
Some of Ruskin's fine Alpine watercolours of 1844-9 were shown, including the celebrated Mer de Glace, Chamonix, made with the aid of a daguerreotype photograph. Among the most celebrated of all Ruskin's later watercolours are Mountain Rock and Alpine Rose, Ca d'Oro, Venice, The Walls of Lucerne and A Vineyard Walk, Lucca. Works by other artists included Edward Burne-Jones' large cartoon of Chaucer in his study and the spectacular watercolour of Coniston Old Man by Arthur Severn.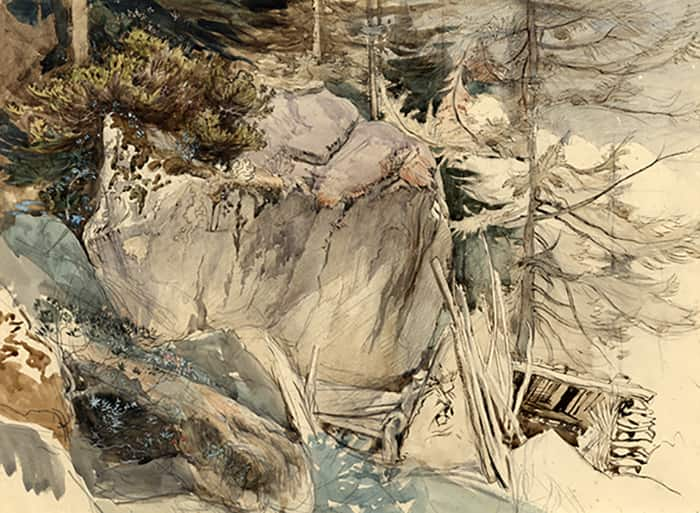 John Ruskin: Mountain Rock and Alpine Rose, c. 1844-9
The Whitehouse Collection also holds Ruskin's two most important copies after the Old Masters: of Tintoretto's Adoration of the Magi, made in Venice in 1852, and of the figure of Zipporah from Botticelli's The Trials of Moses, made in the Sistine Chapel in 1874. These and his finest architectural watercolour, North West Porch of St. Mark's, Venice, were among the few works which Ruskin publicly exhibited and were also featured in this exhibition.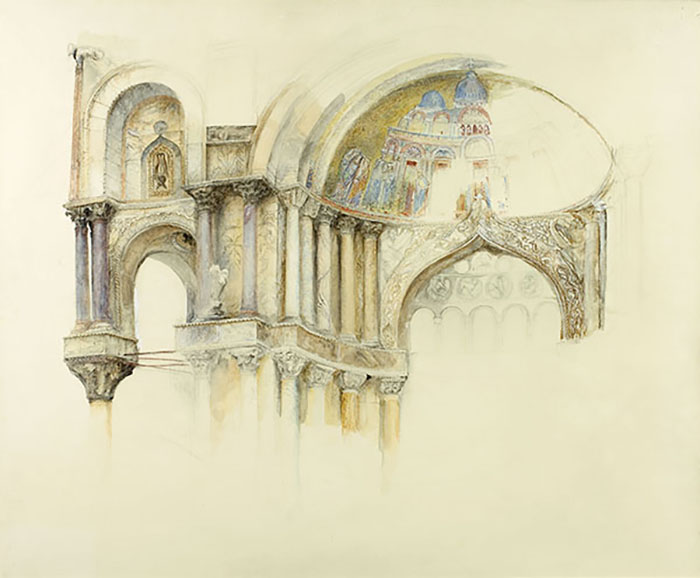 John Ruskin: North West Porch of St Mark's, Venice, 1877
Featured library material included some of Ruskin's fascinating manuscript diaries and rare books, such as the privately printed Poems (1850), as well as fine bindings from his library and books presented by him to a wide circle of friends. There were also items displayed from the Kelmscott, Doves and Essex House presses, as well as some forgeries executed by Thomas Wise in the 1890s. Unexpected treasures ranged from Lewis Carroll's copy of Praeterita to a corrected typescript by George Bernard Shaw. From the library's holdings of correspondence were examples of letters to Ruskin from Robert and Elizabeth Browning, Thomas Carlyle and Edward Lear.