A special two-part exhibition, featuring works by John Ruskin that came of his visits to Switzerland.
In 1833, at the age of fourteen, John Ruskin made his first visit to Switzerland. He describes himself at this time, in his autobiography Praeterita, as having "so much of science mixed with feeling as to make the sight of the Alps not only the revelation of the beauty of the earth, but the opening of the first page of its volume." Although Ruskin is perhaps most closely associated with Italy, chiefly through his championship of Venice, his passion for Switzerland and the Alps never faded. Not only was he fascinated by geology from an early age, but he was also fond of the Swiss landscape, especially as depicted in watercolours by J.M.W. Turner which he and his father collected. Travelling to Switzerland was therefore very much in Ruskin's interest.
This exhibition featured many exquisite depictions of Swiss landscape and architecture by Ruskin and others, including watercolours of mountains such as Mont Blanc and images of Lake Thun. It also displayed various pages of Ruskin's diary, showing detailed artistic and written observations made on his exciting travels to Switzerland.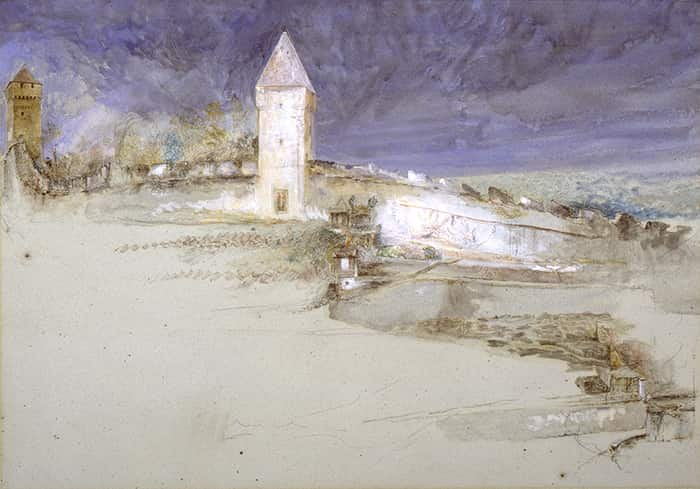 John Ruskin: The Walls of Lucerne, c. 1866
The Walls of Lucerne (see above), one of Ruskin's most famous watercolours, is a view of the wall linking the Dachliturm, in the centre, with the Allenwindenturm beyond, and may have been painted from the Schweizerhof, Ruskin"s favoured hotel. Spending little more than a week there in the summer of 1866, Ruskin recorded in his diary for 18 June having "sketched [the] first bit of [a] great view". This may refer to the large watercolour pictured or to a much smaller yet more panoramic pen and ink drawing of the whole town of Lucerne (held at the Ashmolean Museum, Oxford).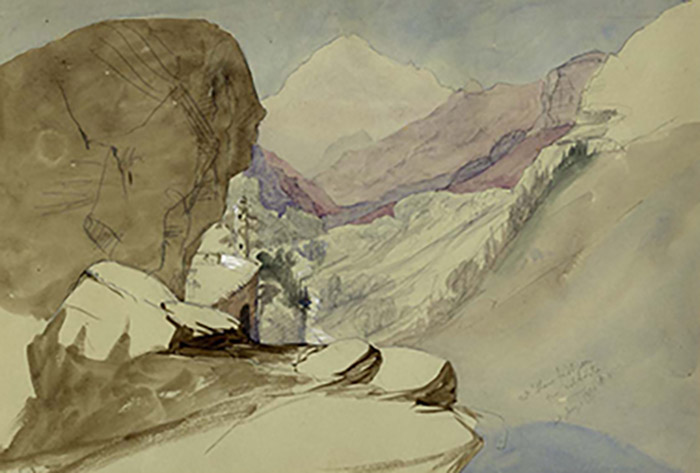 Sir Henry Acland: Mont Blanc first seen from Val D'Aosta, 1846
Henry Acland was a slightly older fellow student with Ruskin at Christ Church, Oxford. He went on to become Regius Professor of Medicine at Oxford, and along with Ruskin was one of the prime movers in constructing the new University Museum and School of Natural Sciences, erected in the Gothic style in 1855-60. He continued to visit Ruskin in later years and was photographed with his old friend at Brantwood in 1893 by his daughter Angie. His drawing of Mont Blanc (see above) was made on his honeymoon in 1846.‌