A majestic showcase of items from the Southwark Collection, with outstanding paintings and drawings by celebrated Victorian artists.
As an art historian, an educationalist and an artist in his own right, John Ruskin had considerable influence on the form and development of British museums and art galleries. He even provided a practical example of one by establishing St George's Museum, of his Guild of St George, in Sheffield in 1875.
Ruskin hoped for "a large educational museum in every district of London, freely open every day [...] for the use of all classes." Progress towards this goal was made in 1891, the year of the founding of the South London Gallery (SLG). Conceived by William Rossiter in the 1860s, the gallery grew out of the South London Working Men's College and opened a large new building on Peckham Road in May 1891. Still standing today, it continues to be a thriving centre for contemporary art exhibitions and educational activity. Its inlaid wooden flooring, designed by Walter Crane, carries the message: "The source of art is in the life of a people."
The exhibition 'A Model of Perfect Order...' featured all the drawings by John Ruskin in the Southwark Collection of Southwark Heritage, which used to be held at the SLG. It displayed these drawings for the first time outside of London, along with the magnificent marble bust of Ruskin by H.C. Fehr, commissioned in 1901. Also included in this exhibition was a selection of outstanding Victorian paintings and drawings from this collection, including celebrated genre scenes by Karl Bauerle and George Smith, and work by Ford Madox Brown, Alfred Parsons, T.M. Rooke and G.F. Watts.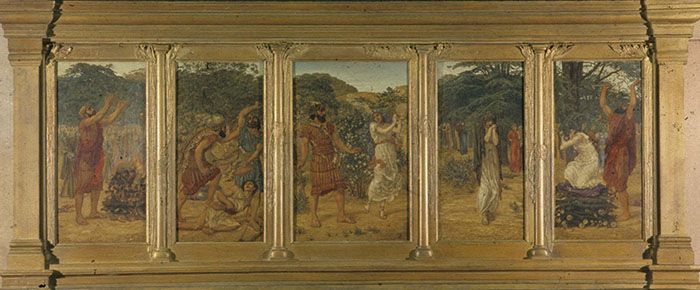 T.M. Rooke: Jephthah's Daughter, 1882