A scenic showcase of George Rowlett's painted landscapes, inspired by the travels and work of John Ruskin.
The painter George Rowlett is renowned for his landscape paintings using bold impasto, powerfully evoking a sense of place through strong colour and elemental composition.
Born in 1941, George Rowlett studied at Camberwell School of Art and the Royal Academy Schools between 1962 and 1968. He has had many solo exhibitions, including Oil Painting 1983-1990 at the Albemarle Gallery (London) and the Everard Read Gallery (Johannesburg) in 1990, and themed exhibitions such as From the River To The Sea (Maidstone and Rochester, 2002) and George Rowlett in Wales (Abergavenny, 2006).
As part of the celebration of the 150th anniversary of the Alpine Club in 2007, the painter George Rowlett was invited by Peter Mallalieu, the Club's 'Keeper of Pictures', to spend time working in the French Alps in the spring of 2006. The area around Chamonix was especially beloved of John Ruskin (1819-1900), who made sixteen (often lengthy) visits between 1833 and 1888. To extend the project, George was offered a residency at Brantwood, John Ruskin's home at Coniston from 1872 to 1900, and painted there in the autumn.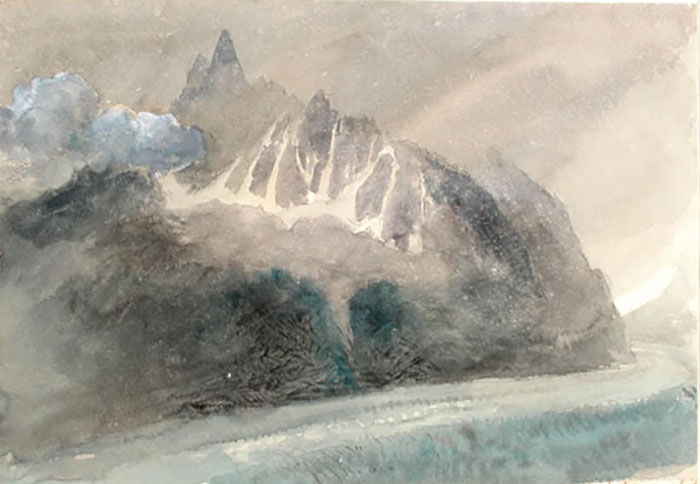 John Ruskin: La Mer de Glace, Chamonix, 1849 (courtesy of Alpine Club, London)‌
Some of the Chamonix subjects featured in this exhibition derived inspiration from watercolours by Ruskin in the collection of the Alpine Club (which were also on display). The Club was founded in 1857 by a growing number of climbers and other regular visitors to the Alps, and although he was not a mountaineer in the modern sense, Ruskin was a member from 1869 to 1882. Speaking in 1900 after Ruskin's death, Douglas Freshfield (a former President of the Club) declared that "[Ruskin] saw and understood mountains, and taught our generation to understand them in a way no one – none even of those who had been born under their shadow – had ever understood them before."
‌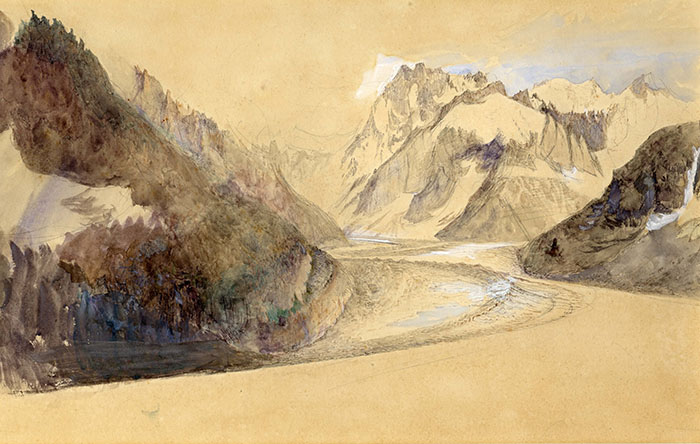 John Ruskin: Mer de Glace, Chamonix, c. 1849
Ruskin's diary for August 1849 records many ascents onto the glaciers around Chamonix, led by the trusty local guide Joseph Couttet. He was making geological observations but also took pride in being one of the few artists who, in his own opinion, had "climbed into the snowy region", rather than just observing from below.
Find out more about George Rowlett and his work on the
Art Space Gallery website
.