This exhibition explored artist and collector David Walker Barker's fascination with geology and landscape, through pieces of his artwork and items from his personal collections.
David Walker Barker is an artist, collector and lecturer in the School of Design at the University of Leeds. He is also a Companion of the Guild of St George and a member of LAND2, a network for those interested in landscape art practice. His artwork features in public and private collections across the world.
David began to develop his interest in geology and landscape evolution as a student at the Royal College of Art. Through fieldwork and research, he became fascinated by the diversity and complexity of landscapes. As such, his paintings, drawings and even constructions of cabinets have come to reflect his main focus: how geological and human histories intersect, and how resulting industries and cultures impact upon landscape forms. Through this specific interest, David has established extensive collections of geological and historical material, including fossils, crystallised minerals and related artefacts from various environments.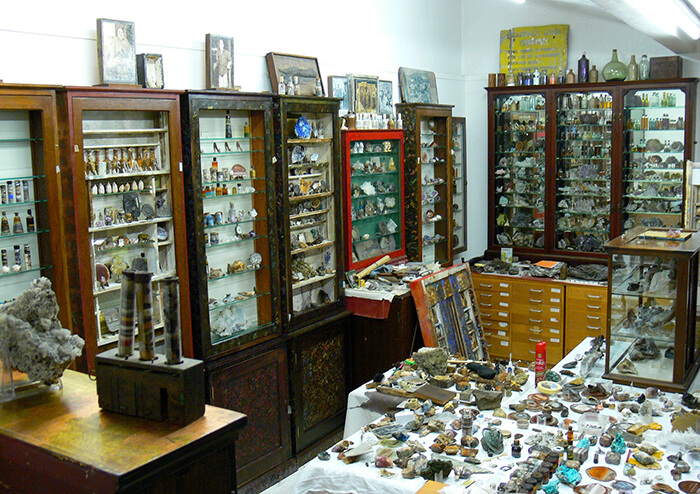 Cabinets in David Walker Barker's studio. © David Walker Barker
This exhibition displayed an enthralling collection of cabinets and related artworks by David Walker Barker. More deeply, it explored the function of the collection as an extension of an art practice, from painting and drawing to criticism and commentary on the landscapes around us.
Taking inspiration from John Ruskin's fascination with minerals, the exhibition included:
Six newly constructed cabinets displaying mineral and fossil specimens, artefacts and fabricated objects
A range of paintings, drawings and sketchbooks
Selected crystal specimens and geological material from the Guild of St George's Ruskin Collection (Millennium Gallery, Sheffield)
This exhibition was David's first major collaborative project since his work with Killhope (The North of England Lead Mining Museum), for which he completed an AHRC research project and produced a range of artworks in relation to the northern Pennine landscape and its mining history.