Paintings and drawings from Leighton House, London.
John Ruskin is best known for his championship of J.M.W. Turner and the Pre-Raphaelites, but he was also an admirer and friend of several other contemporary artists. One of them was Frederic Leighton (1830-1896), President of the Royal Academy from 1878 and the first painter to be awarded a peerage. From their initial meeting, Ruskin liked the younger man and his work, which he later commended in his Academy Notes in the 1850s and his Oxford lectures thirty years later. Leighton reciprocated this generosity by lending two drawings to Ruskin for use in the art school which he established at Oxford University: A Byzantine Well (1852) and the celebrated Lemon Tree (1859).
Born in Scarborough, Leighton chose artistic training abroad, in Hamburg and Florence. There, he met the poets Robert and Elizabeth Browning, who introduced him to Ruskin in 1855. In that year, the young artist made an immediate impression with his huge painting of Cimabue's Madonna carried in Procession through the streets of Florence; it was chosen for the Royal Academy's Summer Exhibition and even gained royal approval from Queen Victoria, who purchased it on the exhibition's opening day. John Ruskin's Academy Notes heavily favoured the Pre-Raphaelite painters, but they praised Cimabue's Madonna... as "a very important and very beautiful picture", comparing it at length with the work of the Venetian Old Masters.‌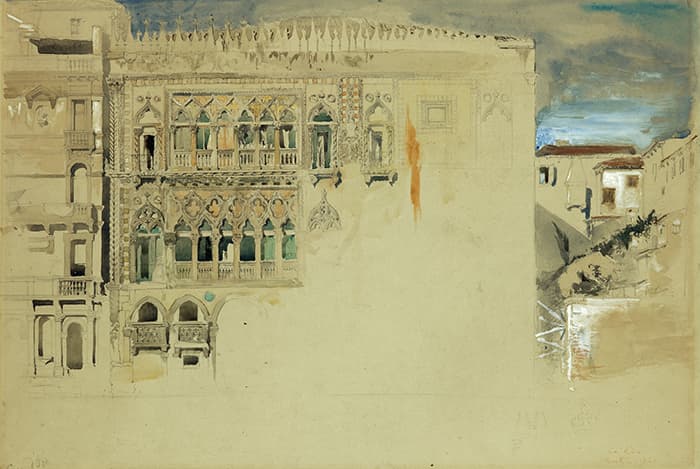 J‌ohn Ruskin: Ca d'Oro, 1845
Leighton and Ruskin could hardly be said to have been on close terms, due to only meeting and corresponding occasionally, yet this 'friendship' was long-lasting. Ruskin invited Leighton to his house on Denmark Hill to see his collection of Turners and other drawings. Similarly, Leighton welcomed Ruskin to Leighton House, where he delighted in seeing its lavish features such as its "Arabian fountain […] and Aladdin's palace glass".
Towards the end of Ruskin's life, in his Oxford lecture entitled 'Classic Schools of Painting' in May of 1883, the renowned Victorian critic praised Leighton's skill as a draughtsman and colourist. One of Ruskin's last documented public appearances was at the private view of the winter exhibition of Old Masters at the Royal Academy a few years later, in 1887, presided over by Leighton.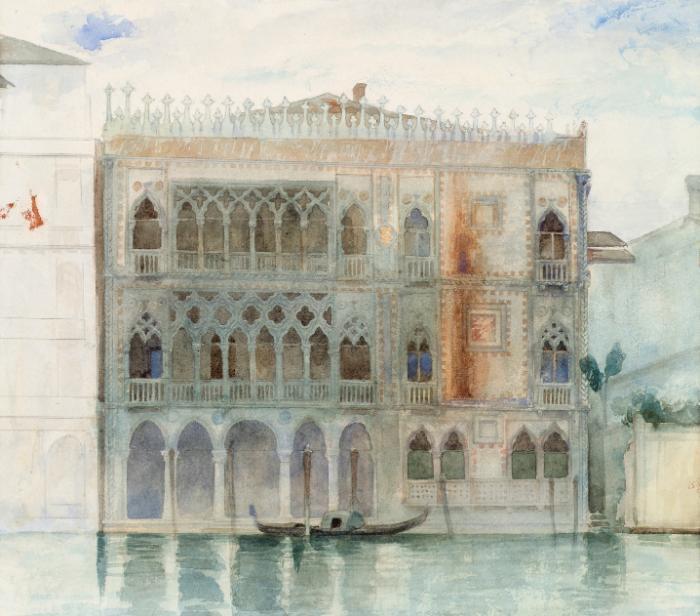 Frederic Leighton: View of Ca D'Oro, 1856. © Royal Borough of Kensington and Chelsea. Photographer: John Rogers
Like our Museum, Leighton House has also benefited from Heritage Lottery Fund assistance with the conservation of a large number of drawings.
This display of 40 studies and finished drawings by Lord Leighton was a continuation of an exhibition touring various museums and galleries in the UK. Here, it was complemented by some of John Ruskin's drawings.
Our special thanks go to Daniel Robbins (Senior Curator), Sally Dobinson (House & Collections Manager) and all other staff at
Leighton House Museum
.