Continuing our successful 'natural world' exhibitions, such as 'Ruskin's Flora' (2011) and 'Sketching from Nature' (2008), we returned once again to this rich and wonderful theme.
Nature shaped John Ruskin's view of the world from an early age. It inspired and fascinated him and this is reflected in all parts of his life and work. In particular, Ruskin's love of landscape motivated his intense visual examination of nature, and he strove to match its beauty and detail within his drawings, encouraging his students, in turn, to look to nature for inspiration. After all, Ruskin strongly believed that a true understanding can only come from close observation and that the process of drawing increases the artist's understanding of the world around him or her. In The Elements of Drawing, he writes to his artist readers and encourages them to search for the lines of action, the accents and the dynamics that reveal the life of the object being drawn or sculpted: the lines of "vital truth" which are "always expressive of the past history and present action of the thing"‌.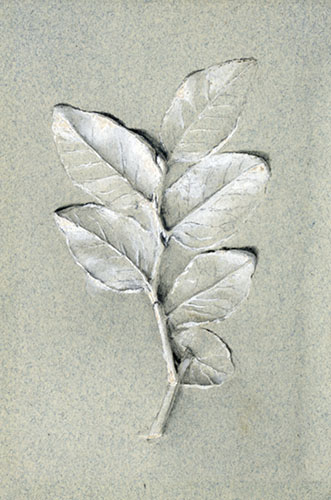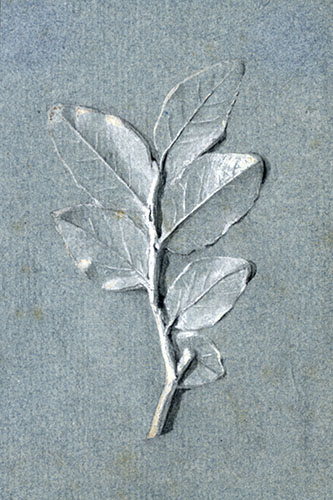 ‌
John Ruskin: Bay leaves: studies in light and shade.
'Fragments of Nature' was an exhibition based on the subjects of geology, zoology and botany, showing a range of works from alpine views to studies of delicate flowers. It reflected the importance of nature as a source of inspiration in Ruskin's life and teachings and demonstrated both his need to capture the precise beauty of nature exactly and the energy and mood of natural phenomena. Also featured in the exhibition were examples of ceramics by Paul Szeiler, kindly lent from a private collection.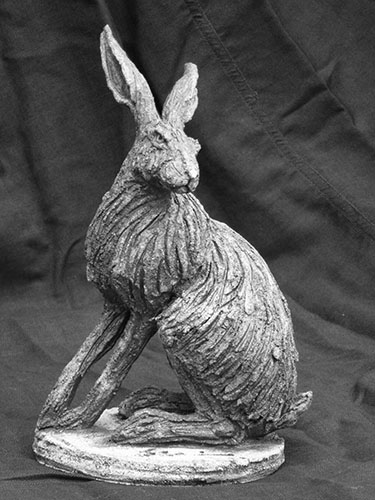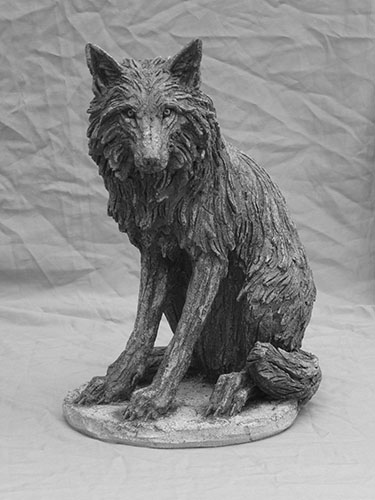 Paul Szeiler: Hare & Wolf (photograph courtesy of Alan Davis)
In his sculptures, Szeiler expresses the dynamic lines of action referred to by Ruskin so effectively that they often give the impression of movement. Not just mere movement, however, but movement characteristic of the animal: the twitch of its ears, the stretch of its forelegs, the turn of its head or the curl of its tail. 'Fragments of Nature' showed Szeiler's sculptures of a hare, wolf and raven which illustrated these principles perfectly. As Szeiler notes, his sculptures are "not meant to be realistic [in a photographic sense], but to create in the mind of the viewer a vivid sense of the animal in the wild", and he makes "no attempt to disguise the medium".