With complementary images by John Ruskin.
Victoria Crowe is well known for her portraits of artists, writers and scientists, including the poet Kathleen Raine (National Portrait Gallery), actor Graham Crowden (Scottish NPG) and Prof. Peter Higgs, for the Royal Society of Edinburgh. She is a member of the Royal Scottish Academy and was awarded an OBE for her Services to Art in 2004.
Her work embraces both figure and landscape, often in striking combination. An earlier exhibition, A Shepherd's Life, focused on life in the Scottish borders from 1970-1985, and one featured painting (Large Tree Group) was reproduced as a tapestry by Edinburgh's Dovecot Studios.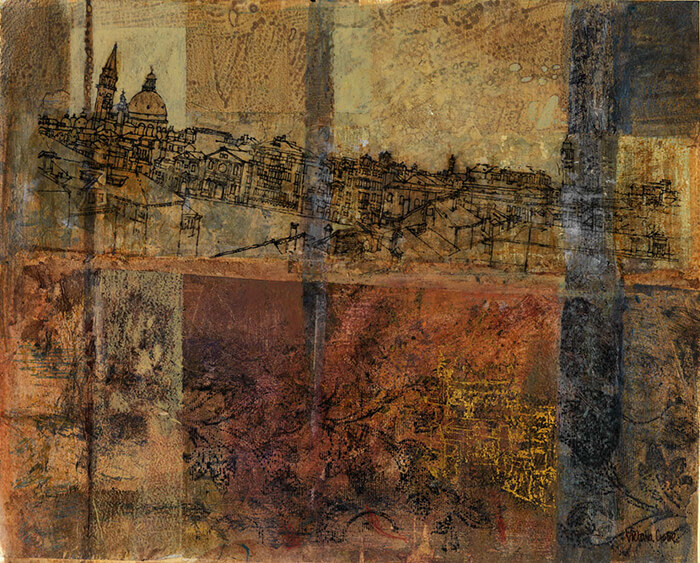 Victoria Crowe: Reflections on the City. © Victoria Crowe
'Permanence and Fragility' was an exhibition of paintings and drawings of Venice and nature. Pieces by Victoria Crowe were displayed alongside studies by John Ruskin to show the striking similarities between their work and subject focuses, despite the two artists living over a century apart. After all, Crowe's interests echo those of Ruskin in many ways; not only does she have a passion for the natural world, but she also spends much of her time in Venice, a city whose buildings and history have inspired her paintings.‌
Special thanks go to Victoria Crowe for making this exhibition possible through the loan of works from her studio, as well as private collectors and Michael Walton, Julie Lawson and David Ingram.