Still life – the arrangement of objects, especially flowers and fruit, in a careful composition – is an overlooked category of art, yet it has always been popular and remains so to this day.
John Ruskin's interest in still life centred on his teaching practice, encouraging the careful observation of nature, and in the work of artists he knew. Notably, his interest lay in seeing things in their own setting, in the same way that he preferred living plants to cut flowers.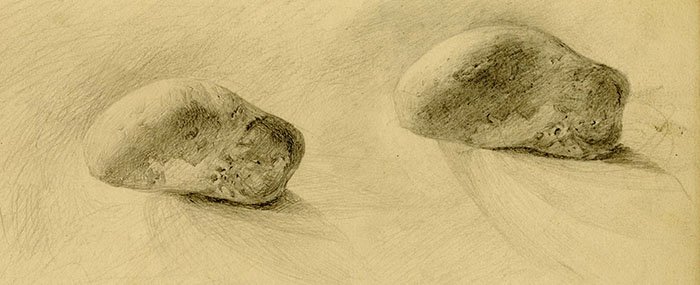 John Ruskin: Two studies of a stone
This exhibition included three important works by William Henry Hunt, whose jewel-like watercolours of fruit, flowers and animals were avidly collected by Ruskin and his father: Peach & Grapes, bought in 1858, was hanging in Ruskin's bedroom on the day he died, and John Ruskin's Dead Chick, was commissioned in 1861 (lent by the Walker Art Gallery).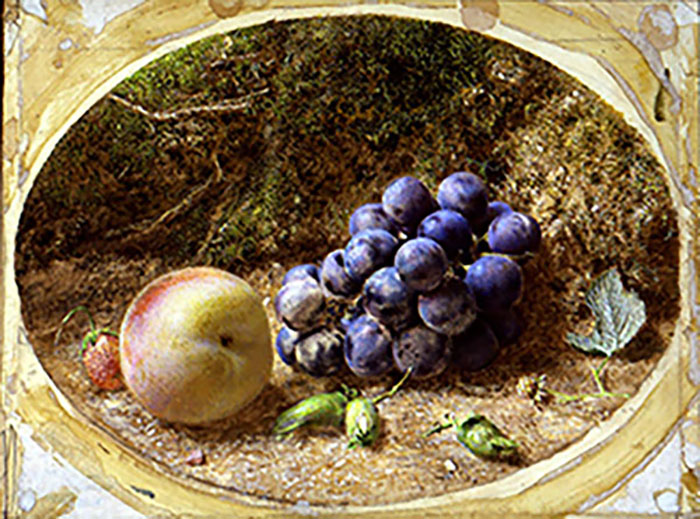 William Henry Hunt: Peach and grapes, c. 1850
It was also a privilege to show J.M.W Turner's watercolour entitled Dead Pheasant (c.1815-20) in this exhibition, which was formerly in Ruskin's collection (lent by the Whitworth Art Gallery). Other works included a rare still life by Ruskin himself alongside studies by two of his pupils, J.W. Bunney and Louise Blandy, and pieces by Laurence Hiliard. Hiliard was Ruskin's secretary, who resigned in 1882 to become a professional painter and this display marked the Brantwood Trust's recent acquisition of two of his sparkling watercolours.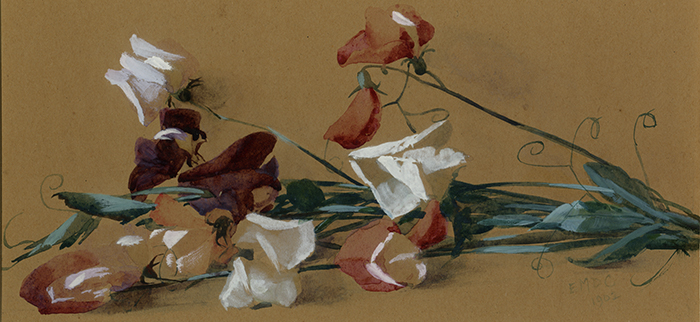 E.M.D. (Dorrie) Collingwood: Sweet Peas
This exhibition was greatly enhanced by generous loans from the Walker Art Gallery (National Museums Liverpool), the Whitworth Art Gallery (University of Manchester), Museums Sheffield (Guild of St George, Ruskin Collection), The Ruskin Museum (Coniston), the Brantwood Trust and a private collector.