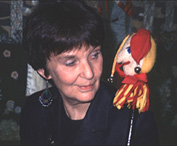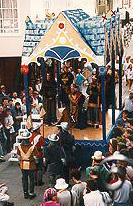 Professor Meg Twycross (English Department, Lancaster University: Director of Studies for the MA by Research in Medieval Studies) is co-editor of the journal Medieval English Theatre and its associated publications, and has published widely on medieval theatre in all its aspects. She specialised in the meticulous recreation of medieval performance conditions in authentic venues, including the organisation of two pageant-waggon sequences along part of the original route of the York Mystery Plays for the York festivals of 1988 and 1992. Her videos made with Lancaster University Television are used widely for teaching. She is also an expert in medieval iconography. Masks and Masking in Medieval and Early Tudor England, written in collaboration with Dr. Sarah Carpenter of Edinburgh University, and published by Ashgate in 2002, won the the international 2004 David Bevington Award for Best New Book in Early Drama Studies.
She is particularly interested in the application of computing to research and teaching in the Humanities, and has produced an on-line palaeography course. Her latest investigation applies document-examination and virtual-restoration techniques to the York Ordo paginarum in an attempt to reconstruct the original 1415 list, and she has succeeded in reading material which was scraped out and overwritten in the 1510s and even earlier (see Medieval English Theatre 26).
She is pursuing research into the pictorial and archival evidence of pageant waggons and theatrical processions in the Southern Low Countries, especially Leuven in Belgium. She is currently working with Dr Guido Latré on a bi-lingual edition of the Leuven Liber Boonen.
Email: m.twycross@lancaster.ac.uk



Back to About the Project

---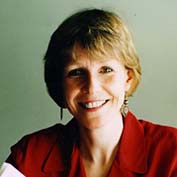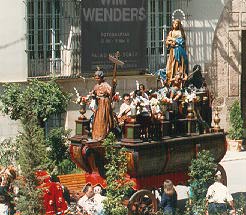 Professor Pamela King is Director of the Centre for Medieval Studies at Bristol University. She was co-editor of the modern-spelling text of York Mystery Plays (OUP); an edition of the Coventry Plays with Clifford Davidson, and has published a short book on them for the Coventry Historical Association. She is preparing a hypermedia facsimile of the two surviving Coventry Plays. She is currently finishing a major book investigating the relationship of the York Cycle to the liturgy. Her publications also include works on the continuing tradition of festive religious drama in Spain, processions and festive culture, and on medieval art and literature, especially in their social contexts. Her postgraduate training in Medieval Studies in York included iconography, and urban and ecclesiastical history.
Email: fapmk@bristol.ac.uk

Back to About the Project

---
Mrs. Olga Horner graduated from Lancaster University with a degree in English. Her subsequent research has been eclectic, with a particular interest in medieval theatre and the law. Her publications include 'Fulgens and Lucres: An Historical Perspective' Medieval English Theatre 15 (1993) 49-86; 'Christmas at the Inns of Court' in Festive Drama (Cambridge: D.S. Brewer, 1995) 41-53; 'Susanna's Double Life' Medieval English Theatre 8 (1986) 76-102; and 'Biblical and Medieval Covenant in the Old Testament Plays' in Porci ante Margaritam: Essays in Honour of Meg Twycross edited Sarah Carpenter, Pamela King, and Peter Meredith Leeds Studies in English NS 32 (2001). Her ground-breaking article, 'The Law that Never Was', on the legal position of playing God on the English stage, appeared in Medieval English Theatre 23. She has taught for the English Department at Lancaster University and been a stalwart of the Joculatores Lancastrienses: no pageant waggon could move without her. She has been a researcher for REED, and is Subscriptions Secretary of Medieval English Theatre.
Email: o.horner@lancaster.ac.uk

Back to About the Project

---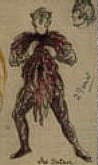 Helen Bennett has a BA in English and an MA in Medieval Studies from Lancaster University. Her interests are spread between medievalism and computing: her MA dissertation was written on both. She is now working for Entropy International, thus combining ethical management of the planet with computing know-how. From time to time, she also provides free technical advice to the Project over coffee.

Email: helen.bennett@entropy-international.com.
Back to About the Project



---

Professor Andrew Prescott is Director of the Centre for Research into Freemasonry at the University of Sheffield. He has lectured and published widely on the history of Freemasonry since the establishment of the Centre in 2001. He was a curator in the Department of Manuscripts in the British Library from 1979–2000. His research interests, besides the study of Freemasonry, include the Peasants' Revolt of 1381 and the history of the library of Sir Robert Cotton. He is one of the country's leading experts on the application of new technologies to humanities research, and was the principal library contact for the British Library's Electronic Beowulf project.
Address: Humanities Research Institute, Floor 14, Arts Tower, University of Sheffield, SHEFFIELD S10 2TN
Telephone: (+44) 114 222 9890
Fax (+44) 114 222 9894
Email: a.prescott@sheffield.ac.uk.
---
&copy The York Doomsday Project and Meg Twycross