INSULAR HALF UNCIAL (Insular Majuscule)
A breathtaking development of the Roman Half-Uncial, created in the British Isles, hence Insular. It is also known as Insular Majuscule though it is not strictly speaking a majuscule script.
This is a folio from Trinity College MS 58, 'The Book of Kells'. It is a Gospel Book, written in Ireland at Kells, or possibly Iona c.800 A.D. This is quite late: the script was evolved during the 7th century, and its most striking and famous example is the Lindisfarne Gospels, written in the monastery there by its bishop Eadfrith c. AD 698.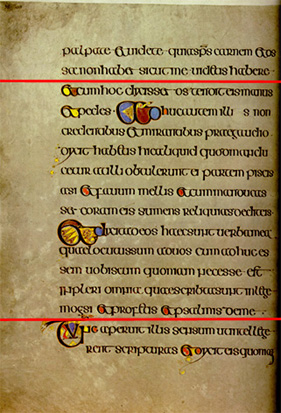 ---
Exercises:
---

Return to Index Page.

&copy MEG TWYCROSS 1999