Gothic Textura Quadrata and Rotunda
There are two examples of scripts below: you are asked to transcribe portions from both of them.
Go to Gothic Textura Quadrata
Go to Gothic Textura Rotunda.
---
Gothic Textura has several variants. The most elegant and formal was Prescissa or Sine Pedibus which you studied last week.
The next, still very high quality, bookhand version is called Quadrata ('squared off'). This refers not so much to the shape of the letters as to the lengthened diamond-shaped serifs on the feet of the minims.
This is folio 11 from BL Additional MS 24686, the Alphonso Psalter. It was made for Alphonso, the son of Edward I and Eleanor of Castille (he was christened after Eleanor's half-brother Alfonso X, hence the exotic name). He died in 1284, when the text of the Psalter had been written but before its decoration was finished. His are the arms (the leopards of England, with a label) at the bottom left of the page. Like the Luttrell Psalter, this manuscript was possibly made in East Anglia, possibly in London.
This is the opening page of the Psalter, known from the first word of Psalm 1 as a Beatus page. Beatus means 'blessed'.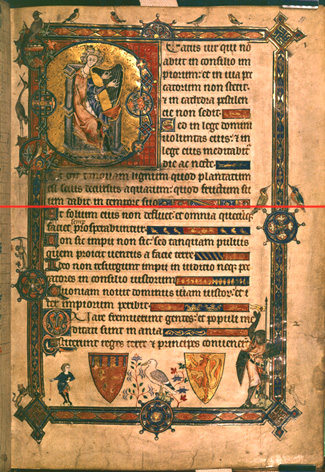 As usual:
---
---
The still elegant but much lower-grade bookhand version of Textura is called Rotunda ('rounded'). Instead of being finished with definite feet, or cut off abruptly, the bottoms of the minims are curved upwards in a cursive manner. This presumably made the script faster to write.
This is a loose folio from a Book of Hours written in the Low Countries, possibly Utrecht, in the mid 15th century. It is one of the ones you have handled.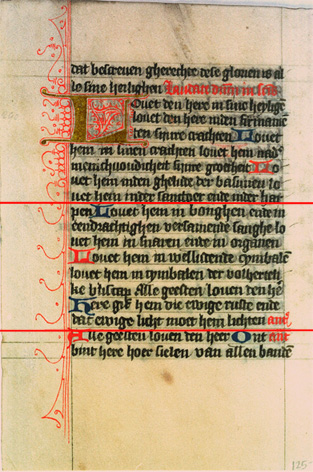 ---
There are also scripts which are a cross between Quadrata and Rotunda: i.e. sometimes they have the 'squared' feet, and sometimes the curved ones. The manuscript you saw in the flesh and on screen in Week 1 is like this. This script is called Semi Quadrata .
---
Return to Index Page.
&copy MEG TWYCROSS 1999