Two Charters
Below are two fifteenth-century documents relating to land and property. They both belong to a private collection in Lancaster.
Document A is Lancaster: Private Collection M.A. Twycross, Charter 2, dated 9 April 1401.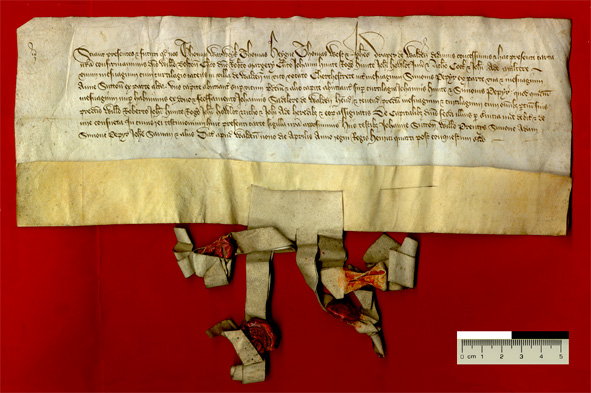 .................................................© Meg Twycross

This is in Latin, with the names of the persons involved in English. It is a good example of the standard form of release of land. Legal documents made heavy use of abbreviations of the standard formulae, as everyone was expected to know what they stood for.
For an excellent introduction to these formulae, see :

Eileen Gooder Latin for Local History (London: Longman, 1961, 2nd edition 1979).
The date is given by day, month, and regnal year. The invaluable guide to medieval and post-medieval methods of dating - no historian should be without it - is:

G.R. Cheney Handbook of Dates for Students of English History (London: Royal Historical Society, 1945): it has been printed continuously since.
The script is a formal late-fourteenth-century Secretary hand.
As usual:
---

Document B is Lancaster: Private Collection M.A. Twycross, Charter 3, dated 25 March 1499. It is an indenture: note the serrated edge along the top.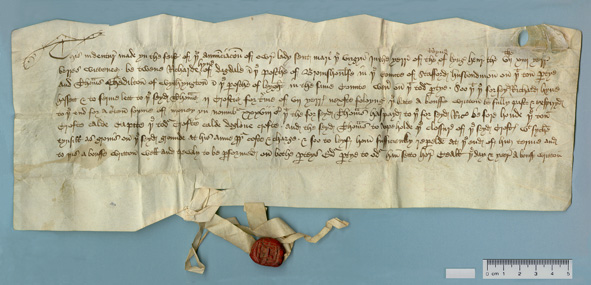 .................................................© Meg Twycross
This is in English. It records a lease of agricultural land in Staffordshire, near Uttoxeter. It also makes use of abbreviations, but a rather different range from the Latin charter.
The Staffordshire dialect is marked. It is written in a run-of-the-mill late-fifteenth-century Secretary hand.

Again:
---

Return to Index Page.

&copy MEG TWYCROSS 2000