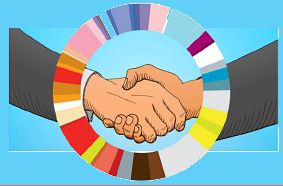 Shake Hands and share plans!
Global Entrepreneurship Week is only one week away and we're using this campaign to show the world that the Lancaster University is a campus of networkers. Give us a hand – share your handshake selfie!
This time next week we will have kicked off festivities with 'Battle of the Colleges' and' Fail Forward' the official opening event is  Monday 17th November 6pm – 9pm. Many more activities will be taking place all week, all across campus. Full details on the GEW2014 programme here.
We want to see your global connections and we want to know how events you have attended have helped you meet people,  get inspired, learn new skills and develop your ideas.
Don't be quiet about it, we want to know who you've had great conversations with. Take a handshake selfie and share it on any social media channel using #GEWConnect. We'll pick our favourite selfies to share at the end of the week.
Youth Business International, organisers or Global Entrepreneurship in the UK are offering a prize for the person that bags the best entrepreneurship handshake selfie shot. Who's your handshake selfie no.1? Did you catch a Big Fish? Or maybe even a Dragon? From old friends to new connections, tweet your pics!
Booking is on Target Connect. Search under 'event type' for Global Entrepreneurship Week 2014.