Congratulations Ikigai Factory!
Congratulations to International Innovation graduates, Kyaw, Patrizia and Sebastien of Ikigai Factory limited who were awarded Duke of York Young Entrepreneur Awards last month. The Enterprise Team nominated Ikigai Factory in recognition of their hard work and success developing and taking their product REVR to market. Launched in 2017, REVR is a virtual reality solution that allows estate agents to view, manage and share virtual property tours; improving the viewing experience for customers too busy or remote to easily visit properties.
The team have written a short account to share their experience from the presentation day, where they were presented with the awards by the Duke of York himself.
In the morning of the 9th July before the ceremony we had the chance to meet with our mentor from LUEC, it was a good opportunity to catch up and to prepare for the event. At about 1pm we moved to the Buckley Innovation Centre at Huddersfield University where the other entrepreneurs from different universities from the North of England were. After setting up our stand we had the opportunity to network during lunch with the other students/entrepreneurs, and found the potential for future collaborations. Our solution also caught the attention of University representatives and a photographer present that day.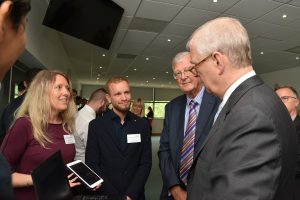 HRH presented The Duke of York Young Entrepreneur Award to the ten companies there, and at 2pm the Duke arrived and went around to the stand of each company, we were able to present our product and answer his questions regarding REVR. Meeting the Duke of York and discuss with him about REVR it was a great experience! One wisdom that the Duke shared to all young entrepreneurs resonated with us. He said "No plan survives the first contact with the enemy".
We were honoured to be presented with the award by the Duke of York in person, this could not have been possible without the LUEC team that supported and is supporting us in our start up journey.
To read more about their story and check out their product, visit their website or their page on our Enterprise Directory.