The South Africa Challenge 2017

My name is Leon Seefeld and I am an International Business Management student at Lancaster University. The generous sponsorship of the Enterprise Centre and Santander Universities enabled me to participate in a programme called South Africa Challenge. For two weeks in summer, this programme takes young and passionate people out to the beautiful country of South Africa to develop their leadership and entrepreneurship skills. Through theoretical input and practical experience in the form of social projects, participants grow personally and make a meaningful difference in the townships of Durban, South Africa.
It was an absolutely amazing experience to be exposed to the entrepreneurial environment in Durban. A major part of the challenge consisted of meeting partners and learning about their stories in the space of entrepreneurship. We were able to talk to the Durban Chamber of Commerce, Bizfarm (a company providing entrepreneurial support), Catalyx Consulting (a social enterprise catalysing the CSR (corporate social responsibility) budgets of large corporates and community developing initiatives) and many more. Learning from people who successfully entered this exciting space was truly inspiring.
Through our own project development and implementation, we all were able to learn a lot about how to set up an international project or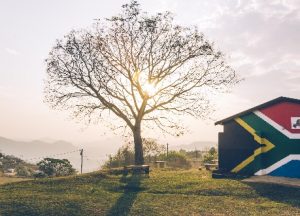 organisation. Especially the research on a particular issue and the creative collaboration to work out solutions are things that I will benefit from for future initiatives and internationally operating businesses. As previously mentioned, meeting so many partners not only inspired me but also taught me how important reliable business partners on the ground are when setting up something outside of your immediate surroundings.
Since all the people we met are really open-minded and appreciate every outside perspective on the problems that they have been dealing with for a long time, I was able to build a large network of people and contacts that I can refer back to in the future. My work at Enactus Lancaster, dealing with various projects in the space of social entrepreneurship, will benefit from this new network, and even I personally can see myself coming back to Durban and continue working with these amazing people.
But not only my Durban specific horizon was widened during our trip; also, my general entrepreneurial skills like pitching, holding meetings, working with the business model canvas and defining visions and values around an idea were strengthened. I developed both as a person, and as an entrepreneur, and took many more things home than I initially expected. Particularly the early stages of a project and organisation are things I dived deeper into and I worked on my own approach.
Finally, I can say I even refined my knowledge about and view on the entrepreneurial mindset. Whilst creating a workshop for young people to evaluate themselves and decide if they might be an entrepreneur, I did a lot of research. I can now say that I have a clearer picture on what an entrepreneur actually is and what the key characteristics are.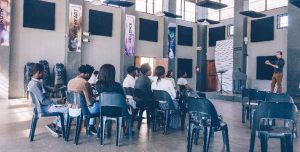 Overall I am really grateful for having had the opportunity to participate in the programme; learning so much about entrepreneurship in South Africa (and in general) and meeting so many inspiring people. I am certain that this experience will play a major role in my future career and engagements. I would like to that the Enterprise Centre for making this possible for me and can only recommend exploring this space to everyone else. This is truly a lesson for life.