One week could change your career perspectives forever!
Get Connected: Global Entrepreneurship Week 2014

Making things happen is so much easier when you're CONNECTED
If you want to get connected to other people who also want to make things happen, come along to any of the events during Global Entrepreneurship Week and see who you can meet.
Throughout the week you will be able to connect with people:
who can connect you to every bit of enterprise and innovation support on campus and beyond (watch this space)
from your college to find a winning business solution (more)
who can help you get the most from your Lancaster Award (more)
who can show you how to earn while you learn as a Freelancer (more)
who've learned from failure and moved forward stronger than ever (more)
who are looking to involve others and achieve more (more)
who make social media work for their project or business (more)
who want to work in the creative sector (more)
who know how to run a business on campus (more)
who can help you find office space on campus (more)
who can get your hands on technology for innovation (more)
to create and develop ideas for business and social enterprise (more)
who can provide work experience opportunities while you study (more)
who can share their experience through mentoring (more)
who will help you let your hair down (more)
who can refine your creative problem-solving skills (more )
who can help you turn your idea into a business or social enterprise (more)
and form a team to face the challenge of Google Start Up Weekend (more)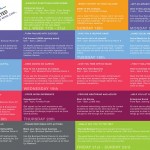 Click thumbnail above to view full schedule, or click here to download PDF (2MB).
Registration via TARGETconnect (follow links above).
To find all events for the whole week, search for Global Entrepreneurship Week 2014 in Event Type on TARGETconnect.
Sign up to our mailing list to be the first to know when the schedule is announced.