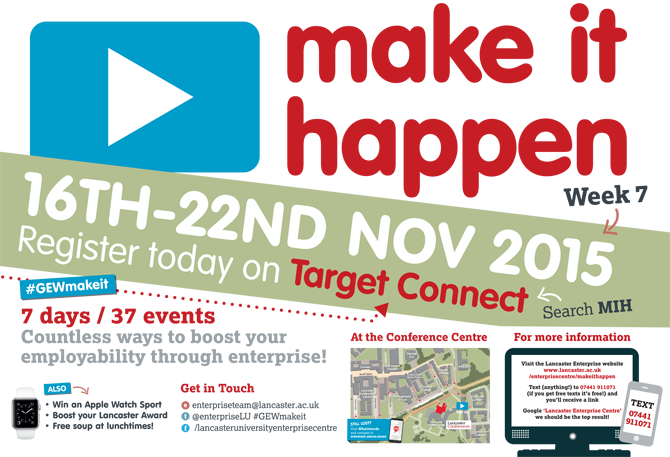 What's going on?
A packed programme of event running throughout the days and evenings of Week 7 (16th-22nd November).
Use the links in the menu at the top of this page to explore the events timetable day by day. You can download a detailed Event Guide, as well as our Key Info and Quick Guide images, to your phone.
Where is it?
Almost all events are being run at Green Lane Conference Centre. The entrance is behind Lancaster House Hotel (tip: don't head for the front door of the hotel and ).
If you get lost, here is a map , or visit What3words and navigate to surprised.smiles.beard.
Check the individual event locations carefully in the Event Guide as some of them are not at the Green Lane Conference centre.  Only Startup Weekend is in LUMS.
The Green Lane spaces are the Make it Happen Hub, the Big Room, the Small Room, the Long Room and the Wide Room.
Is it for me?
We're confident that there will be something of relevance to everyone. To help you navigate the week, we've created three pathways:
Enterprise & Innovation: ideas generation, challenges, projects, opportunities to make things happen and make a difference.
Entrepreneurship: startup support for businesses, social enterprises, freelancers, tech developers.  Plus pitching, negotiating and networking.
Careers & Employability: skills development, simulations, chances to meet employers and increase your commercial awareness.
All the events will give you the chance to meet new people, share ideas, find teams and buddies, develop yourself and your employability and work towards your Lancaster Award. You might even have fun. There's lots in here that will give new meaning to your studies and future direction.
Don't just stick to one pathway, mix it up, and make the most of it. You could win an Apple Watch Sport.
I can win what?
An Apple Watch Sport (or a non-Apple smart watch of equivalent value if you prefer). We'll award one to the person who attends the most sessions throughout the week.  Full terms & conditions here.  (Hint: sign the register at every event you attend.)
Even if you don't win this prize, you'll most likely go a long way to completing your Lancaster Award. Input sessions and workshops are worth 5pts and there are lots of things you can sign up to that will earn you another 10 or 15pts. If you go the whole hog and end up starting a business, it's worth 20pts!
And if nothing else, there's a cup of hot soup waiting for you at lunchtimes in the Make it Happen Hub.
Where do I sign up?
All the events are on TargetConnect so you can register.  You can filter this week to show only Student Led Enterprise Events which should make it easier to see what's part of the week, or use the leap links under each event on the event pages above.
Anything else?
Enjoy yourself. This is for you. Tell us what you think and help us make it better next year.