On the 31st of January 2018, 13 students from a range of disciplines and areas of study gathered in a room in the FASS building for an exciting session, led by Amanda Brooks of the Enterprise Team. Inspired by her trip to Stanford University's d.school and the Crash-course in Design Thinking hosted by Humera Fasihuddin from the d.school last year, Amanda was excited to lead her own Design Thinking session. The aim of the session was to help students try out a human-centred design approach to problem-solving, whilst developing their 21st century skills – creativity, innovation, collaboration and communication.
Human-centred design is a creative approach to problem solving. It's a process that starts with the people you're designing for and ends with new solutions, tailor-made to suit their needs. It involves a five step process – the students worked through each stage to design a wallet for a member of another team.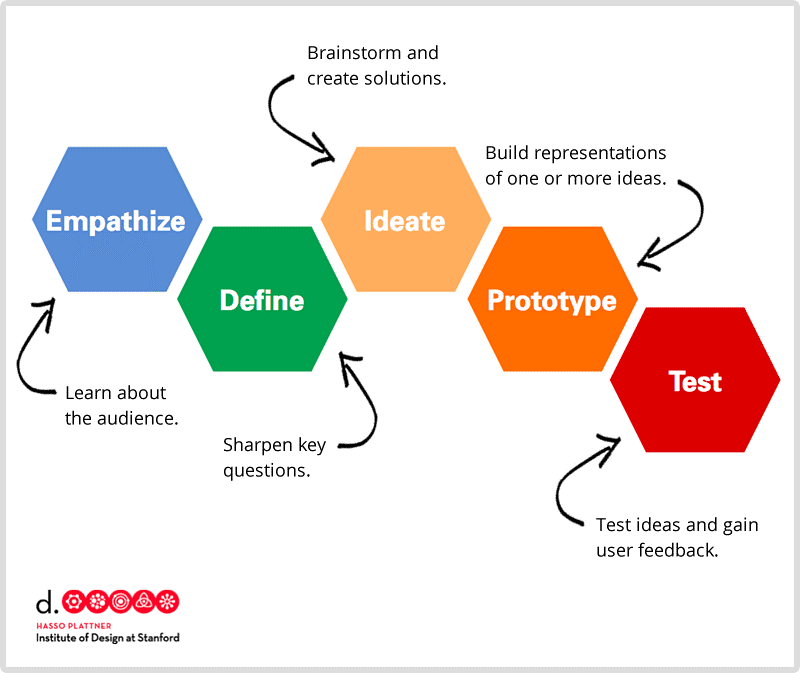 1. Empathize. The process begins with empathy – understanding what the customer's needs are. This was done through interviewing the customer, first on a broad level and then digging deeper to fully understand their requirements.
2. Define. This stages involves making sense of what was learnt from the interview and identifying opportunities for design. Teams identified the goals and wishes of the customer and then worked to re-frame the problem into a point-of-view statement.
3. Ideate. This stage involved many a post-it notes and free flow of ideas relating to the design of the wallet. Following the free flow of all kinds of ideas, teams sketched out a few potential solutions.
4. Prototype. This stage began by presenting initial designs to the customer for feedback. Then, armed with tinfoil, card, pipe cleaners, glue etc., the teams set about creating a prototype solution.
5. Test. Time to present the prototype to the customer and take on their feedback, has it met their needs?
Overall, the session was very well received, some of the elements people expressed that they really enjoyed included:
"Engaging with people who share similar attitudes but have different methods of approach to ideas"
"Working with people from different backgrounds"
"Exercising creativity"
"The group discussion vibe"
"Working through a process with an end goal "
"The flow and ease of the process"
To see all of the photos, please visit our Facebook page. 
To find out more about Human Centred Design, check out this short video on IDEO's website which gives a great overview.  The Enterprise Team are will be hosting more sessions like this in the future – so keep your eyes on our website, social media and newsletter!