'Opportunities don't happen. You create them.' – Chris Grosser
Earlier this year, LU graduate entrepreneur Nadeem Khan received funding from the Lancaster University Enterprise Fund to help him attend a People Analytics conference in London, an opportunity which enabled him to network and learn from leading HR practitioners and thought leaders. Here, Nadeem shares an update on what the funding unlocked for him and the opportunities which have arisen since.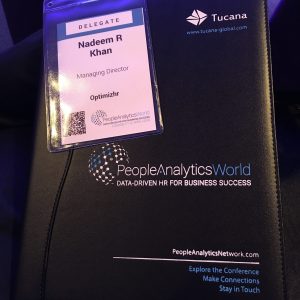 After graduating with honours from the MA Human Resources & Consulting, I was engrossed in academic jargon. With the support of both the Enterprise Team and the Department of Entrepreneurship, Strategy and Innovation at Lancaster University; I audited courses on selling, networking, funding for entrepreneurial ventures, and product and service innovation. Simultaneously, I worked alongside the Enterprise Team at Lancaster University to develop and mature my entrepreneurial idea to set up an HR Consultancy around my research area in People Analytics. The concept materialised with the establishment of Optimizhr Ltd. – a human capital consultancy that offers consulting and advisory services around People Analytics, Talent Strategy and Leadership Development. As an international student, I had now received the prestigious Tier 1 Graduate Entrepreneur visa. Consequently, I felt the need to venture out and connect with practitioners and consultants in the industry and learn contemporary best practices around People Analytics. One of the best way forward was to attend Europe's largest People Analytics conference – People Analytics World (PA World), organised by Tucana. PA World was scheduled to be held in London on April 11 and 12, 2018 and encompassed thought leaders, industry practitioners, consultants and technology companies across the globe sharing their best practices. I discussed this opportunity with the Enterprise Team and I decided to apply for funding (provided by Santander Universities) to help towards the ticket price to attend PA World.

The conference was chaired by IBM's former Global Director of People Analytics – David Green. Key note speakers included CEO of CIPD, Peter Cheese, People Analytics Directors from Deloitte and thought leaders such as Bernard Marr and Alec Levenson. The cornerstone of the conference was the insights I gained while attending presentations of best practices from industry leaders. I witnessed first-hand how Twitter, ABN-AMRO, Unilever, Nestle, British Airways, Procter & Gamble, Swarovski and Cisco are using People Analytics to drive business insights and performance. The opportunities to engage and connect with these individuals opened new horizons. A key learning from this conference was the increase in the big data and analytics in our lives and business. As intimidating as this may sound, everything we do essentially creates a digital data footprint from our mobiles to our credit cards, thus enabling us to anticipate our behaviour. Hence, experts also shed light on the implications for collecting such data after the GDPR. I also connected to Tucana's MD, Barry who after our conversation offered me to write blogs for their official website thus, enabling me to share my expertise among Tucana's community of thought leaders and practitioners.
After returning to Lancaster, I wrote a reflective article – 'The Business Case for Data-Driven HR' sharing my insights from the PA World and sent it to Tucana. Not only did they accept my piece but also offered me to write further blogs in an ongoing arrangement to attend future Tucana events and conferences. This arrangement will be reviewed after their next PA Forum conference 2018 with a view for it to becoming an ongoing arrangement in future enabling me to become part of Tucana's media team and contributors. Each of Tucana's subsequent events are priced on an average at £1095. This conscious effort has enabled me to not only attend, learn from and network with thought-leaders and industry practitioners but also gain another opportunity to attend PA Forum conference 2018 on a complimentary pass. Prospectively, I hope to present on stage among the 'Who's Who' of People Analytics thought leaders and practitioners at the PA World conferences.