How did Supp! spend their Enterprise Award?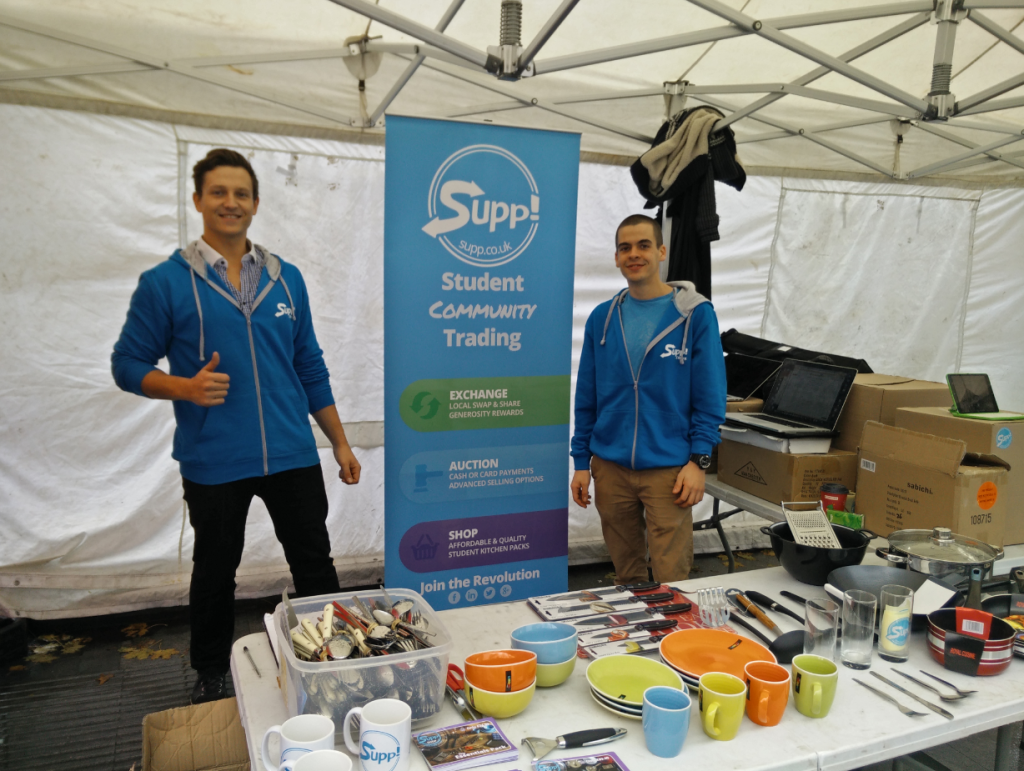 Alex Tkachev and Tim Seabrook applied to the Lancaster University Enterprise Fund in November 2015 for their startup, Supp! Ltd. Here's their story.
Hi Alex, tell us a bit about yourself and your business.
Hey there, my name is Alex and I'm originally from Latvia. I graduated from Lancaster in 2015 with an MSc in Management and I was about to start a PhD, but dropped that and started Supp! with my close friend and now business partner, Tim Seabrook. Supp! is an online eMarketplace that connects students in their local university communities, allowing them to share, buy and sell their stuff for free.
Where did you get the idea for Supp?
As I approached the last year of my bachelors, I realised a lot of the things I needed had been acquired from friends for free or affordably through local meet-up trades and disorganised Facebook groups. During my MSc, more and more stuff was handed down to me, such as a vinyl player, speaker system, furniture and a ton of books. That's when Tim and I decided we wanted to recreate this experience for other students, but in a way that didn't require a few years of socialising.
After doing some research, we found that in 2014, 44 tonnes of usable items had been left at Lancaster University by end of year – and I'm not talking about useless garbage. Necessities that were very useable but had no way of finding themselves a new home like books, electronics, furniture, bikes and more. Given the high price of attending university, be it the tuition hike or expensive course books, I felt a platform that gave students the ability to find these books and other necessities from within the community would be extremely beneficial.
When you applied to the Enterprise Fund you wanted to spend the money on your marketing campaign. What did the money contribute to and what lessons have you learned from this experience?
Without the Lancaster University Enterprise Centre or LUSU, we would have had trouble establishing our preliminary partnerships. The funds from this award facilitated more awareness for Supp! and drove sales in the first term. This helped us to formulate our communication techniques that in turn brought forward a unique expansion strategy.
We are very pleased with what we achieved when attempting to raise brand awareness through our new How it Works video as well as an extensive flyer campaign around LU and the University of Cumbria. Our first attempt at flyers were pretty terrible (if I'm honest), but given the response, we were able to learn quickly. The first How it Works video sank in similar waters; we thought the first iteration was convoluted in formulating our message. Tim and I then decided to remake the video to provide more of a focus on the eMarketplace, which took us a good week or so just to write! We have also taken out the wholesale shop supplying kitchen, bedding and bath and split that into another business, so that we can give a better and more focused service offering to students.
Here's the final version of our How it Works video:
Correctly marketing Supp! has in some regards represented one of the biggest learning curves to date, something I must stress to anyone thinking of applying for this award. It has become very clear that appropriate marketing is essential and can make or break a project. It is essential that you have a clear vision, as well as a strategic plan detailing how you are going to achieve the milestones you've set for the company.
What would you say to inspire future students who want to make things happen by applying for an Enterprise Award?
For anyone contemplating on applying, I would recommend that you outline how the fund will make a difference to the project you're presenting, rather than just a handful of things thrown together. Clear communication is vital to any developing relationship by providing value through direction. If your direction is uncertain, then ask questions, and as many as possible! You need all the information you can get, in order to help you formulate a clearer picture and make an articulated decision.
What's next for Supp?
With Supp!, we are nearly ready to transition from development to testing! We are really excited to unveil the new version of the eMarketplace to see how students react and then we can gauge how the idea will evolve. We have luckily received a grant from Oxford University for £13,000 alongside a few other perks, to finish off the eMarketplace and to then start marketing it aptly.
We intend to make Supp! into an essential hub that will help students share, buy and sell in their local university communities completely free. We will release the platform here in Lancaster as well as Oxford University in the coming month. We will also be continuing to look into formulating more partnerships with Universities, their respective Student Unions, and nearby Student Housing Agencies.
Exciting times ahead then! Congratulations – we're really looking forward to hearing where you go next!
---
If you'd like to apply to the Lancaster University Enterprise Fund like Alex and Tim did, why not take a look at our information pages here and find out more.