Do you have a digital solution to an environmental challenge?
Following on from the recent Thinkspiration workshop hosted on campus by the Environment Now team we have some further details with regards to taking part in the Environment Now Challenge!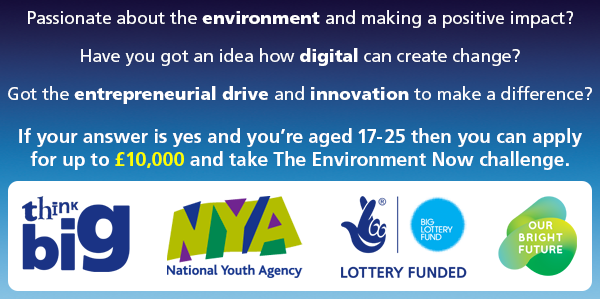 Through the Environment Now challenge you can apply for up to £10,000 to develop your idea and you'll also receive mentoring, work experience and insight days with industry professionals help you make it happen.
To apply for the challenge you must:
Be aged 17-25 years old.
Use digital technology to solve an environmental issue
Be based within the UK
Be committed to completing project objectives within ten months
Have the passion to inspire other young people
To find out more about applying visit: www.gothinkbig.co.uk/features/the-environment-now or email TheEnvironmentNow@o2thinkbig.co.uk
The Enterprise Team would also be very keen to hear from you if you are considering applying so please do get in touch or drop into an IdeasLab.