Entrepreneurial students off to San Francisco to meet potential venture capitalists in Silicon Valley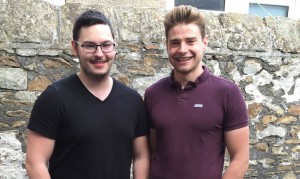 Thomas Young and Fraser Williams, students in the LU Institute for Entrepreneurship and Enterprise Development, will be jetting off to San Francisco on Tuesday (21st April) to meet with venture capitalists and tech start-ups in Silicon Valley.
Thomas, a 1st year BA Hons Management and Entrepreneurship student, and Fraser, currently in 2nd year of BA Hons Entrepreneurship (with Management) studies, will be networking with pioneers in the technology industry and have the opportunity to pitch their business plans to potential investors. On Friday, the pair will also be attending an MBA class at the famous Stanford University Business School to end their four day trip.
This is a fantastic opportunity and we wish them every success and look forward to hearing about their experiences when they return- stay tuned for further information about their trip and potential master classes and workshops!
Follow Thomas and Fraser on Twitter for updates throughout their US journey:
Thomas and Fraser's trip is sponsored by Lancaster University, Lancashire County Council and Santander Universities.