The Future of Consent: Workshop 1
Beijing, China, 18 - 19 September 2009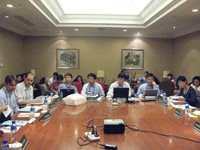 The first workshop in The Future of Consent research programme was jointly organised by Centre of Bioethics (Chinese Academy of Medical Science/Peking Union Medical College) and the Department of Philosophy, Lancaster University. It took place in Beijing on 18-19 September 2009. Seven sessions were held over two days consisting of six papers with commentaries and a final "roundtable" session. As well as the workshop participants the audience also included local Chinese academics and graduate students. Topics discussed included:
the justification of informed consent in ethical theory;
the justification of, and limits of, paternalism in public health;
contrasts between Chinese conceptions of informed consent and Western conceptions;
problems with international ethical guidelines when faced with cultural differences about consent and its importance;
consent in international research and its relation to issues about global justice and exploitation;
methods for managing informed consent procedures that respect subjects informational limitations whilst protecting researchers and clinicians.
1

Richard Arneson (University of California, Berkeley) 'Autonomy, Consequences, and the Significance of Consent'

Lu Feng (Tsinghua University, Beijing)

2

Qiu Renzong (Institute of Philosophy, Chinese Academy of Social Sciences): 'Consent: Difficulties in Practices and Challenges in Theories'

David Archard (Lancaster University)

3

Angus Dawson (Centre for Professional Ethics, Keele University): 'Consent, Choice and the Ends of Health Promotion'

Liu Jie (Shandong University, Jinan)

4

Zhai Xioamei (Peking Union Medical College, Centre for Bioethics): 'Consent: tension between International Guidelines vs. Native Culture'

Neil Manson (Lancaster University)

5

John McMillan (University of Hull): 'Ancillary Care, Negotiated Community Consent and the Obligations of Global Justice'

Liao Shenbai (Beijing Normal University)

6

Matthew Liao (Oxford University): 'Improving Informed Consent'

Hu Linying (Peking University)

7

Roundtable Discussion (all)