Several of the Project's electronic publications are nearing completion. Three were demo'd at DRH '99. These are: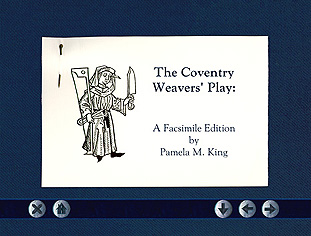 The Coventry Weavers' Play: an Electronic Facsimile, presented in Multimedia Toolbook, is a full colour facsimile of the one surviving manuscript and two odd leaves of the Coventry Mystery Plays. It gives whole-page and one-quarter page images, with transcription, notes, and items on special features (stage directions, annotations), including the covers and pastedowns. Also included for comparison are the printed editions by Thomas Sharp of the Weavers' Play and the now missing Shearmen and Tailors' Play, and some pages from the original medieval Weavers' Account Book. There is a detailed Introduction to the manuscript and its sixteenth-century author, Robert Croo, and their context in contemporary Coventry .
The CD is authored by Pamela M. King (St Martin's College, Lancaster), constructed by Helen Bennett (Lancaster University), and produced by Meg Twycross (Lancaster University).
---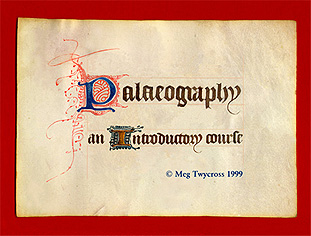 Palaeography: an Introductory Course, written in HTML, is an updated version of a 20-week beginners' course on Palaeography used at Lancaster University. It features full colour facsimiles of manuscript pages, and cut-out details of letter forms, abbreviations, decoration and layout. The course covers the major bookhands from Roman Square Capitals to Gothic Littera Bastarda, with document scripts from the later period. The students learn to transcribe and describe the various scripts, and to consider page layout as a function of fitness for purpose; they absorb technical terms painlessly as they go along. The CD is authored by Meg Twycross (Lancaster University):
e-mail m.twycross@lancs.ac.uk
---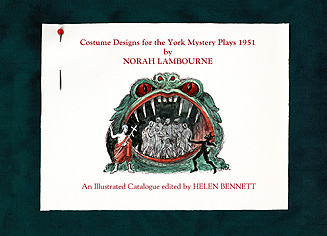 Costume designs for the York Mystery Plays 1951 by Norah Lambourne, written in HTML, is a fully illustrated catalogue of the surviving costume and set designs by this influential stage designer, now deposited by her with the York Doomsday Project as the Norah Lambourne Archive. It comprises a detailed catalogue with hyperlinks to enlarged scans of the original designs, cast details, and other material showing the costumes in action, together with an Introduction on Norah Lambourne and her work on the York Festival Plays. Her long association with the drama of Dorothy L. Sayers is also briefly discussed.
The CD is authored by Helen Bennett (Lancaster University):
e-mail: h.bennett@lancs.ac.uk
---
---
© Meg Twycross 1999.