Historical Sources Referring to William Gilbert
This page contains links to extracts from primary sources which refer to Gilbert specifically, and other sources relevant to Gilbert's work.
Fuller, Thomas. A History of the Worthies of England. London, 1662 (pdf)
Chamberlain, John. The Letters of John Chamberlain. Edited by N. E. McClure. 2 vols. Philadelphia, 1939.(pdf)
Ridley, Mark. A short treatise of magneticall bodies and motions. London, 1613.
Memorial Plaque to Gilbert in Holy Trinty Church, Colchester (pdf)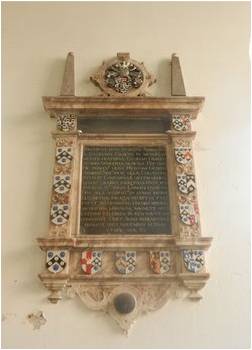 Monument to William Gilbert erected in Holy Trinity Church, Colchester by two of his brothers.