Slave Ship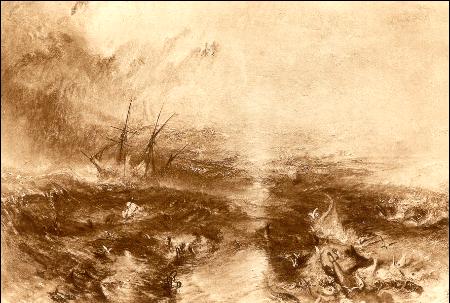 By Kind Permission of Lancaster University Library
Turner 's Slavers throwing overboard the dead and dying - Typhon coming on, oil on canvas, exhibited Royal Academy 1840, Museum of Fine Arts, Boston ( Wilton P385). The accompanying text in the catalogue formed part of Turner's unpublished poem Fallacies of Hope:
Aloft all hands, strike the top-masts and belay;
Yon angry setting sun and fierce-edged clouds
Declare the Typhon's coming.
Before it sweep your decks, throw overboard
The dead and dying - ne'er heed their chains.
Hope, Hope, fallacious Hope!
Where is thy market now?
The practice of throwing dead or dying slaves overboard, to claim insurance money, was not uncommon, and Turner 's picture was produced at a time when the morality of the slave trade was being hotly debated. But it was its style and powerful, even lurid, colouring that provoked derisive reviews in the press: the painting was unsold at the Royal Academy exhibition of 1840.
Ruskin created one of his most celebrated word-pictures in the description of what he called 'Turner's noblest work,' at the end of Section V ( MP I:376-377). Knowing that his son had hopes of acquiring the painting, John James Ruskin secretly bought it for 250 guineas in January 1844. 'I write with the Slaver on my bed opposite me,' Ruskin wrote in his diary for 1 January, 'My father brought it in this morning for a New Year's present. I feel very grateful; I hope I shall continue so. I certainly shall never want another oil of his.' ( Evans and Whitehouse, Diaries I, p.257). He later declared the harrowing subject uncomfortable to live with, and the picture was sold to an American collector in 1872.
J.M.W. Turner 1775-1851
Slavers throwing overboard the Dead and the Dying - Typhoon coming on 1840
Oil on canvas, 91x138cm
Exhibitions: RA 1840 (203); Phillip's Memorial Gallery, 1941 (38); Art Assoc., Montreal 1942 (94); Boston 1946 (14); Toronto/Ottawa 1951 (12); Tate 1959 (357); Nyork 1966(20); Agnew 1967 (28); Berlin 1972 (25); RA 1974-5 (518); NG of Art Washington 1975-7 (315, repr.)
Provenance: John James Ruskin, c.1843 (250gns), given to his son as a New Year's gift, 1844; John Ruskin sale, Christie's 15/4/1869 (50), bt in; sold by Ruskin to America 1872; J.T. Johnson, New York 1873; Miss A. Hooper, Boston; W.H.S. Lothrop, Boston; acquired by the Museum of Fine Arts, Boston, 1899 (Henry Lillie Pierce Fund)
Further Comments: Along with the exhibition in 1975-77 at the National Gallery of Art in Washington, the 'Slavers' was also exhibited during the same period at Cleveland Museum of Art and at The Grand Palais, Paris.
Collection: Museum of Fine Arts, Boston, Mass.