Hello Sailor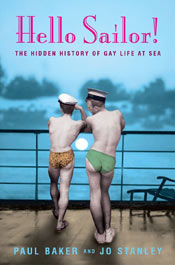 This book is about a little-known part of gay history and maritime history. Long before cities like Manchester and London had "gay villages", British gay men formed their own gay village at sea, taking advantage of the relaxed holiday atmosphere of luxurious cruise ships, where they worked as waiters and stewards, sometimes even outnumbering the straight men in the catering departments of ships that were household names and the pride of the British fleet.
In the largely homophobic atmosphere of the 1950s, most gay men had to be closeted, and ships were the only public places where they could not only be safely out but also camp. It was not unheard of for straight crewmembers to protect their queer colleagues. "He may be queer, but he's our queer," one sailor once said.
Hello Sailor! uniquely shows what it was like to be queer at sea at a time when land meant straightness.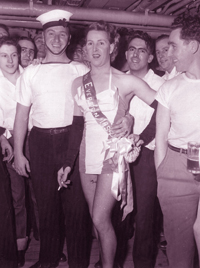 The book
Authors: Paul Baker and Jo Stanley. Publisher: Pearson (257 pages) 2003.
Chapter 1 When Queer was Covert - The sexual context - what was it like to be gay in the 1950s and 1960s?
Chapter 2 A Place of Freedom - The shipping context - what was it like to work in the merchant navy and why was it so attractive to gay people?
Chapter 3 Speaking Gay Secrets - The secret language of Polari used by gay sailors.
Chapter 4 Sea Wives and Meat Racks - What sort of relationships happened onboard?
Chapter 5 Sequins, Satins and Stilletos - How were gay men able to perform camp or drag identities on the ships?
Chapter 6 Ho Land! Ho Freedom! - What happened in distant ports when gay sailors went on shore-leave?
Chapter 7 Part of a Team - What sort of relationships did gay sailors have with straight colleagues and the passengers?
Chapter 8 Swallowing the Anchor - What happened to sailors when they returned to shore permanently?
Chapter 9 Taking Stock of Gay Heaven - What's the situation now?
The Exhibition
An exhibition based on the book has travelled around the UK and then overseas. The Times named Hello Sailor their top exhibition in January 2009.
2006 Merseyside Maritime Musuem
2008 Southampton Maritime Museum
2009 The Discovery Museum, Tyne and Wear
2010 The Tall Ship Museum in Glasgow
2011 Halifax, Nova Scotia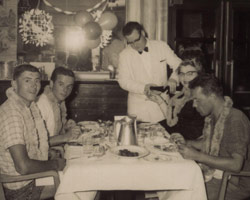 Reviews
"What this fascinating book is really about is not 'gay life at sea' in general, but the gay ghettos on many liners and cruiseships during the fifties and sixties."
George Melly, The Mail on Sunday
"...this path breaking book tells the hidden story of passion and liberation at sea. This is a vital addition to the understanding of gay and sea history."
Publishing News
"...candid confessions cause the narrative to leap into life."
Independent on Sunday.
"...a fascinating account."
Gay Times
"...Hello Sailor! transcends its niche as a piece of gay history and, instead, becomes something that has resonances for all readers, whether gay, straight or something in between."
The Observer
"...an eminently readable, often amusing and original book..."
Journal of Contemporary History, Vol 41, No 1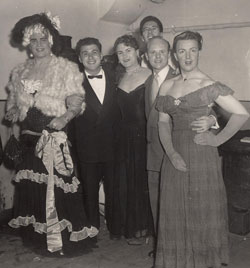 Links
Gender, sex, race, class and the sea Blog by Jo Stanley who co-authored Hello Sailor.
Statement about the Hello Sailor exhibition by the Minister of Culture, David Wilson, in Parliament (Nova Scotia Provincial Legislature).