LIFE IN THE LAB....
Visitor (May 22nd): Xianming Yang visits iPEG for 2 weeks from the Insitute of Plant Protection - Chinese Academy of Agricultural Sciences (IPP-CAAS), Beijing.

Back row: Philip, Bobby, Xianming, Ken, Phill
.
Front row: Karen, PJ, Annabel
iPEG 10k: Annabel, Bobby and Ken run the Wray 10k road race for charity. All managed to finish (just) in reasonable times.

Ken, Bobby & Annabel at the end of the Wray 10k road race 2018.
Bobby & Annabel at the finish line of the Wray 10k road race 2018.
Ken at the finish line of the Wray 10k road race 2018... and ice cream recovery.
FAO Fall armyworm meeting: March 9th Ken speaks at a fall armyworm donors meeting convened at the UN Food & Agriculture Organisation in Rome.

Ken on the roof of the FAO building, Rome.
News: Exosect issue press release about our Agri-Tech project results and upcomomg webinar. Congrats to all the iPEGers who worked on the project over the last 18 months or so: Karen Harper, Dave Osbaldeston, Annabel Rice, Ken Wilson.


Spodoptera littoralis
larva.
Deep clean: Annabel and Philip give the lab a deep, deep clean!

Annabel & Philip... or the other way round.
Visitor: Yutao Xiao visits the lab for 2 weeks from China.


Left to right: Karen, Faye, Bobby, Ken, Yutao, Pengjun, Philip & Annabel.
It's Christmas: Time for the iPEG Christmas meal.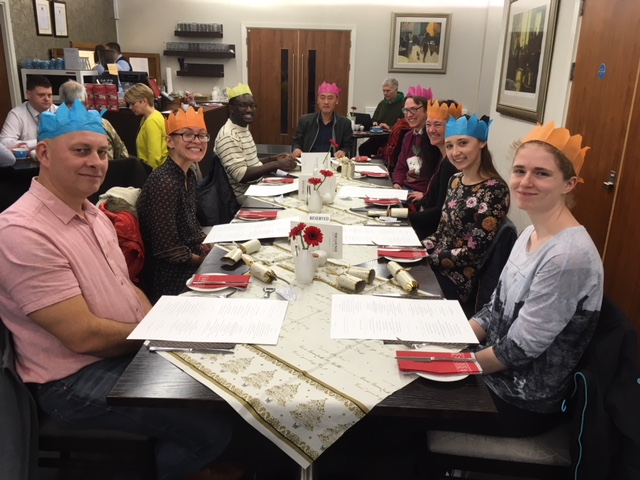 Left to right: Phill, Annabel, Bobby, 'PJ', Philip, Karen, Amy, Faye.
Bust period: November is a busy month, with lots of lab work going on and plenty of teaching.
All change: Sadly, Dave Osbaldeston leaves us after just a few months. Happily, his role on the Agri-Tech project is taken over by Karen Harper, who joins iPEG from the Photosynthesis lab in LEC.


New grad students:

And we welcome, Amy Withers (new PhD student working on fall armyworm pathogens and flight) and Faye Mansfield (who starts an Eco-innovation MRes on crop protection with partners Grazers).

The calm before the storm: New term starts soon, so time to finish off those papers and experiments before a busy teaching period starts.
Welcome back: Philip Donkersley (ex-PhD student) returns to iPEG as new Senior Research Associate on the Global Challenges Research Fund grant for the next 2.5 years.


Congratulations:

Bobby wins third prize in the Society for Invertebrate Pathology annual meeting for his talk on bacterial infections in

Spodoptera

caterpillars.


New arrival:

We celebrate the birth of Pengjun Xu's first child... back in China!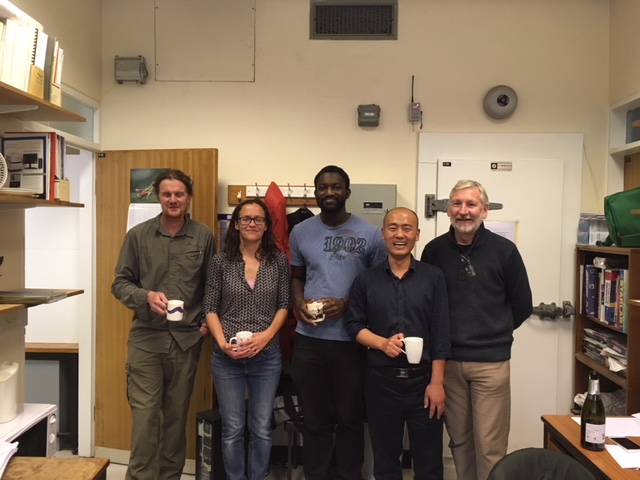 Left to right: Dave, Annabel, Bobby, PJ, Ken
More fall armyworm meetings: Ken attends his third meeting on fall armyworms in Africa - this time in Accra, Ghana.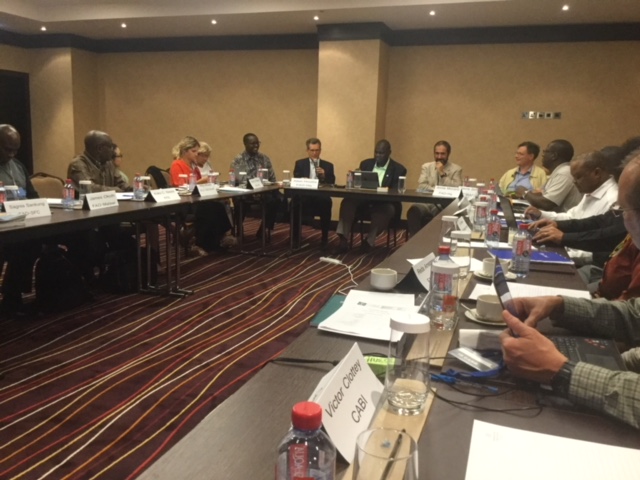 Welcome: Faye Mansfield joins iPEG on an internship over the summer working on biopesticide efficacy against armyworms.


Newsround:

Ken appears on the BBC news programme for children discussing the fall armyworm situation in Africa. Wtch the item here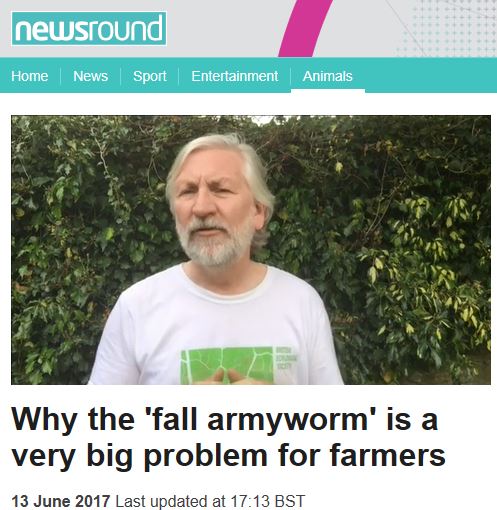 Goodbyes: We say farewell to Rosa Murillo from Spain, who spent 4 productive months in iPEG study virus interactions and immunity in Spodoptera caterpillars - we will miss you, Rosa.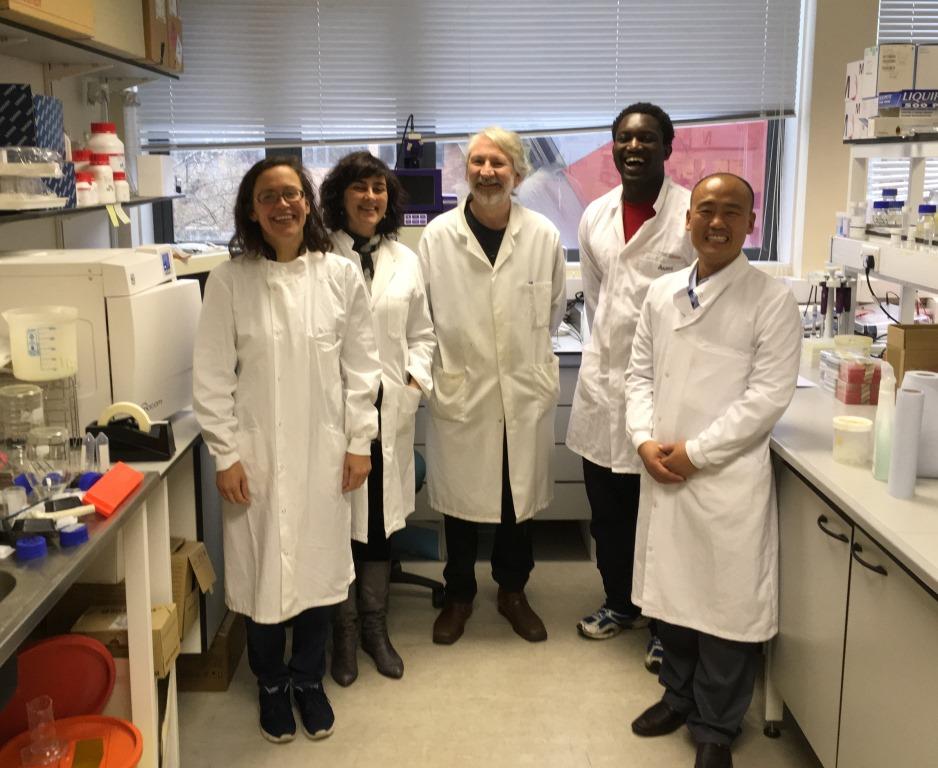 iPEG 2017.
Left to right: Dr Annabel Rice (Research technician), Dr Rosa Murillo (visiting researcher, Spain), Ken Wilson (PI), Bobby Holdbrook (PhD student), Pengjun Xu (visiting Research Fellow, China)
Wray Screcrow Festival 2016 (Apr 22nd - May 1st): It's that time of year again and iPEG swoop 1st prize in the 'Topical' category with a 'Pinocchio J. Trump' fake news scarecrow. For a video about the scarecrow festival, Click here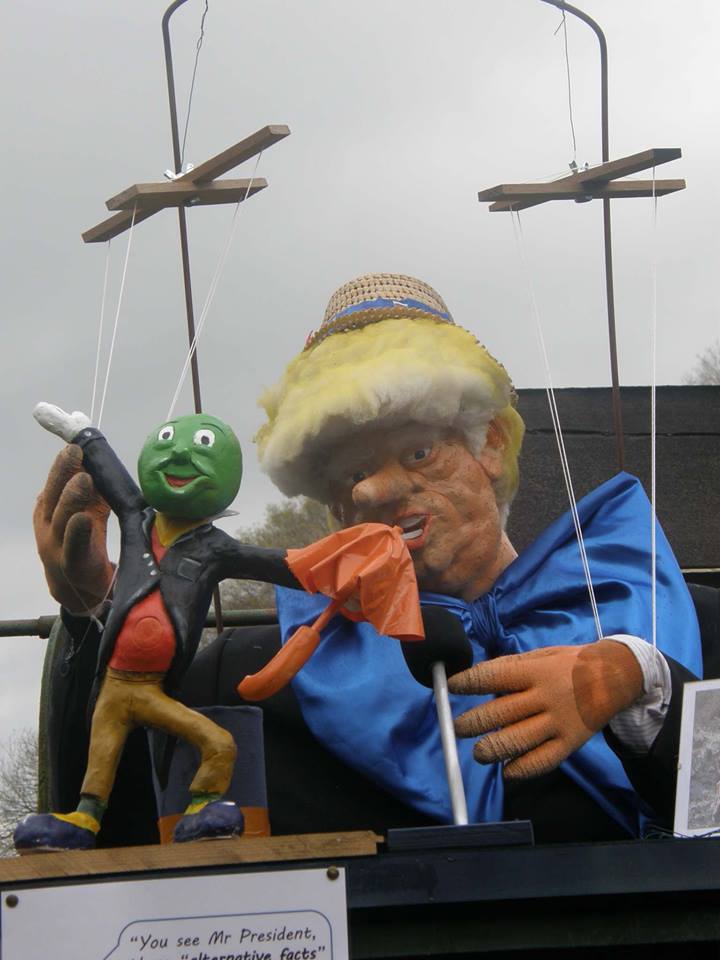 Visit to Tanzania (Apr 14th - 26th): Ken and Rob graham (former iPEG, now at Harper Adams University) conduct a research visit to Arusha and meet with long-term collaborators at Crop Bioscience Solutions Ltd., and new collaborators at the Nelson Mandela African Institute of Science and Technology (NM-AIST).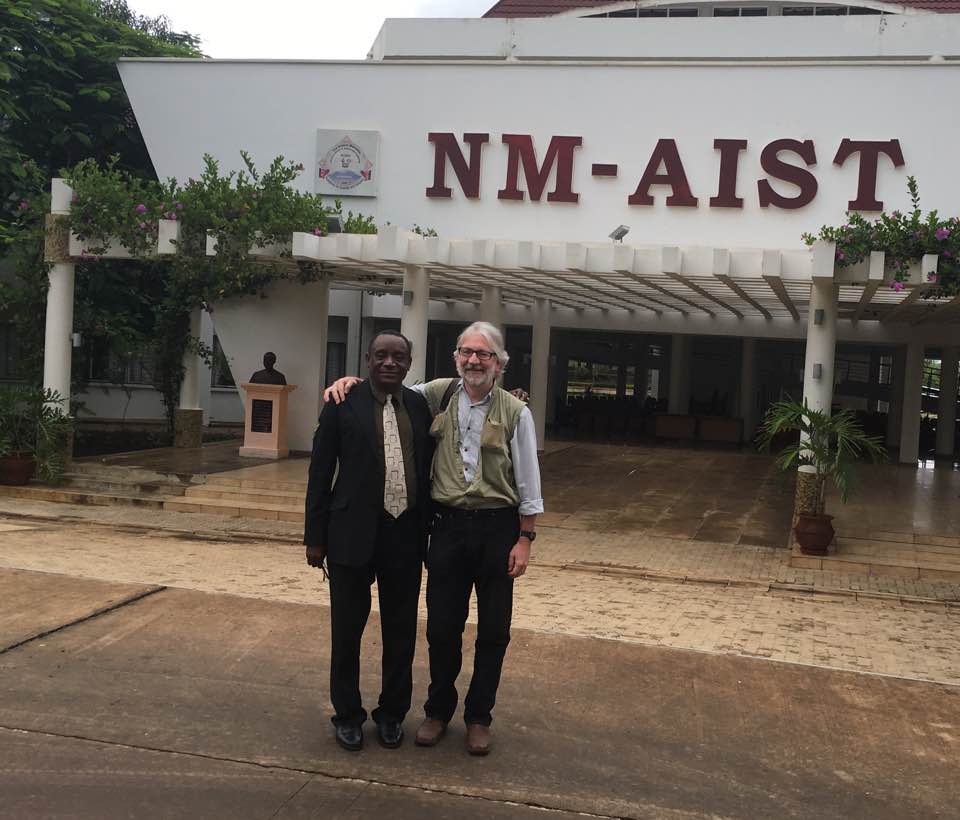 Ken with former deputy VC of NM-AIST Professor Ndakidemi
Fall Armyworm Conference (Apr 27th/28th): AGRA, CIMMYT and FAO organise a second workshop to discuss the Fall armyworm (FAW) crisis in Africa - Ken presents and shares FAW movie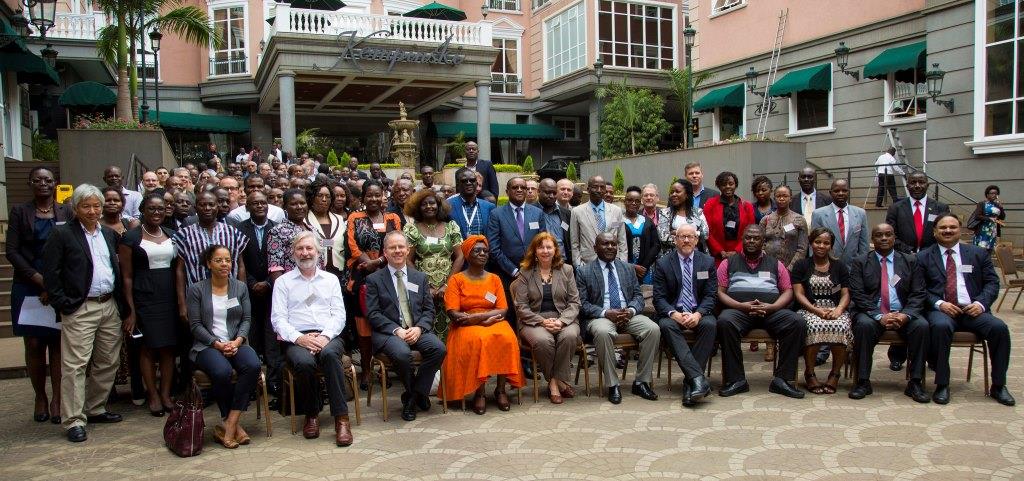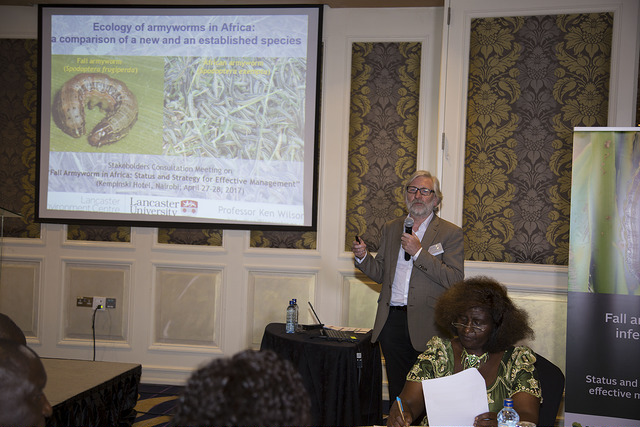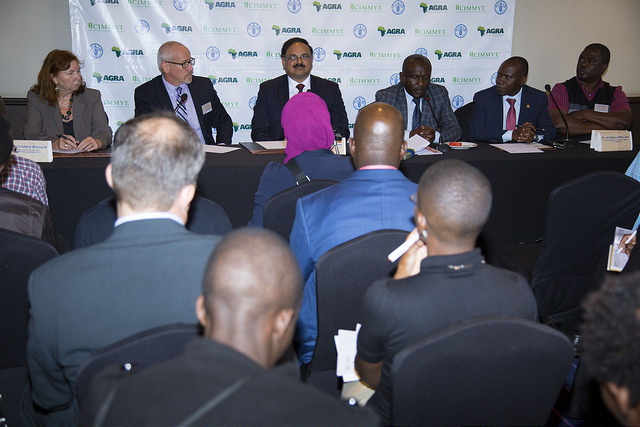 New arrival: Pengjun Xu from China starts in iPEG on a Royal Society-SBFT Fellowship Trust International Fellowship to study host-pathogen-symbiont interactions in armyworm - Welcome!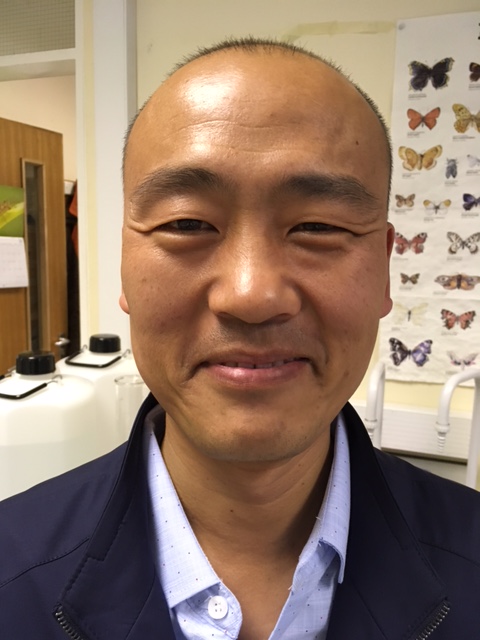 Grant success: Ken and Rob Graham are successful in securing GCRF funding for further armyworm research!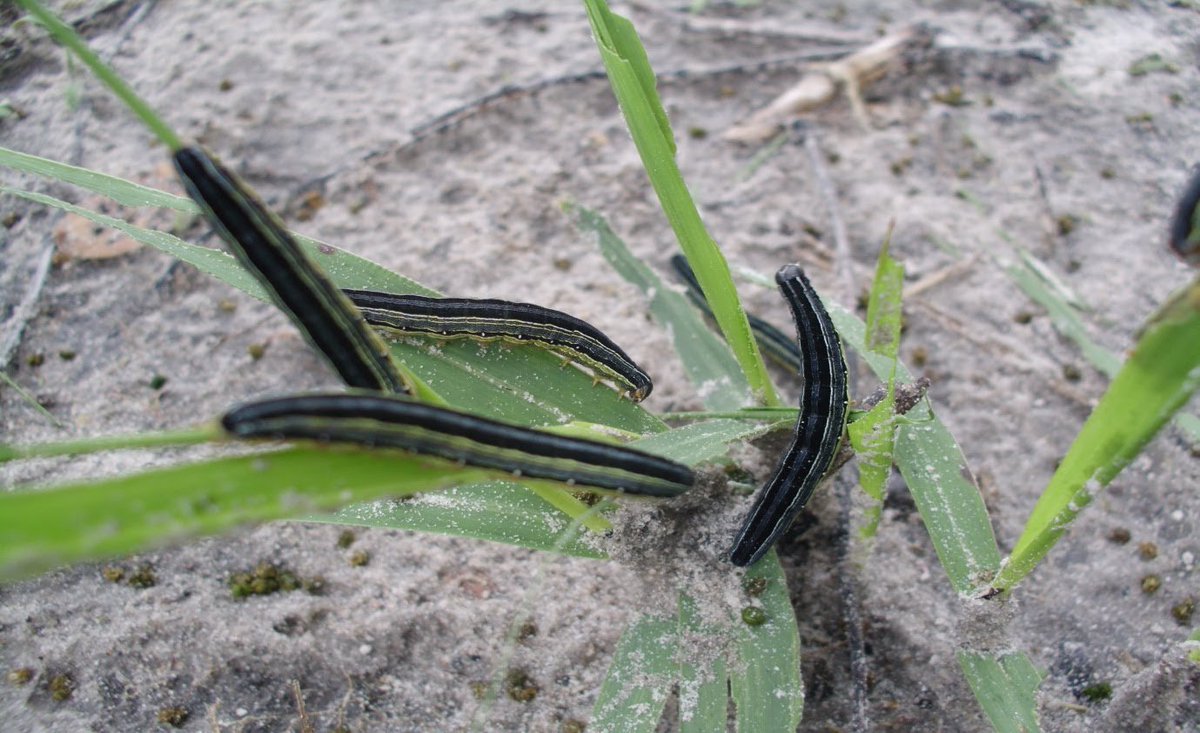 Fall armyworm summit: The United Nations Food and Agriculture Organization organise an emergency meeting on "Emerging High Impact Trans boundary Crop Pests and Animal Diseases", focussing particular attention on the new invasive Fall armyworm (

Spodoptera frugiperda

) that is spreading across Africa. Ken give a presentation on what we can learn from African armyworm outbreaks in the region. Read the report here.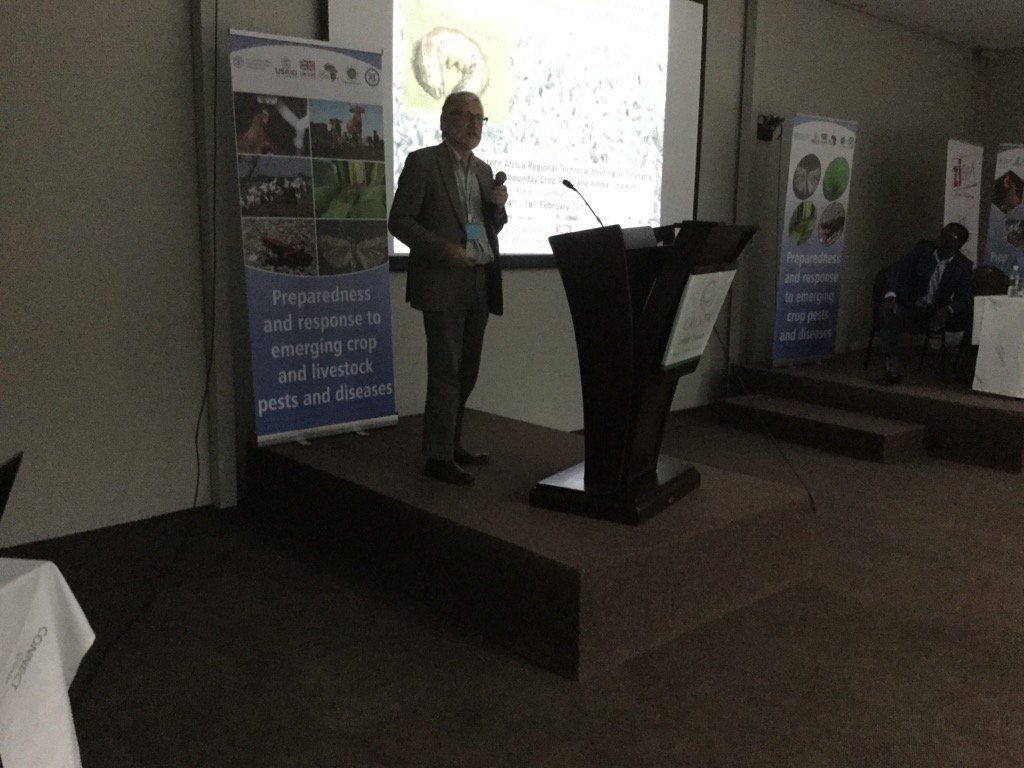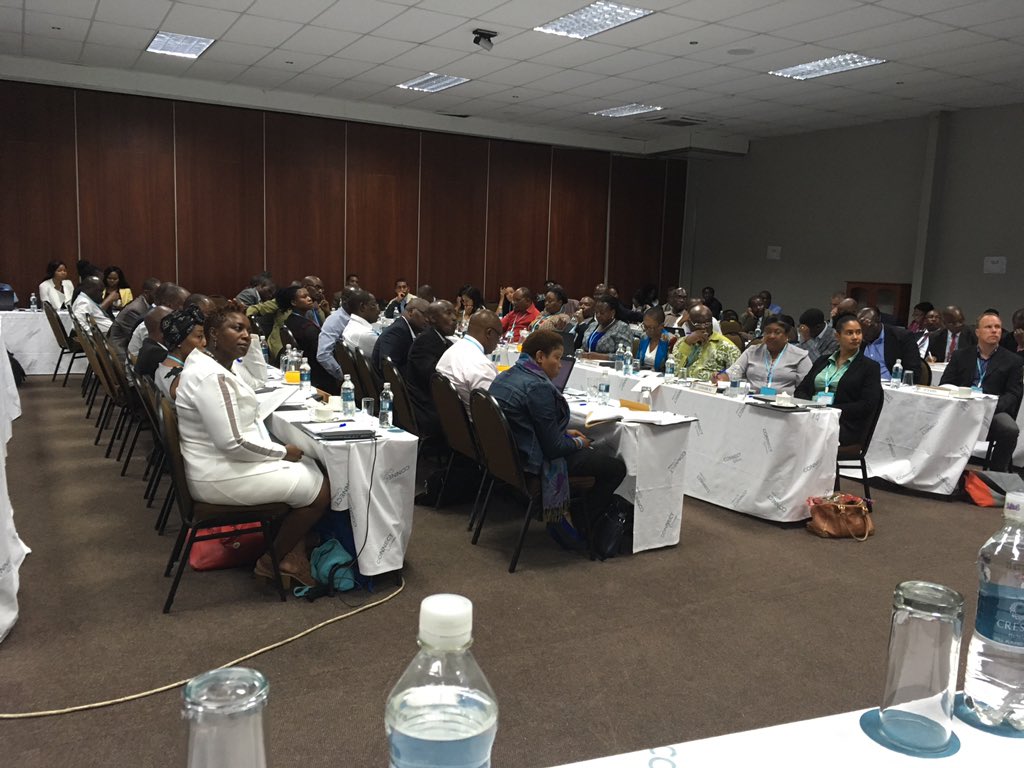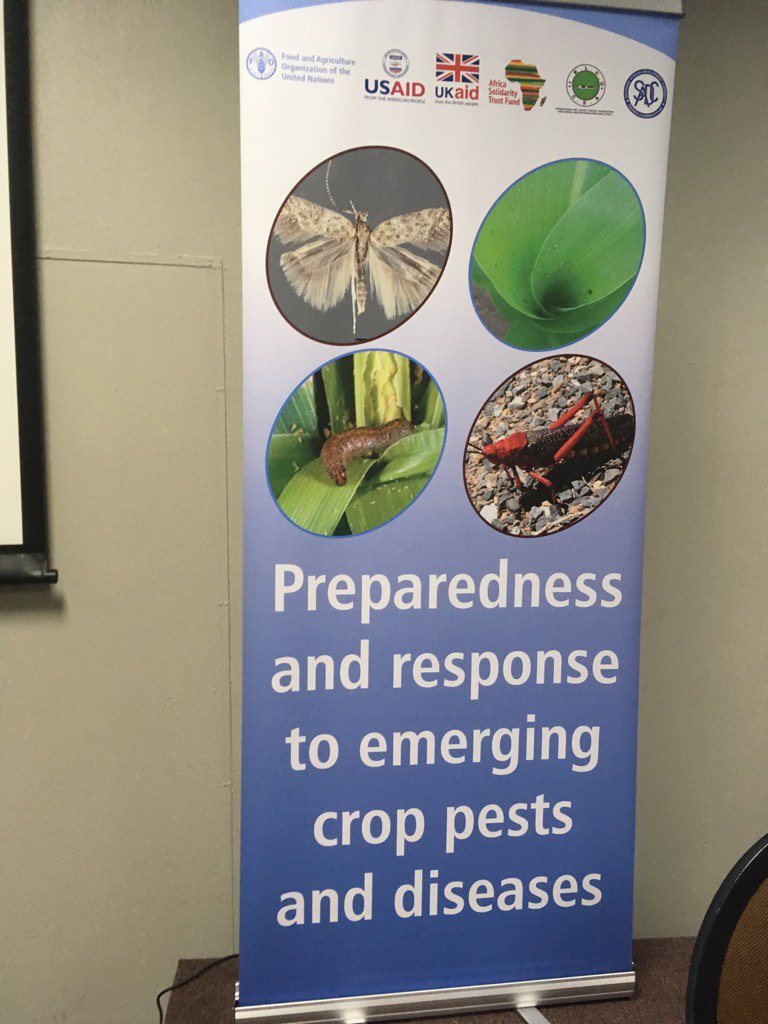 Ken visits University of Zambia for talks on the invasive Fall armyworm (

Spodoptera frugiperda

) and publishes an article on the issue in The Conversation Africa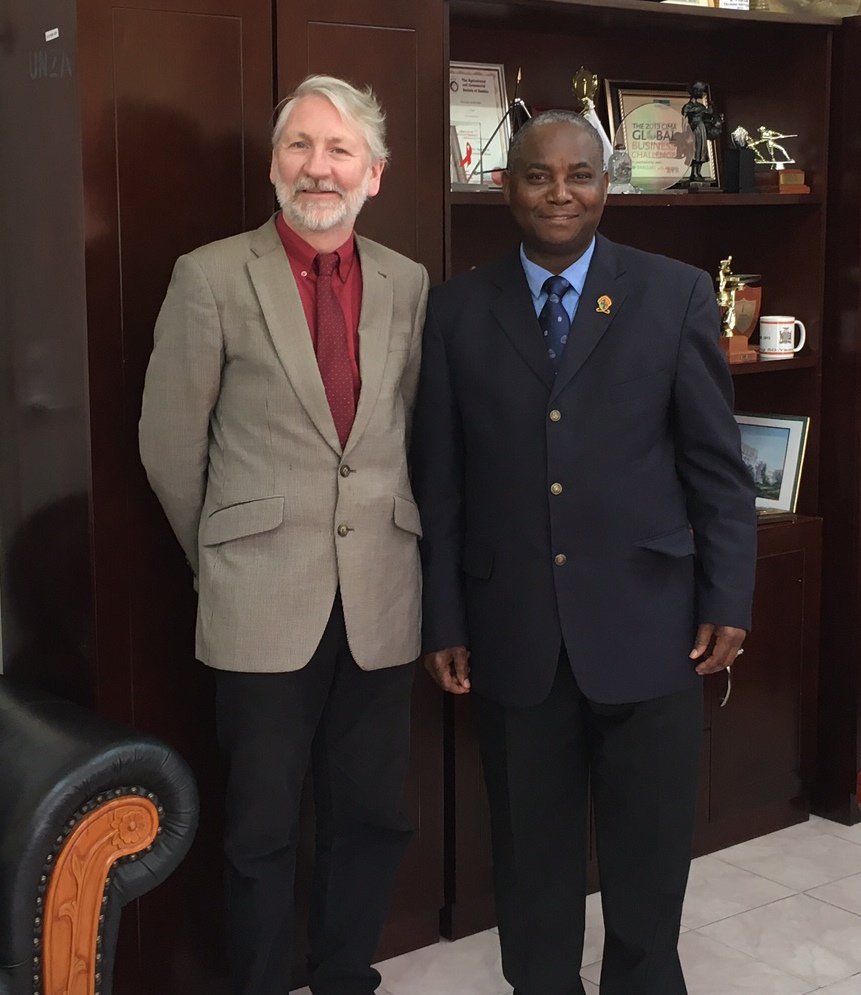 Ken with UNZA Vice-Chancellor, Professor Mumba
New visitor:

Rosa Murillo from Instituto de Agrobiotecnologia in Pamplona, Spain will spend a 4 month Fellowship with iPEG working on insect virus interactions.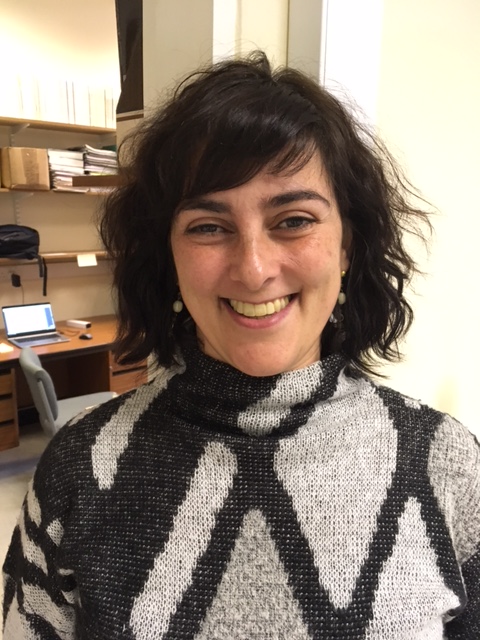 New blog post: Ken writes a new blog post for Global Food Security on the challenges of developing new biopesticides, and attends a recption hosted by Lord Cameron of Dillington at the House of Lords on behalf of The Global Food Security Programme (Jan 11th).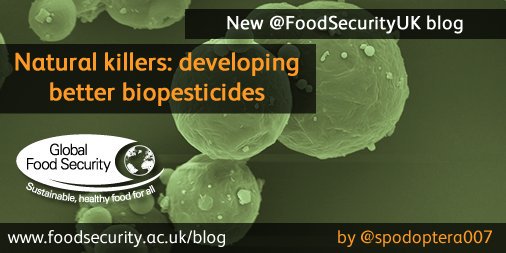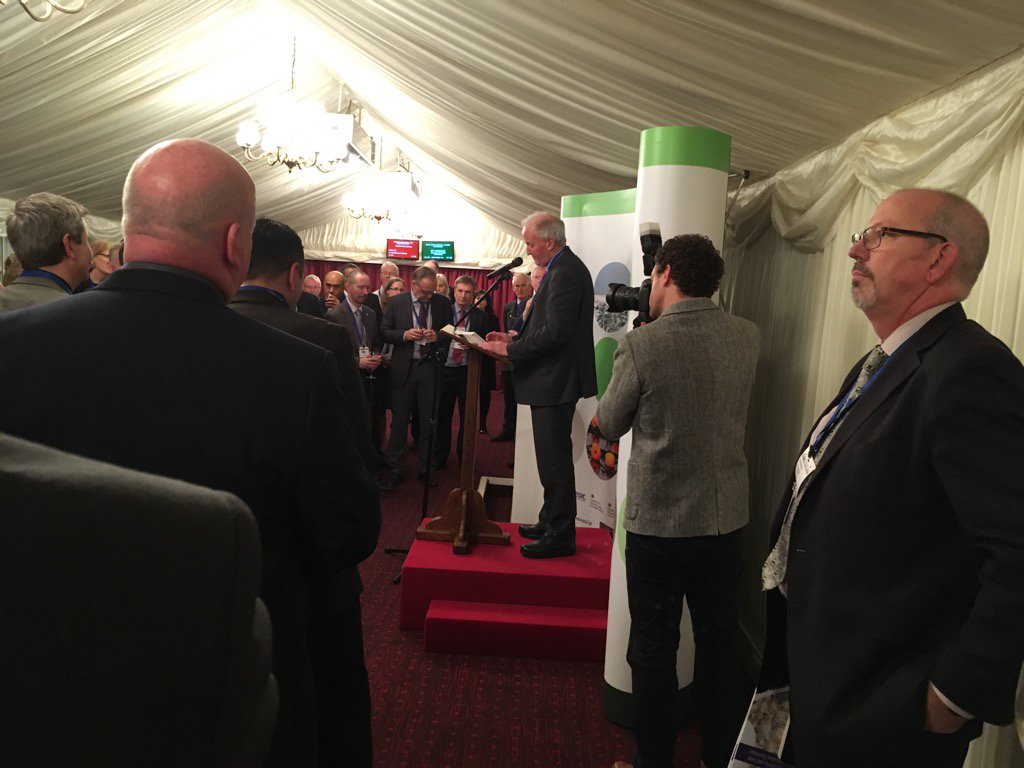 Lord Cameron welcomes guests, looked on by former GFS Champion Tim Benton
Term ends: .... and it's off to the British Ecological Society winter meeting in Liverpool.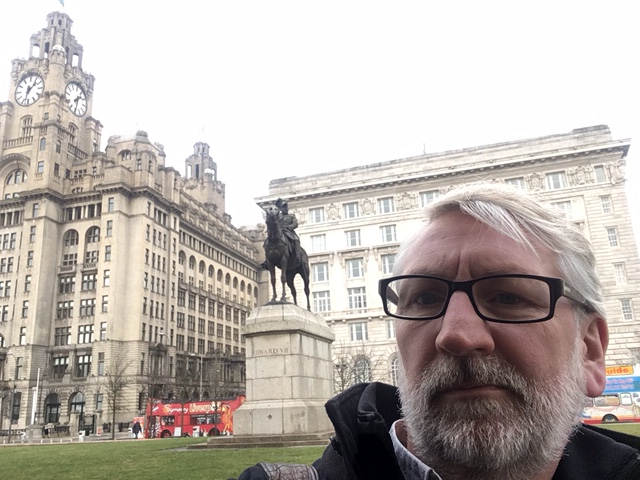 Congratulations to Pengjun: Congratulations to Pengjun Xu, a collaborator and co-author from CAS in China, who has been awarded a Royal Society-SBFT Fellowship Trust International Fellowship to work in Ken's lab for two years on a project entitled "Pathogen resistance in a major crop pest".Pengjun will look at the interactions between armyworms,

Wolbachia

and biopesticides, starting March 2017.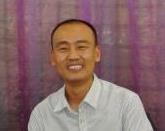 LEC launches Graduate School for the Environment: In collaboration with

Rothamsted Research

and the

Centre for Ecology & Hydrology

, the

Lancaster Environment Centre

launches its Grad School for the Environment to host and nurture the next generation of environmental scientists, in the broadest sense.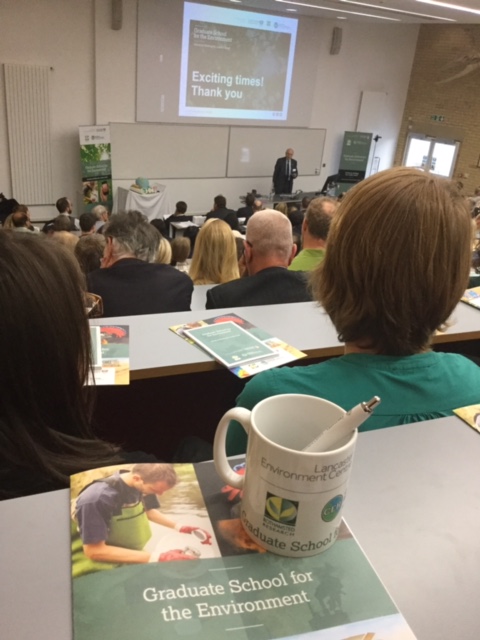 Ento'16 (Harper Adams University Sep 6th-8th): iPEG goes on the road to present at the Royal Entomological Society meeting at Harper Adams in Shropshire. A good opportunity to catch up with ex-iPEG post-doc, Rob Graham, now a Senior Lecturer at HAU. Also provided an opportunity to formally sign the RES's register of fellows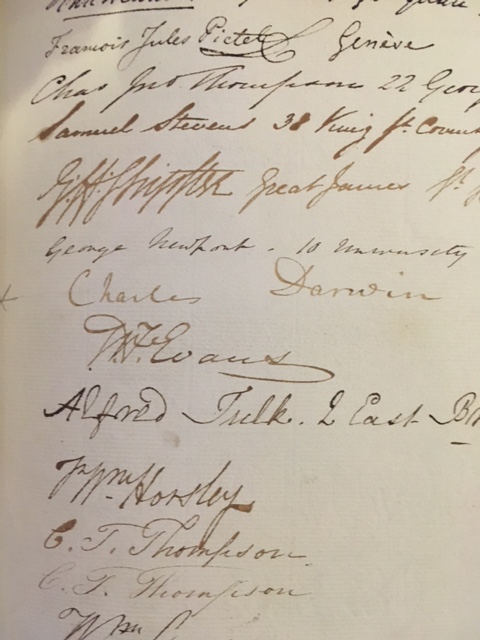 Left: Ken's signature is last on the page, 8 below Sir Paul Nurse FRS FRES, who was given Honorary Membership at the same
meeting. Right: The signatures of the original Fellows, including Charles Darwin (middle of the page).
ICE2016 (Orlando Sep 25th - Oct 1st): Aislinn, Ken and various iPEG graduates/collaborators head to Orlando for the International Congress of Entomology. Ken and regular collaborators Sheena Cotter and Fleur Ponton host a Symposium on 'Invertebrate Eco-Immunology'. Highlights have to be the resident animal-balloons maker and the 12 feet tall giant butterflies (Ken with Nick Priest and Sheena Cotter)! Low light is horibble coffee provided by Monsanto!!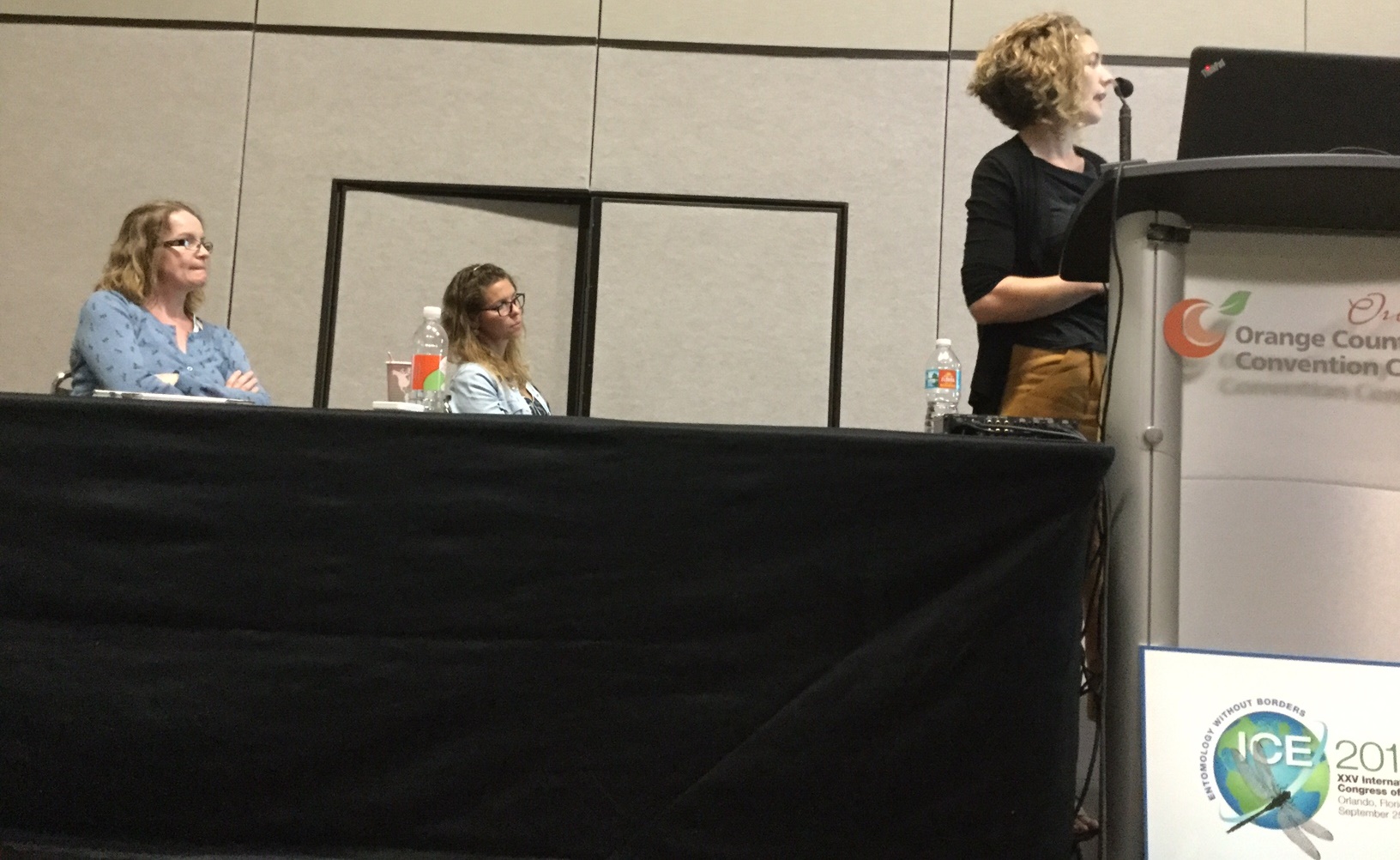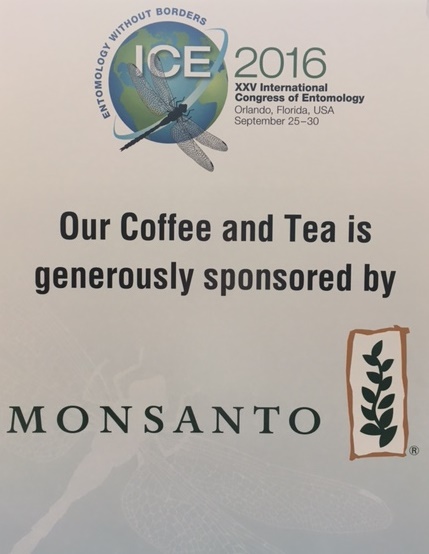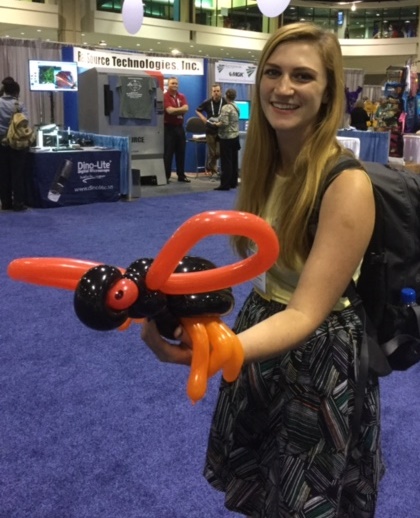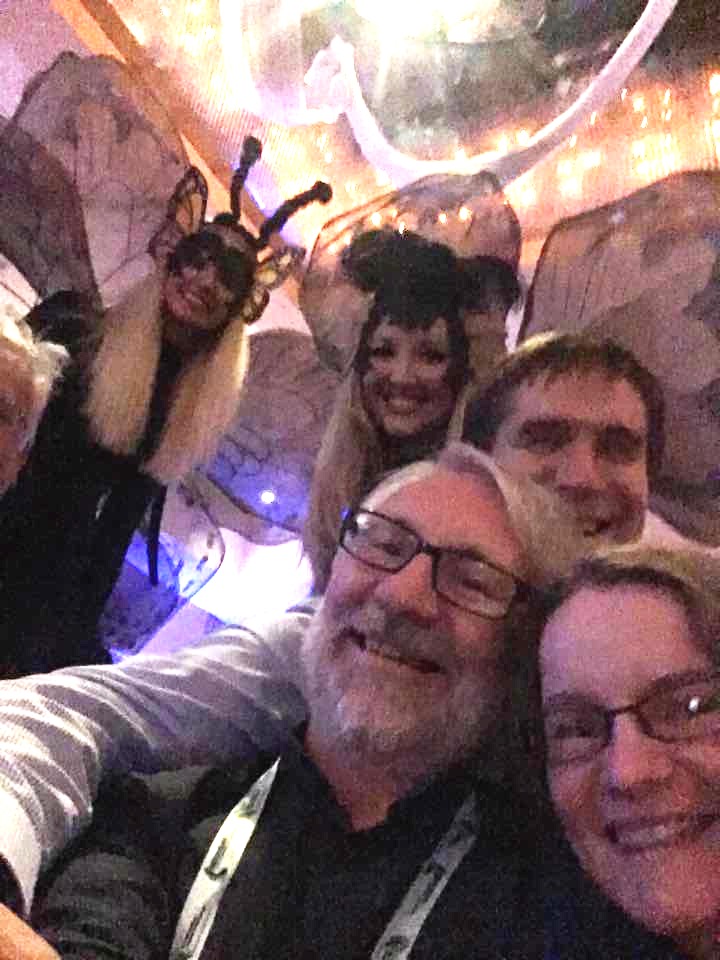 OPEN CALL FOR PAPERS:

Journal of Animal Ecology

launches a Special Feature on animal host–microbe interactions, edited by Ken amd the Journal's other Senior Editors.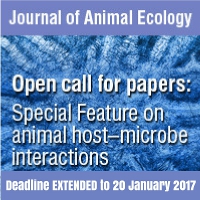 Welcome back to Annabel:

It's great to have Dr Annabel Rice officially start her new role as research technician in iPEG to work on the new Agri-Tech Catalyst grant to explore new formulation approaches for baculovirus biopesticides to control lepidopteran crop pests. Annabel did her PhD in Lancaster and after some time working as a technician at Liverpool University she has returned to her natural 'home' at Lancaster.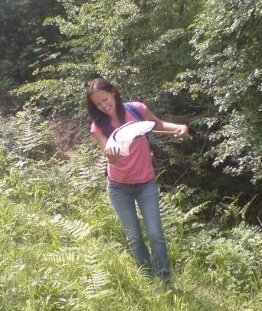 Print-making Master-class with artist Sarah Bellwood - 7th July:

Bobby and Ken attend a masterclass with a local artist to draw and make prints of insects. The event is hosted by LEC and LICA and is attended by local school children to help them understand the links between science and the arts.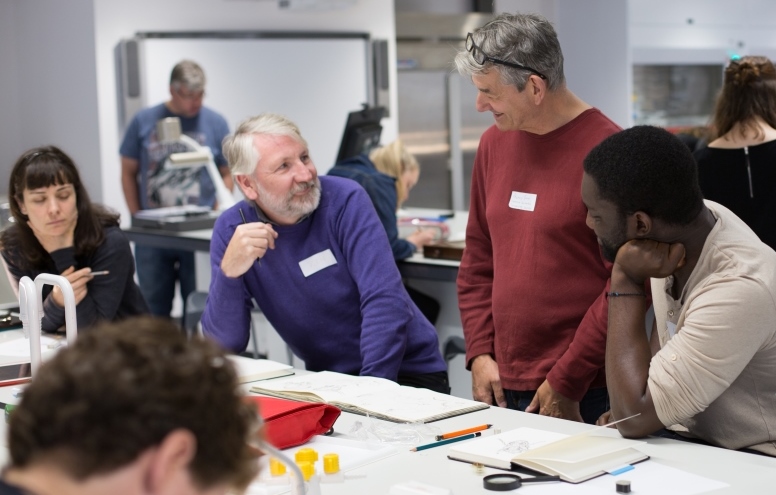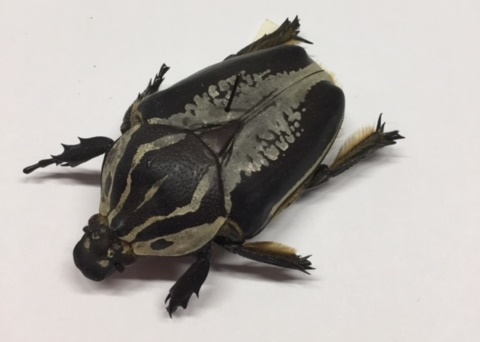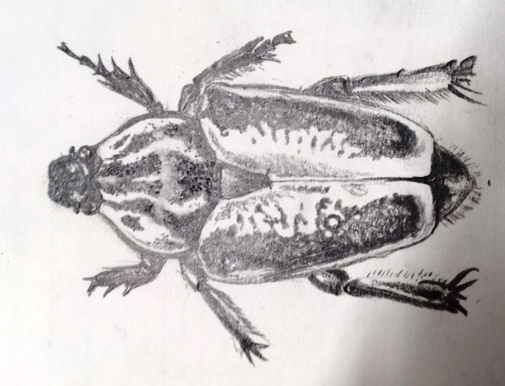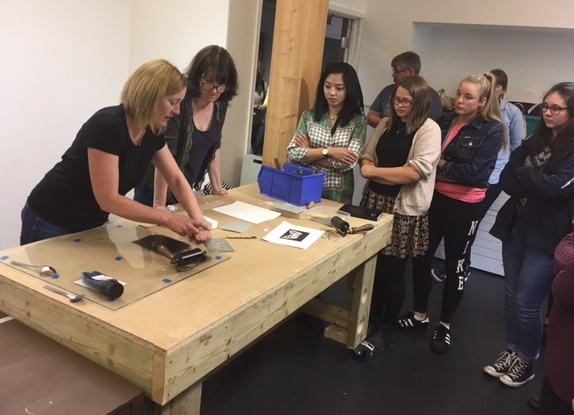 New paper: Former PhD student, Libby Redman, Ken and long time collaborator Jenny Cory publish a new paper in

Journal of Animal Ecology

from Libby's PhD on 'trade-offs and mixed infections' in the armyworm baculovirus (click on the Publications tab to download the paper).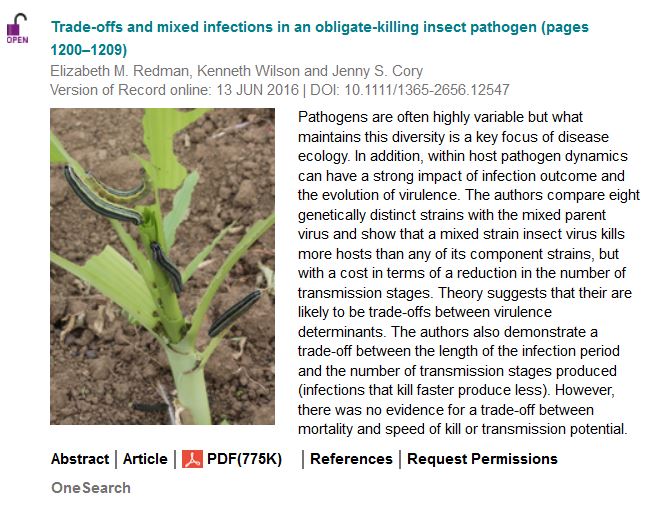 Student features in Brazilian news story: Bobby is interviewed about his placement at the Universidade Federal de Vicosa Click here: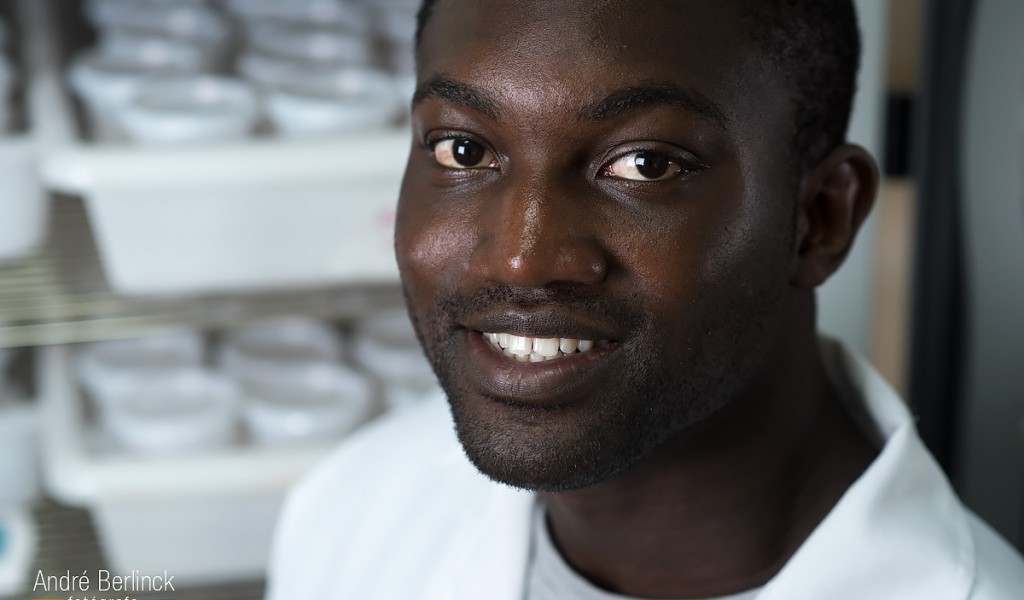 Brexit - June 23rd: The UK referendum votes to leave the European Union (52% vs 48%) and two days later Ken attends pre-planned workshop funded by the BES in Italy to discuss collaborating with European partners on EU Horizon 2020 grant applications - oh, the irony!

Nutritional homeostasis workshop: Ken presents iPEG research at the nutritional homeostasis workshop (May 1-4, 2016) at the LIMES Institute, University of Bonn, Germany, organised by Michael Pankratz and Jeri Wright (below):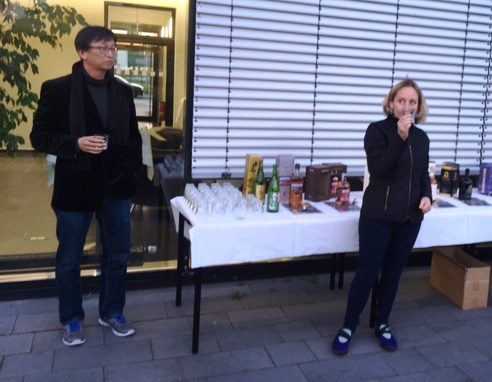 Wray Screcrow Festival 2016 (Apr 22nd - May 2nd): It's that time of year again and iPEG swoop to 3rd prize with a Charles Darwin scarecrow. For a video about the scarecrow festival, Click here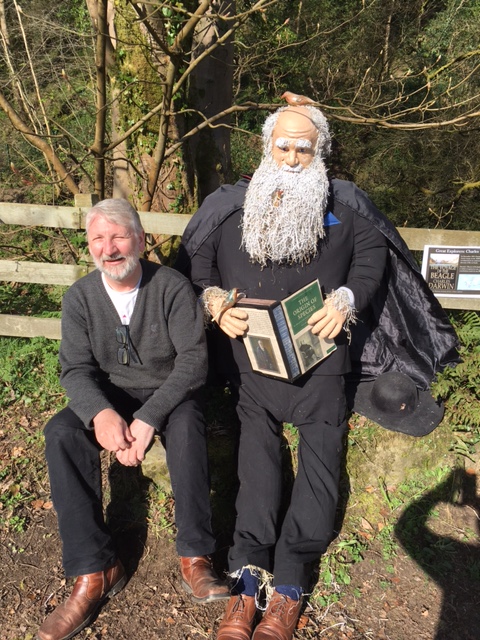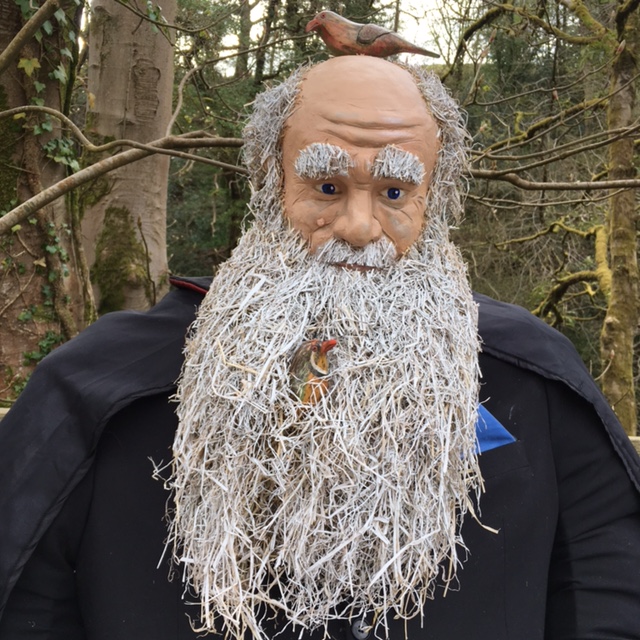 Brazil - here we come: Bobby and Ken fly to Brazil to work at the Universidade Federal de Visosa with Dr Sam Elliot. The visit is funded by Newton Fund for Collaboration grant to Ken and Sam, entitled: "Impact and biological control of a new crop pest in Brazil". The trip involves lots of field work and a workshop, but is also an opportunity for Ken to give a couple of seminars about "How to get published in an academic journal" (click here for a Brazilian newspaper article about this), and for Bobby to start his 3 month internship with a small biological pest control company. As well as a chance to catch up with iPEG graduates Fabio de Assis Pinto and Philip Donkersley, both working with Sam.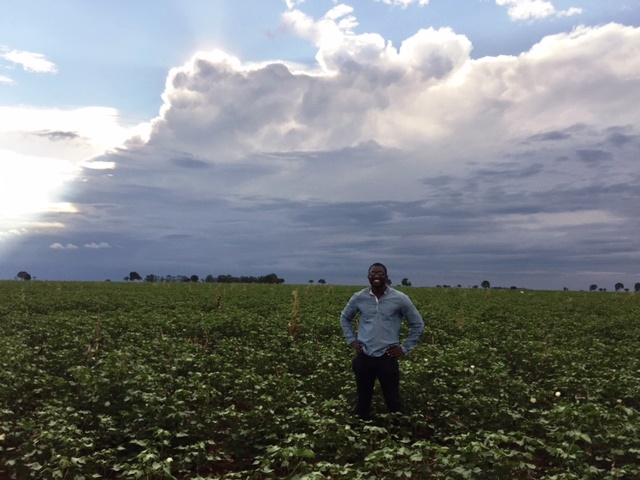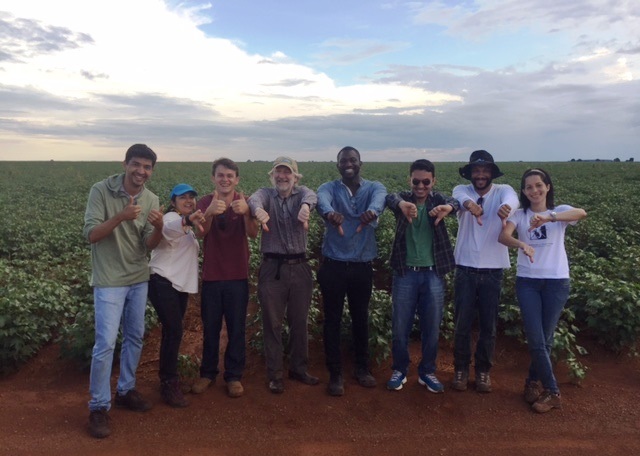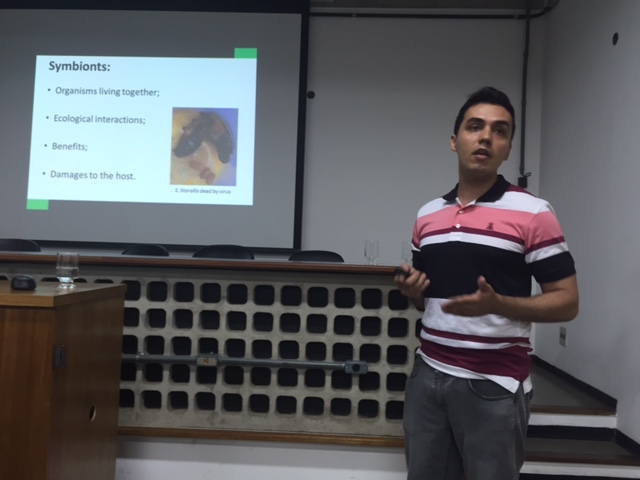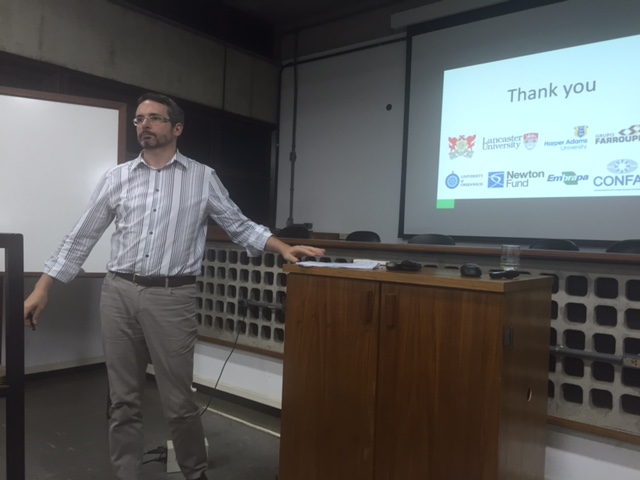 Congratulationst: Ken and collaborators at the University of Greenwich and Exosect Limited have been award an Innovate UK Agri-Tech Early Stage Catalyst grant to develop a novel formulation approach for baculovirus biopesticides. The grant is due to start July 1st 2016.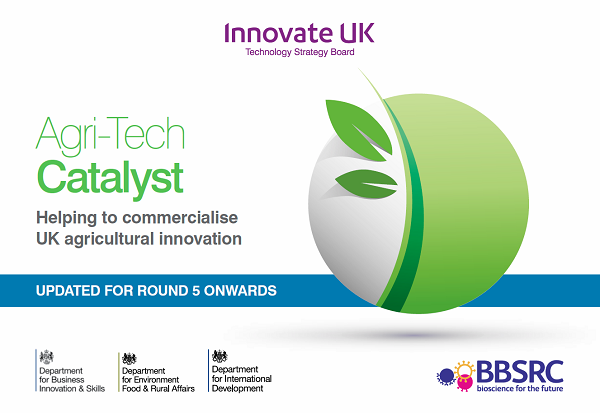 Snow: The first snow of the year arrives in Lancaster!

British Ecological Society Conference: This year's winter meeting is in Edinburgh and attended by most of iPEG. Great to meet up with ex-iPEG post-doc Kwang Pum Lee, over from South Korea, where he is now a Lecturer. It was an opportunity to test out some GPS data loggers, strapped to the back of Ken's neck by Luca Borger and colleagues from Swansea University (below, top) and to celebrate 30 years of the St Kilda Soay sheep project (below, bottom). To read Ken's blog on the St Kilda symposium click here.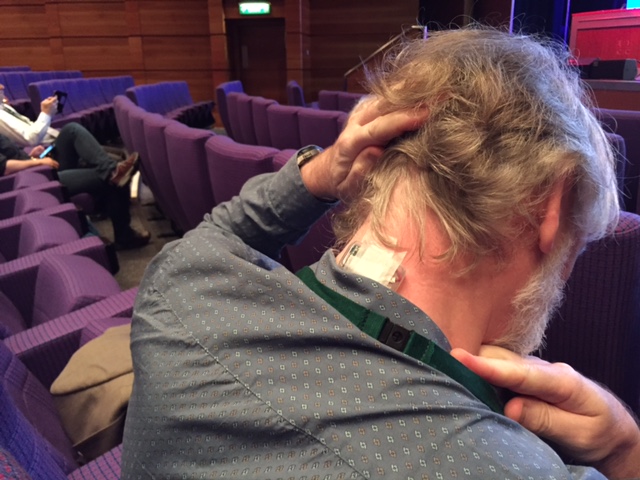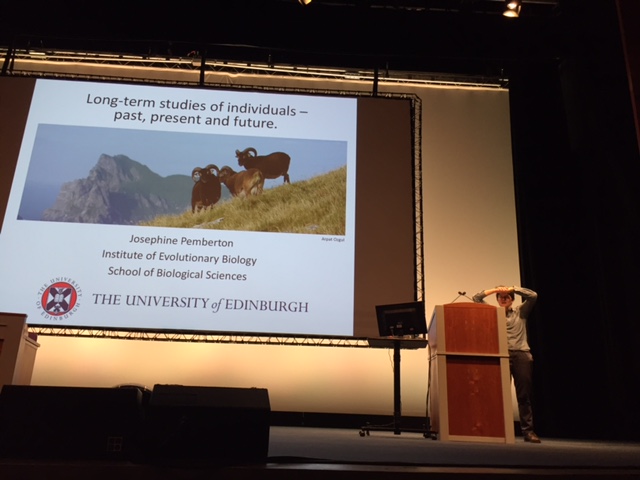 Lancaster floods (Dec 5th): Torrential rains cause flooding in Lancaster city and its environs, including the University, which suffers extended power cuts meaning that all of those valuable samples in the minus 80 freezer are lost forever!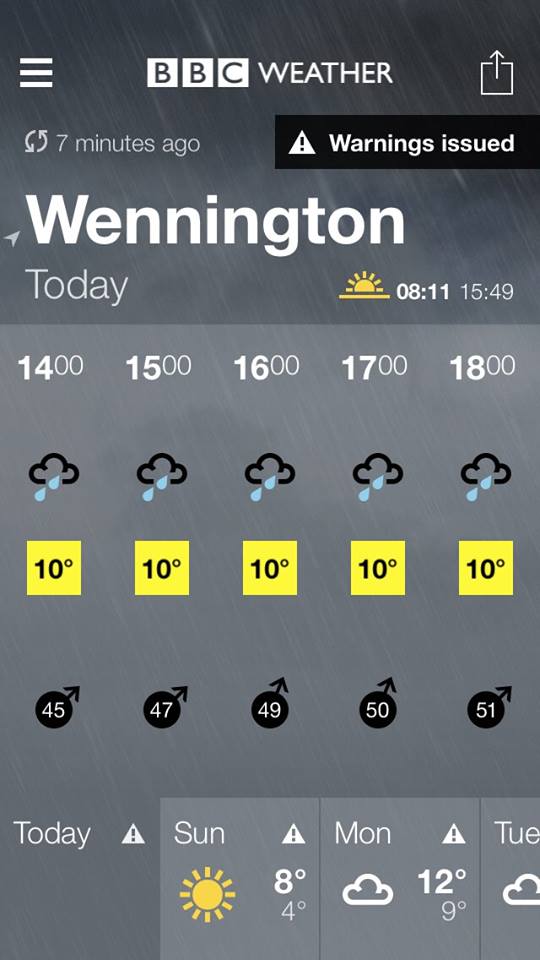 New Guide: The BES publish a new useful guide on how to get published - and it's free here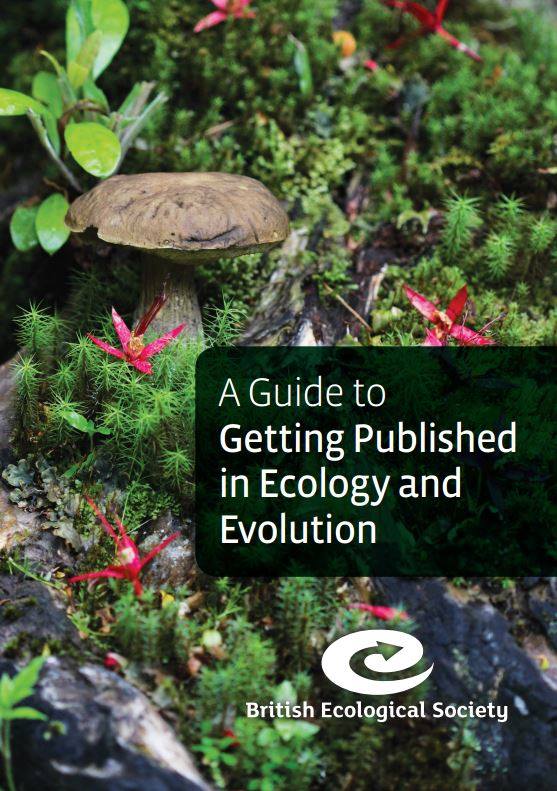 New academic year starts: And they're off...

The calm before the storm: All is quiet at the University before the new academic term starts, but the PhD students are still beavering away in the lab!!
Ecology and Conservation talks: Bobby chairs an afternoon of talks presented by students in the

Ecology and Conservation

group, including one by our very own Fabio.
New grant: Ken wins new grant with Australian collaborators including Prof Steve Simpson FRS FAA at the University of Sydney and the

Australian Plague Locust Commission

to increase the effectiveness of the biopesticide Green Guard®. The study is funded by an Australian Research Council Linkage Grant and will run for 3 years. For a new story about the project click here.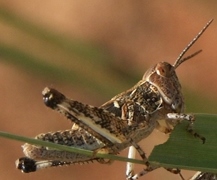 St Kilda reunion: Ken attends the 30th anniversary of the St Kilda Soay sheep project held at the Royal Society of Edinburgh meeting rooms. Chance to catch up with some old faces! For a

Journal of Animal Ecology

blog post about the St Kilda project, click here.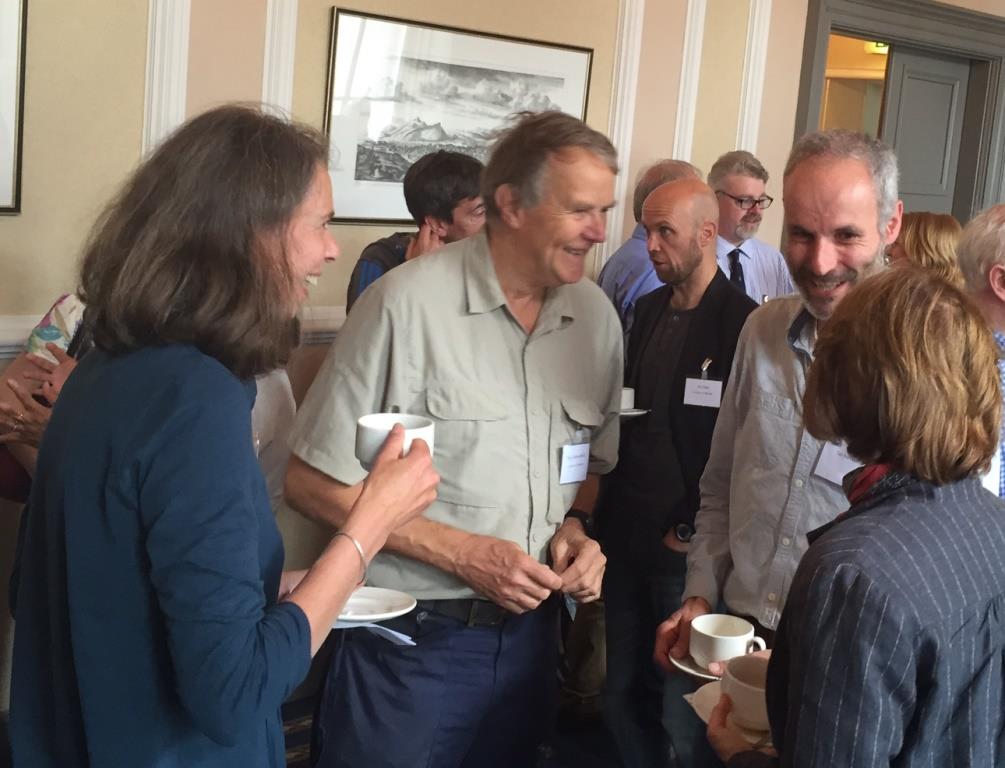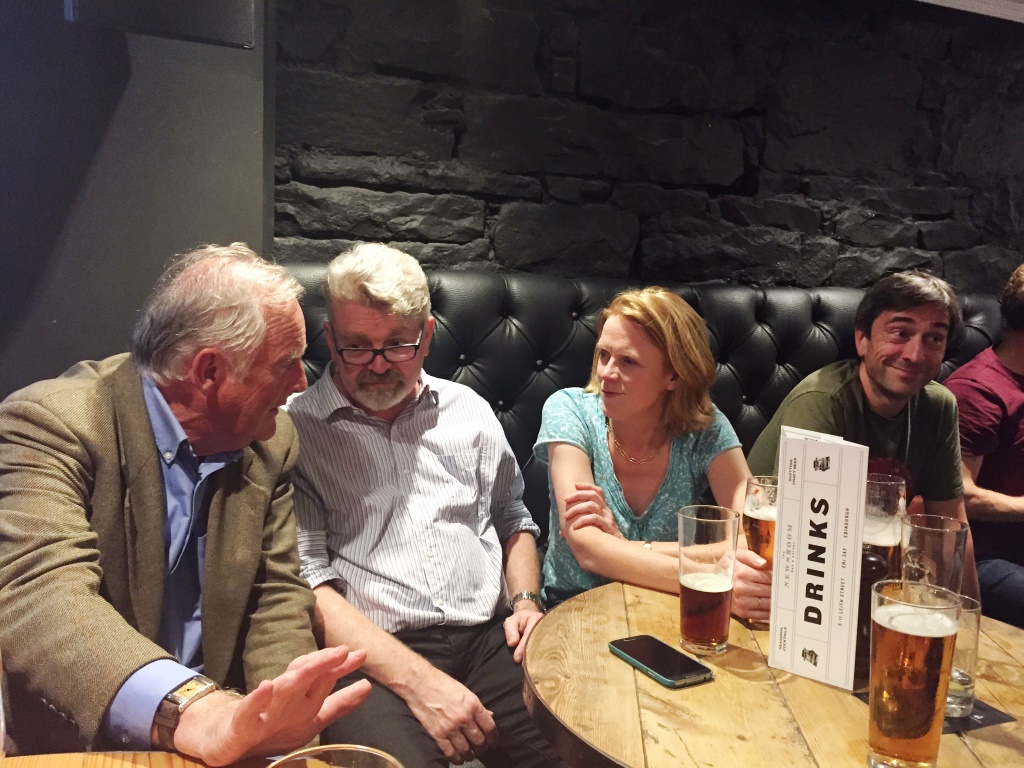 Outreach: iPEG hosts future scientists from the local girls grammar school to give them experience of working in a laboratory and tackling a reserach question. They then have to produce a poster and talk on the subject of alternative methods of pest control. Excellent job by the team. Here is a link to the YouTube video that ex-iPEG member Jo Randall features in as part of the same LU-RCUK-funded Schools-University Partnership Initiative (SUPI)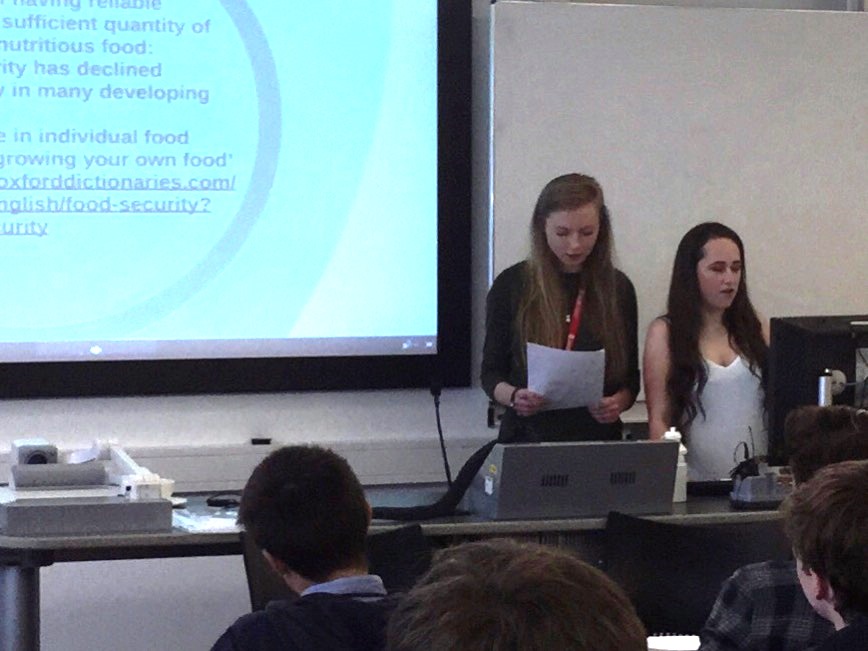 R4All: iPEG gang (Aislinn, Stephanie, Bobby, Fabio, Ken) and other ecologists get to grips with the

R

stats package under the expert guidance of Andrew Beckerman and Dylan Childs.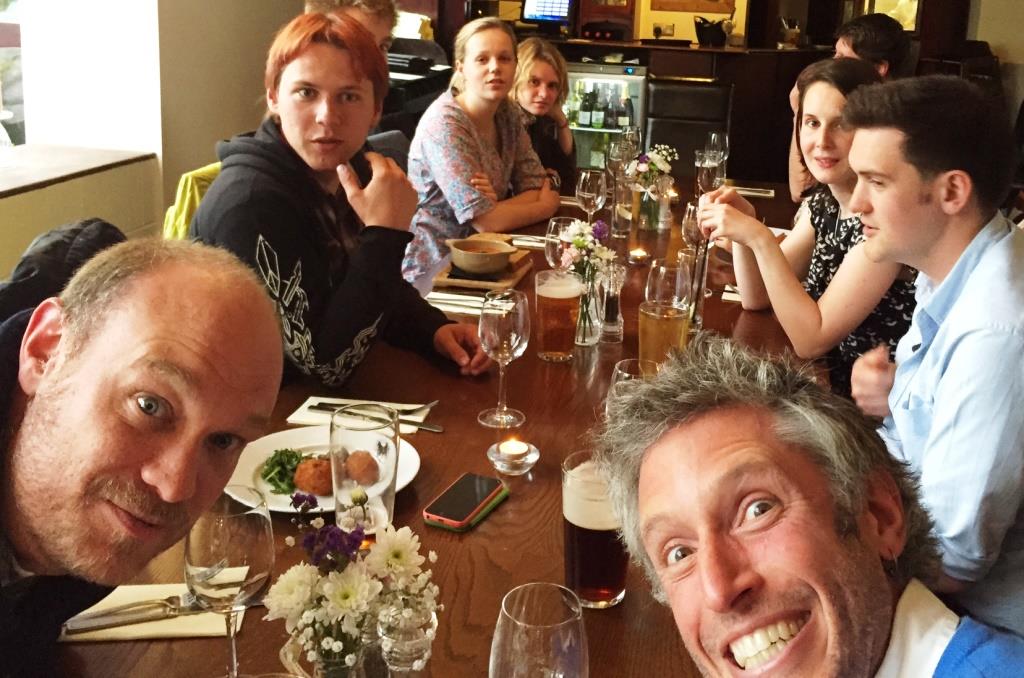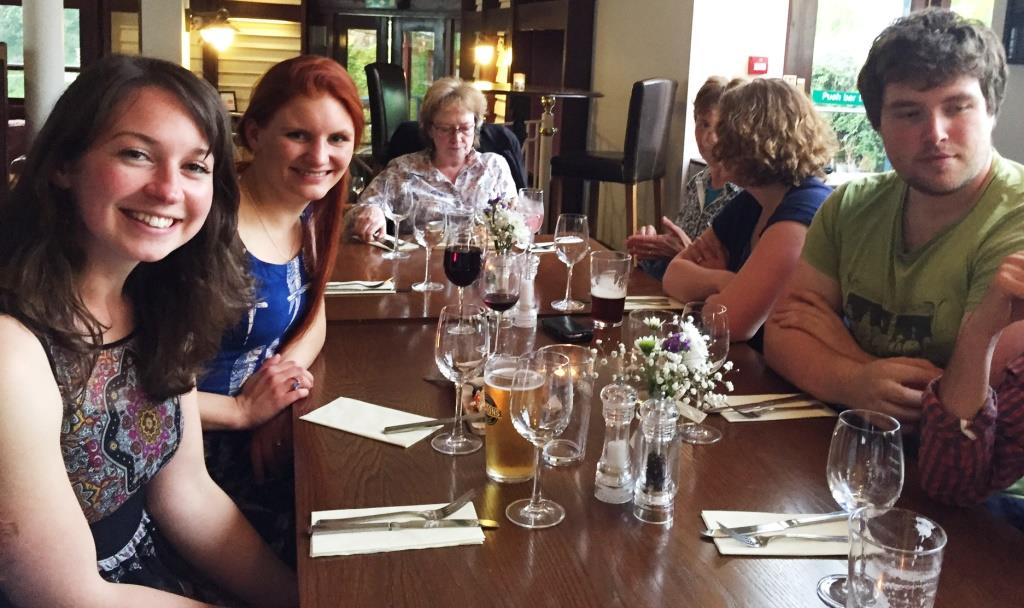 The Grand Challenge: It's Wray Fair time again. Events kick off with a 10km challenge between Bobby and Ken - the senior citizen beats the young buck and together they raise more than £1,000 for charity! Ken and Judith also win the Star Prize in the annual Scarecrow Festival competition for their 12 feet tall "Scavatar" scarecrow.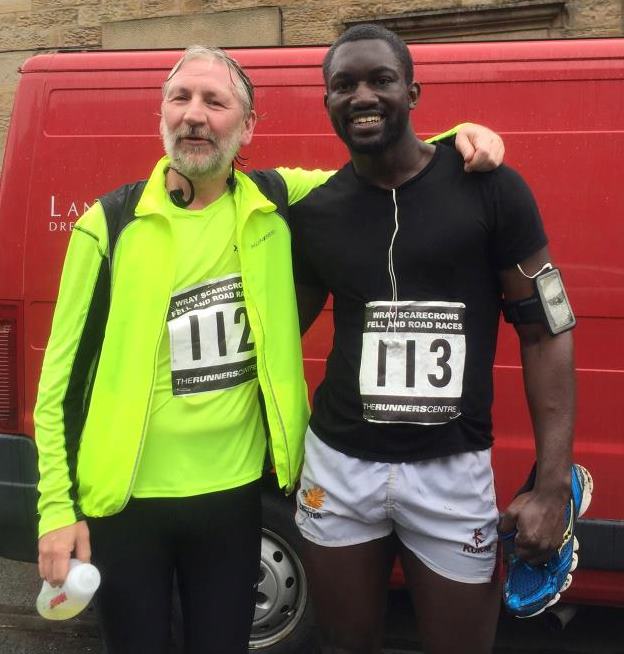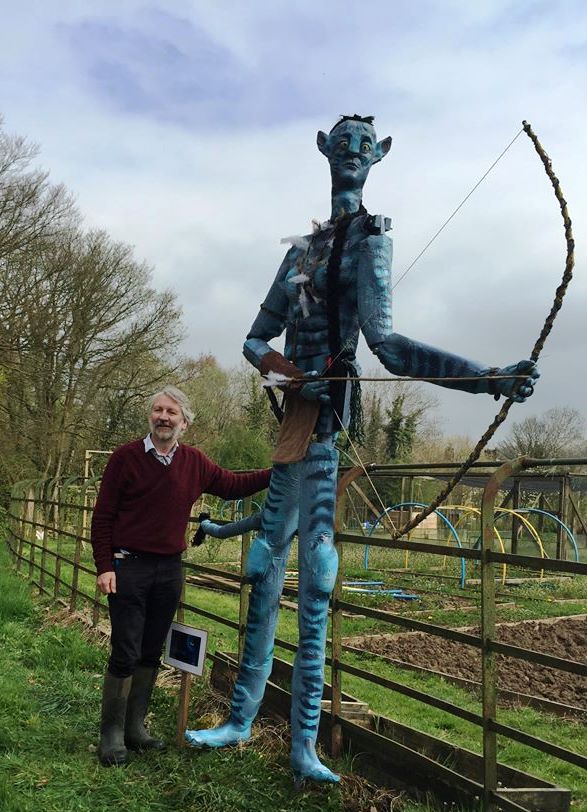 New publication in

Parasite Immunology

: ex-iPEG post-doc Rob Graham publishes a new paper from his time spent in Australia. The paper is entitled "Body condition constrains immune function in field populations of female Australian plague locust

Chortoicetes terminifera

" and is co-authored by Juliane Deacutis, Steve Simpson and Ken. Click on the Publications tab for further details.

Goodbye Catherine: Its another sad day as we say goodbye to post-doc Catherine Reavey, who leaves us after just 9 months. We hope to see her back one day.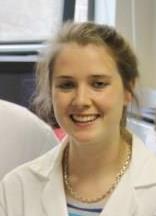 Welcome Fabio: The team are joined by Brazilian recruit Fábio de Assis Pinto, a PhD student from Sam Elliot's lab at the Universidade Federal de Viçosa in Minas Gerais, Brazil.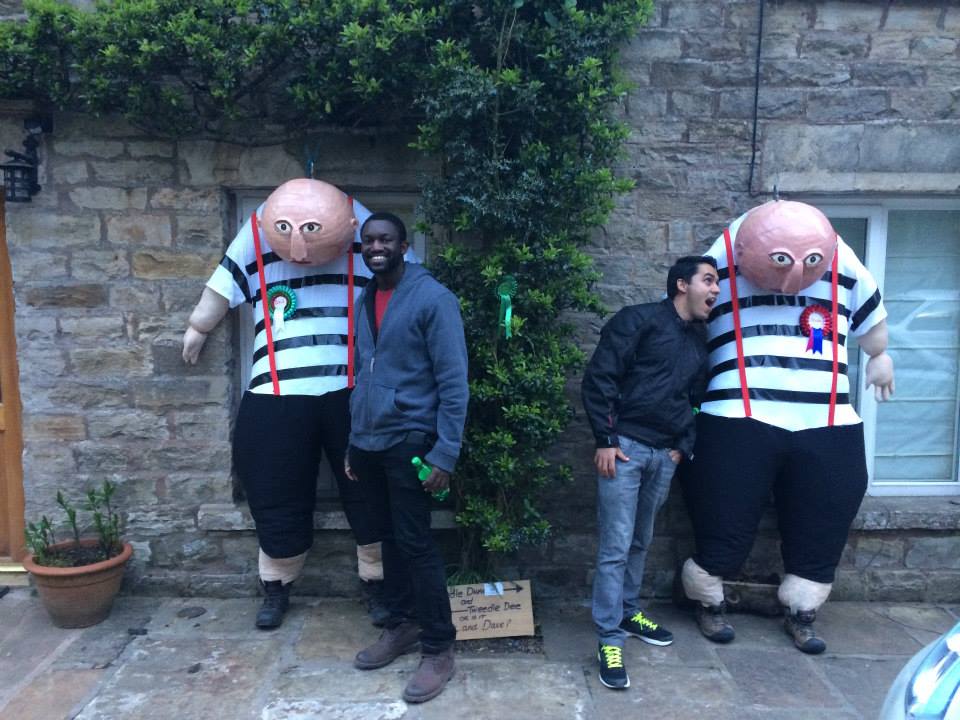 Two new 'letters': Ken and ex-iPEG post-doc Rob Graham publish a new paper in

Biology Letters

looking at how the effects density-dependent prophylaxis is transmitted across generations. The paper is entitled "Transgenerational effects modulate density-dependent prophylactic resistance to viral infection in a lepidopteran pest". Ken also co-authors a review on insect migration in

Ecology Letters

with Jason Chapman and Don Reynolds. Click on the Publications tab for further details of both papers.
End of an era: Yamini (research technician in iPEG for the past 7 years) leaves us to start a new life with the USA! She will be greatly missed by the rest of the team and by her many friends in Lancaster. Bon voyage, Yamini.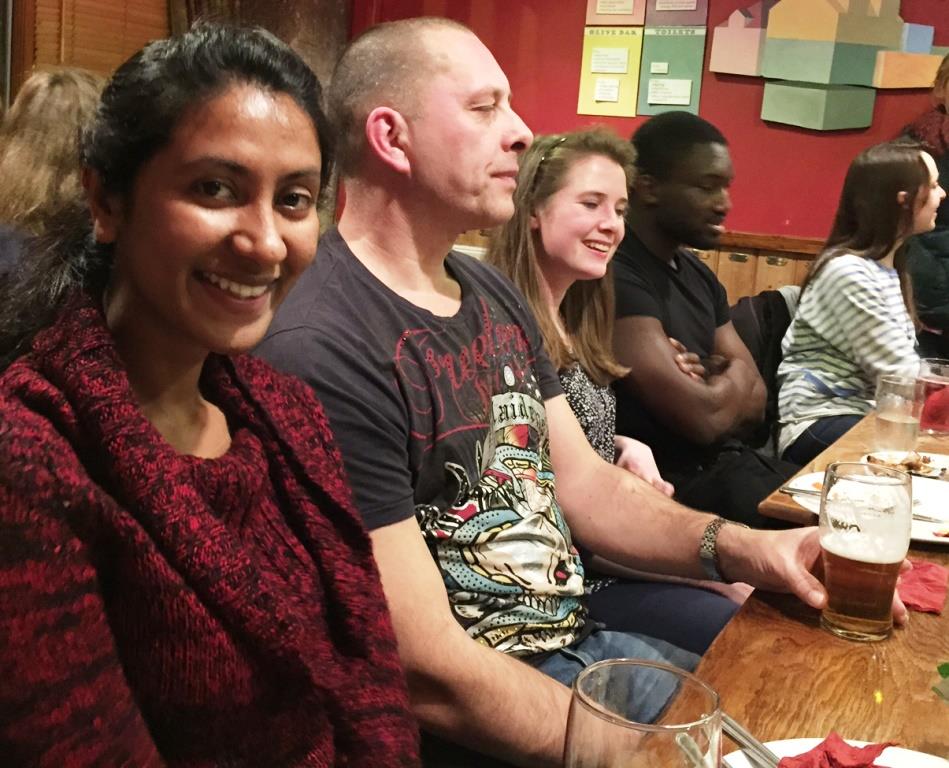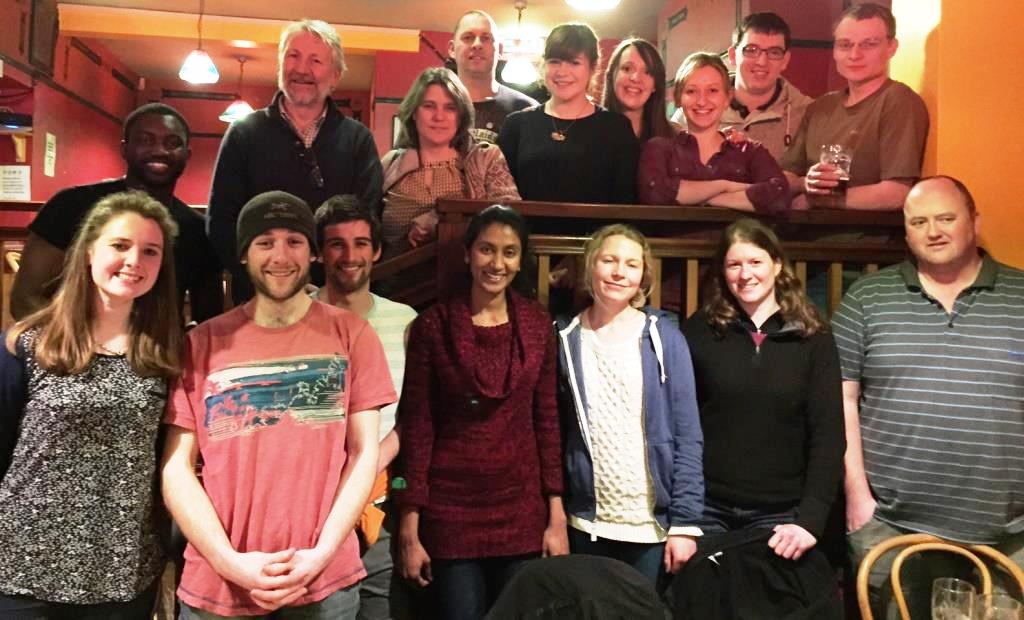 Two new publications: Ex-iPEG PhD student Clare Benskin publishes a paper from her PhD thesis on blue tit microbiota in the journal

Ecology & Evolution

. The paper is entitled "Life history correlates of faecal bacterial species richness in a wild population of the blue tit

Cyanistes caeruleus

." and is co-authored by Ken, Glenn Rhodes, Roger Pickup, Mark Mainwaring and Ian Hartley. Ken is also a co-author on a paper published in

Proceedings of the Royal Society

, looking at the effects of nutrition on an insect symbiotic bacterium. The paper, entitled "Macronutrients mediate the functional relationship between

Drosophila

and

Wolbachia

" is led by Fleur Ponton and co-authored by other University of Sydney collaborators: Andy Holmes, Dave Raubenheimer, Katie Robinson and Steve Simpson. Click on the Publications tab for further details.
Aislinn at CABI: Aislinn begins her 3 month placement with CABI, looking at e-plant clinics in Kenya.



New grant: Ken and ex-postdoc Rob Graham (now at Harper-Adams University) have been awarded an RCUK-CONFAP Research Partnerships award to collaborate with researchers in Brazil (Universidade Federal de Viçosa and EMBRAPA) and the UK (University of Greenwich) on a project entitled "Impact and biological control of a new invasive global crop pest in Brazil".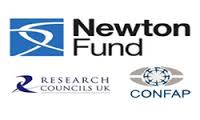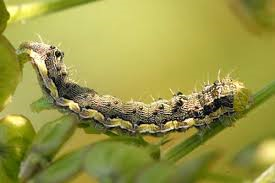 Ecology & Conservation Christmas Party 2014: This year held at The Gregson Centre. The two "Mystery DJs" turned out to not be so myseterious afterall. Highlight of the evening was a dance-off between Bobby and Ken! The result? A tie (after adjusting for age!).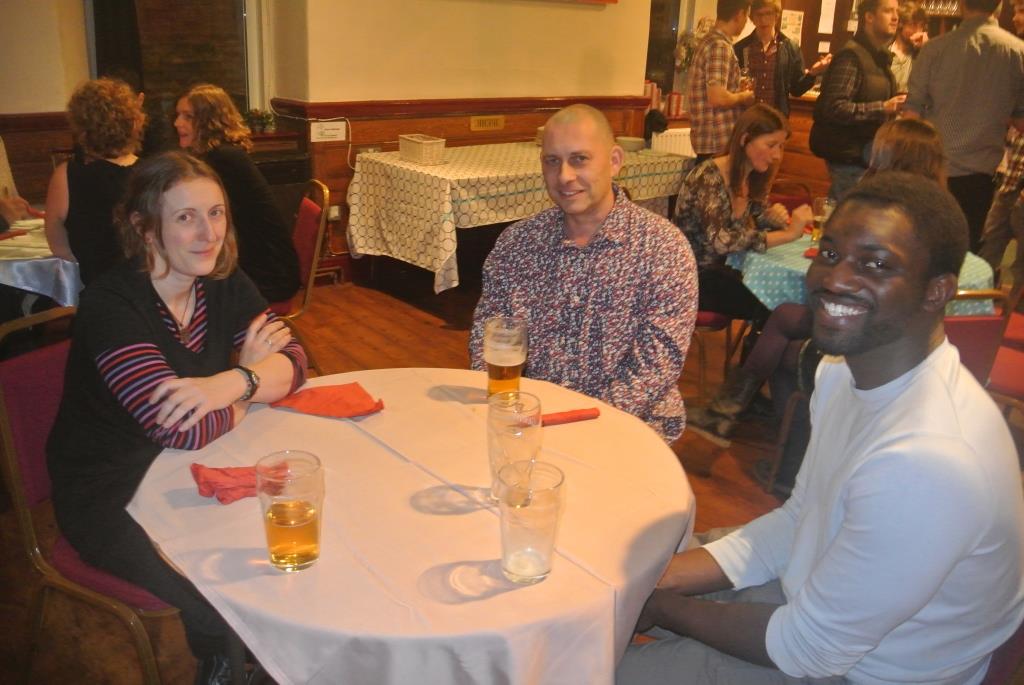 Emma, Phill and Bobby at the ECG Christmas party © Ken Wilson.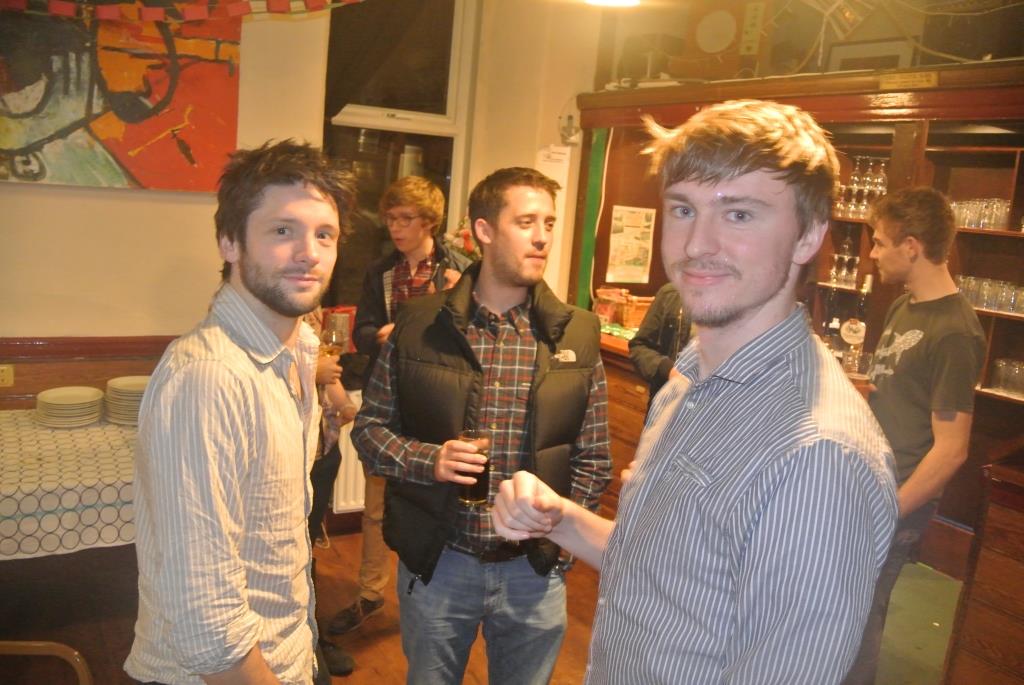 Other party-goers at the ECG Christmas party © Ken Wilson.

The legendary dance-off between Ken and Bobby..
Congratulations to Emily (Dec 5th):

Dr Adams successfully defends her thesis "Beekeeping Knowledge, Honey Bee Health and Environmental Stewardship: a Cross-disciplinary Study". Her examiners were Prof Sally Eden (external) and Dr Ben Neimark (internal). Her PhD supervisors were Rebecca Ellis and Ken Wilson. Well done, Emily!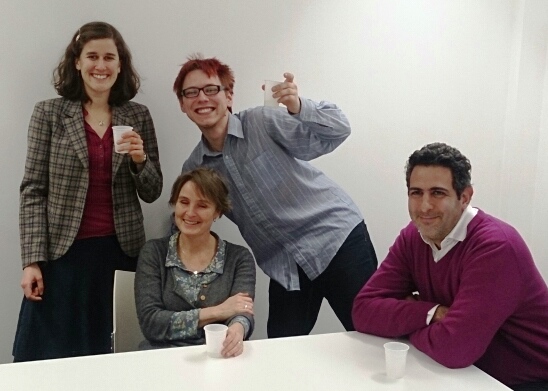 Emily with Rebecca, Philip and Ben post-viva (c) Bobby Holdbrook
iPEG Graduates:

Dr Hope and Dr Donkersley are awarded their PhDs and reflect on their PhD experience here

Dr Philip Donkersley, Dr Rachel Hope and Dr Laura Hobbs at the Graduation Ceremony (c) Lancaster Environment Centre

New publication in

Ecology & Conservation

: Congratulations to Philip Donkersely who has had his first PhD paper accepted for publication in E&E. The paper is entitled "Honeybee nutrition is linked to landscape composition" and is co-authored by Ken, Glenn Rhodes, Roger Pickup and Kevin Jones. Click on the Publications tab for further details.
Major experiment underway:

... and out comes "The Sound of Music" CD with mass singing by Catherine, Bobby and Yamini!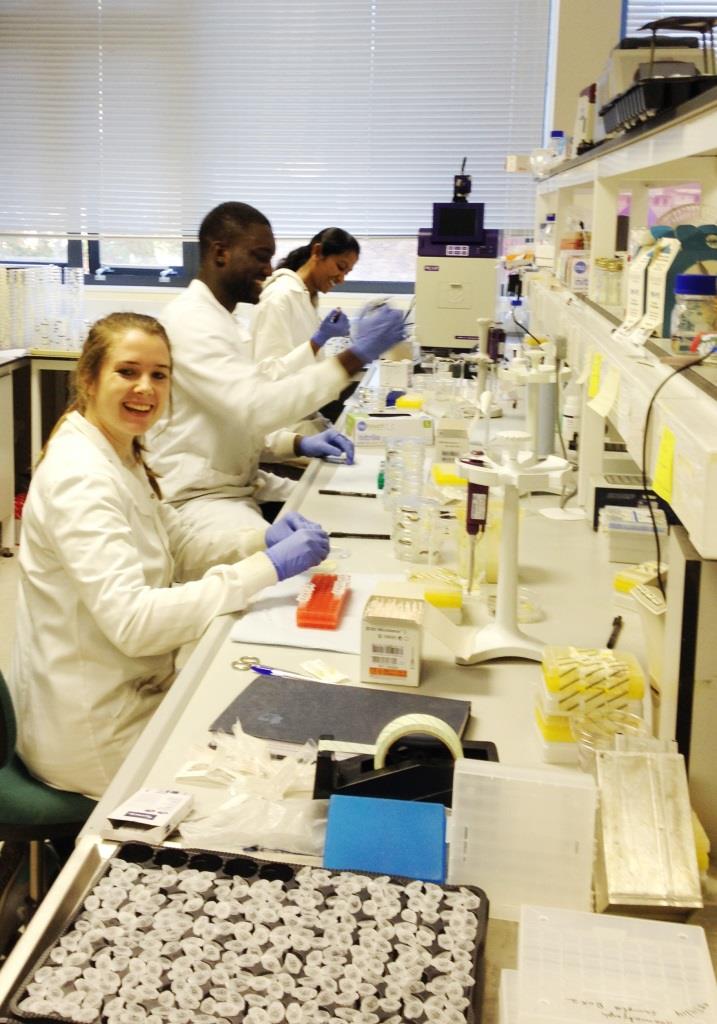 New publication in

PLoS Pathogens

: Ken and Rob co-author a paper emerging from a new collaboration with Prof Wu and colelagues at IPCC CAAS in Beijing and described the protective effects of a newly-described densovirus on its host, the Old World Cotton Bollworm, Helicoverpa armigera. The paper received some press interest - click here (English) and here (Chinese).
Congratulations to Catherine (Oct 10th):

New postdoc, Catherine Reavey, successfully defends her PhD thesis on burrying beetles, supervised by ex-iPEG member, Dr Sheena Cotter. Well done, Catherine!
New publication in Journal of Insect Physiology:

Rob and Ken (plus co-authors) publish a new paper on self-medication on macrontrients in Australian plague locusts, as part of an excellent Special Issue on "Mechanisms of Nutritional Homeostasis in Insects" edited by Jeri Wright and Spence Behmer. The paper, entitled "Locusts increase carbohydrate consumption to protect against a fungal biopesticide" was commissioned following the successful workshop on the same theme in May last year.
Welcome to Bobby... again:

Bobby completes his term as summer lab assistant and formally starts his PhD on the effects of micronutrients on caterpilar resistance to biopesticides.
Farewell to Rob (Oct 1st):

Good luck to Rob Graham (and family), as he starts his new job as a Senior Lecturer in Entomology at Harper Adams University!


Workshop in Sophia Antipolis (Sep 30th - Oct 3rd):

Ken attends a workshop at INRA in southern France to develop new projects for novel innovations for crop protection and biological control.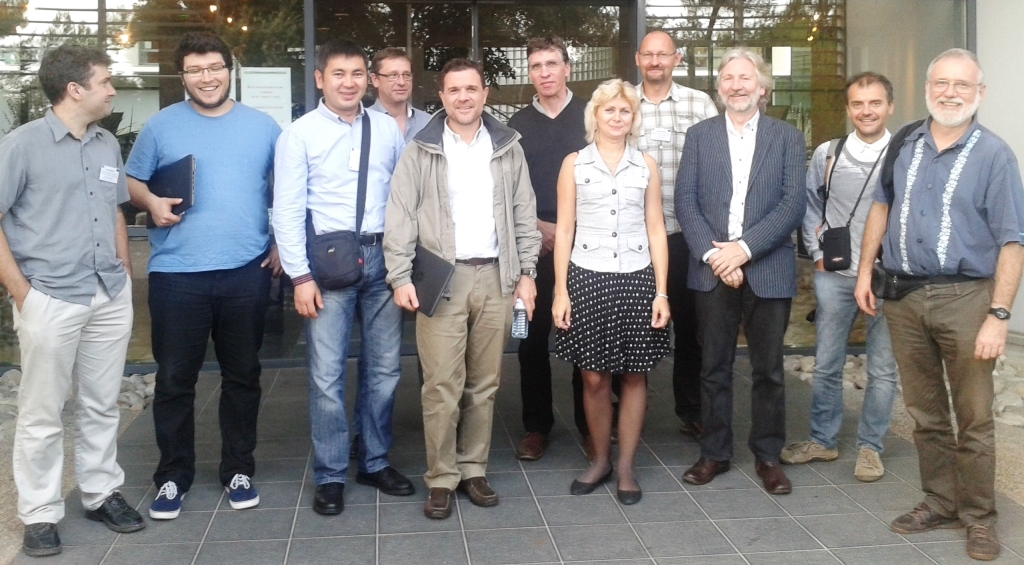 Attendees at the INRA biocontrol workshop (c) Dina Elis

St Kilda fieldwork (Aug 12th - 21st):

Ken embarks on field activities on the remote Scottish archipelago of St Kilda, for the first time in a decade. The field trip is part of an ongoing pilot study to understand the microbiome of Soay sheep.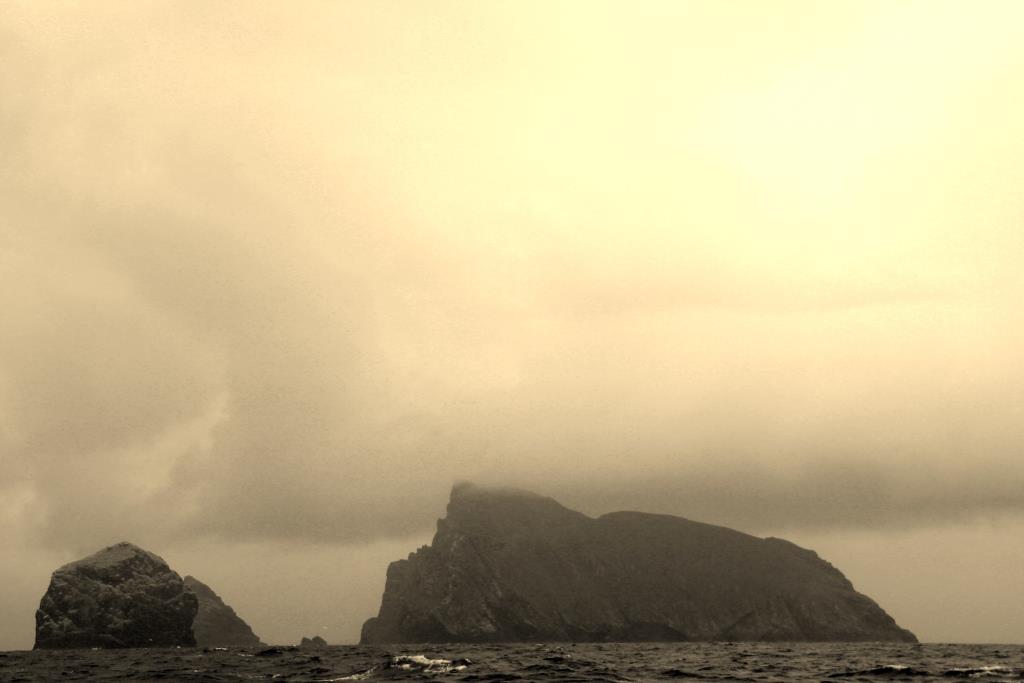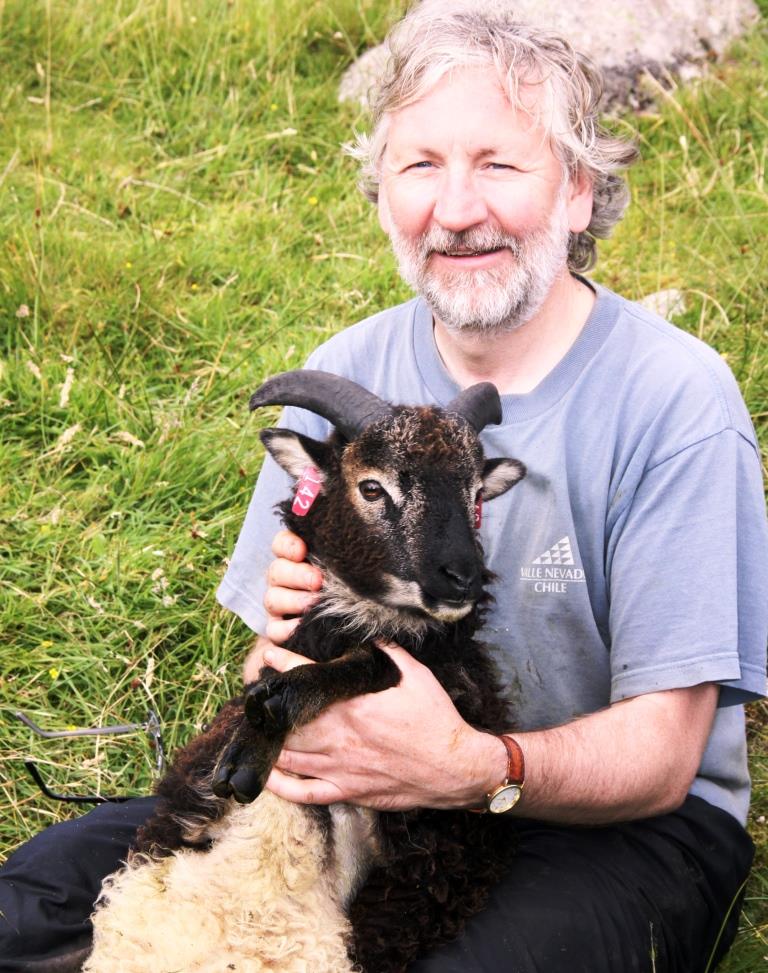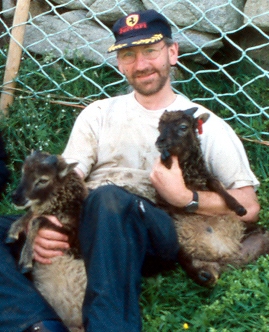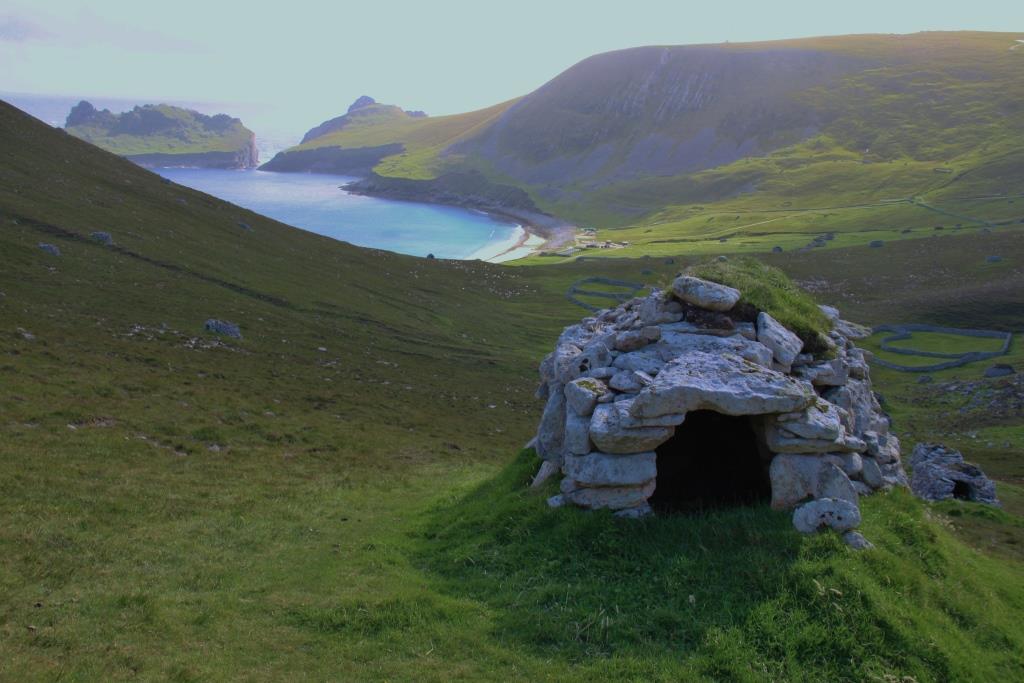 Top: Boreray; Middle: Ken with lambs (left = 2014, right = 2003); bottom: view from Oiselval to Village bay and Dun.
(c) Ken Wilson
European Congress of Entomology

, York (Aug 3rd - 8th): iPEG presents at ECE2014 in the form of a poster by Aislinn on her PhD work (viruses and migration in moths), and Ken (one talk on African armyworm migration and another, substituting for Jo/Catherine on 'deconstructing' insect-pathogen interactions using the geomtric framework for nutritional biology. The latter talk was part of a successful symposium co-organised by Ken, Sheena Cotter, Rob Knell and Yannick Moret on "Ecoimmunology of invertebrates".

Farewell to Jo: After more than two years, Jo Randall leaves iPEG to take on a new career with the NHS. Fortunately, she hands on the postdoc reigns to Catherine. Good luck Jo!
Congratulations to Philip:

Dr Donkersley successfuly defends his thesis entitles "Impact of Nutrition and Endemic Microflora on Fitness of Managed Honey Bee Populations (

Apis mellifera

L.)". His external exminer was Prof Jeri Wright and his internal was Dr Ian Hartley. Well done Philip!

Welcome to the new guys: Welcome to Catherine Reavey (new post-doc) and Bobby Holdbrook (summer lab assistant and soon-to-be PhD student) who both join iPEG this month, as well as to Lauren Duggan who will spend 3 weeks in the lab as part of her school's work placement: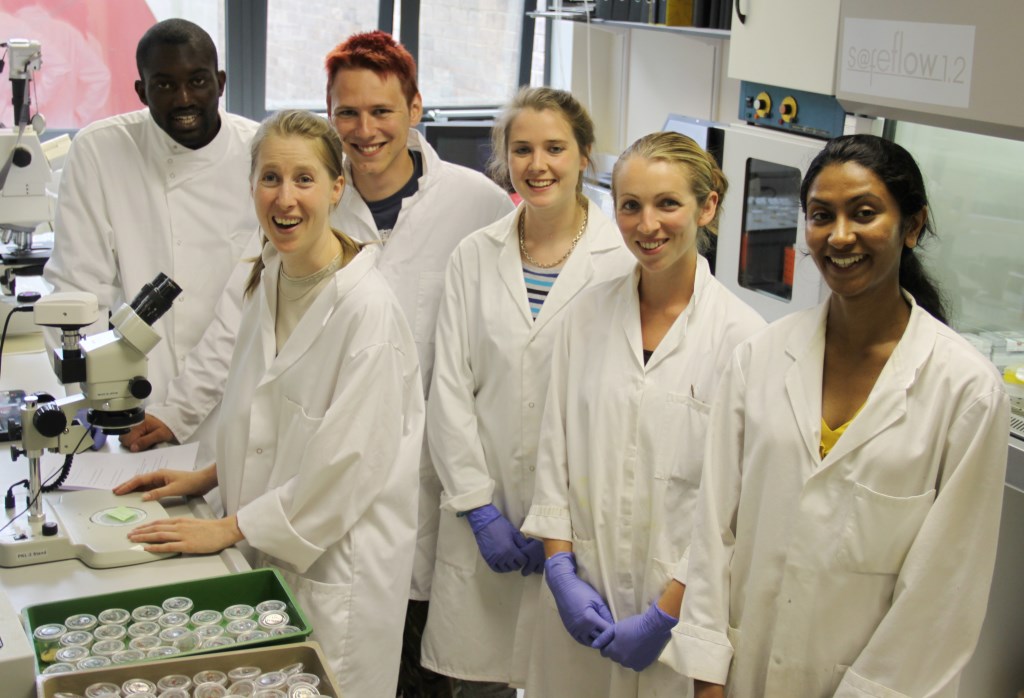 Left to right: Bobby, Aislinn, Philip, Catherine, Jo and Yamini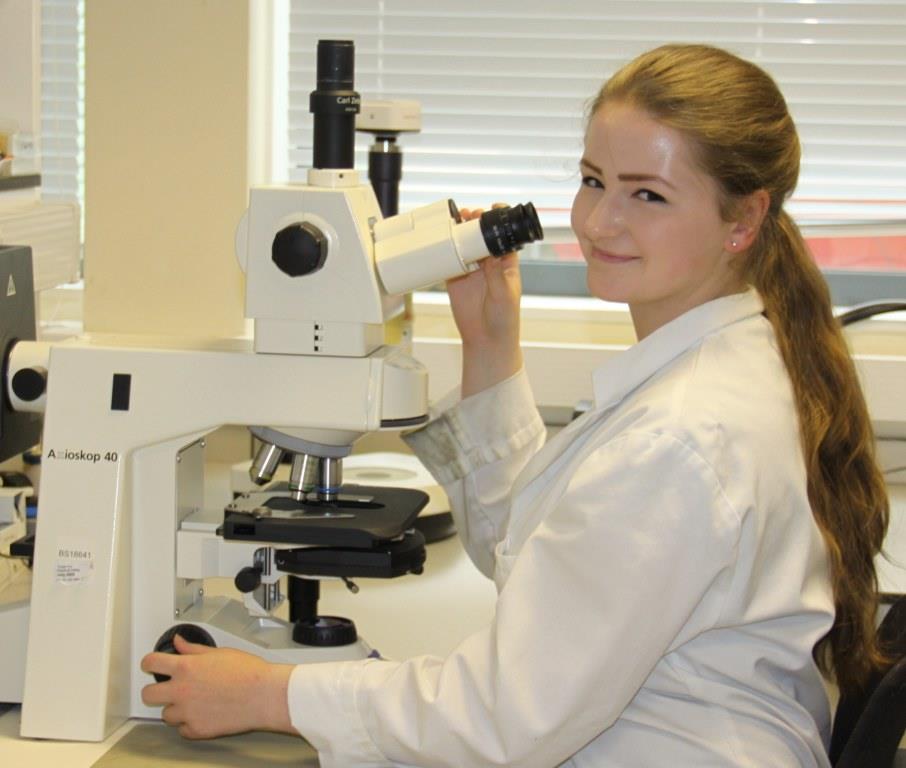 Lauren on work placement from school for 3 weeks in the lab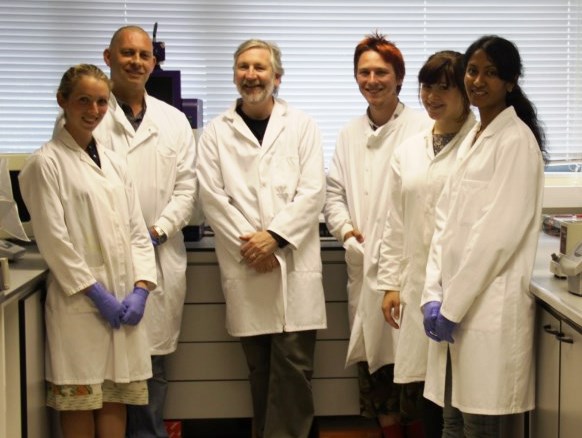 Left to right: Jo, Phill, Ken, Philip, Stephanie and Yamini

It's Wray Fayre time again: This year's sole iPEG entry is made by Ken and Judith - Luis Suarez (before he bit yet another player at the summer World Cup!):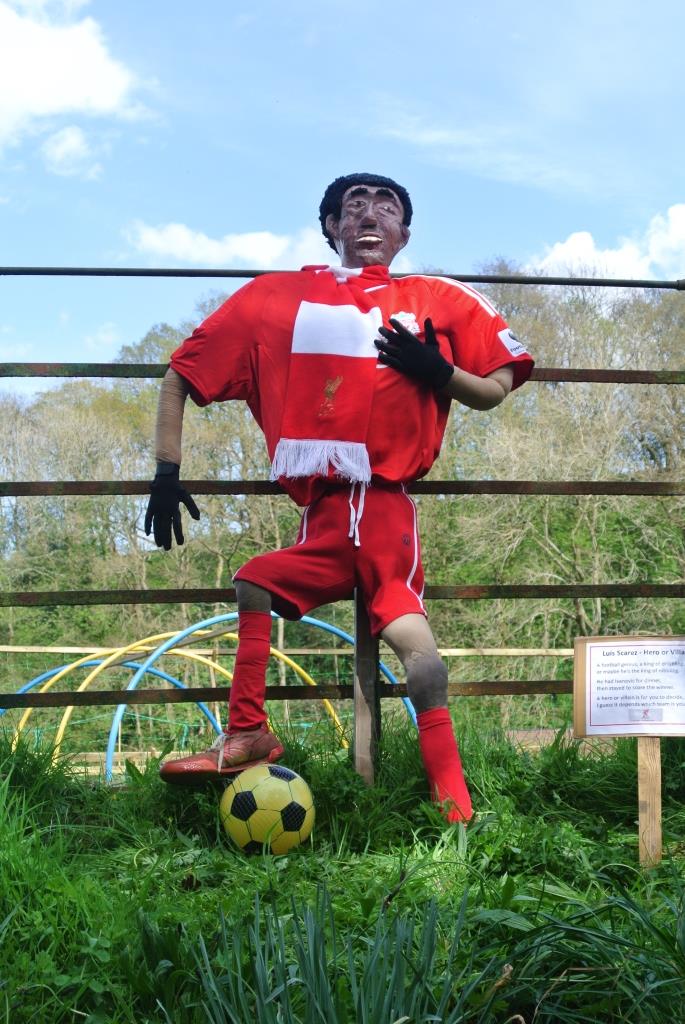 Luis Suarez scarecrow (c) Ken Wilson

New armyworm website launched: iPEG hosts a new new website providing information about one of Africa's major crop pests - the African armyworm

An outbreak of armyworms on pasture grasses (c) Wilfred Mushobozi

Welcome to Bobby: Bobby Holdbrook is successful at interview for a BBSRC-funded PhD position in iPEG to work on the effects of micronutrients in determining susceptibility of lepidopteran pests to biopesticides. Bobby's PhD will start in October 2014 but he will work in the lab for 2-3 months over the summer learning a range of techniques.

New grant: Ken is awarded a new grant by the BBSRC to form a network with scientists in China. The China Partnering Award is for 4 years to collaborate with scientisists at the Chinese Academy of Agricultural Sciences in Beijing and also involves UK scientists from Rothamsted Research, CEH and NRI.
New paper

: Published in the journal

Food Security

by Ken and collaborators at the Natural Resources Institute (University of Greenwich), the paper argues the case for "The use of indigenous ecological resources for pest control in Africa". To view the paper visit our Publications page.
Working with industry (Feb 18th)

: Ken gives a presentation to

Waitrose

supermarket growers on the value and difficulties associated with using biological pesticides and asks "Do pesticides have a place in modern crop pest control?"

Congratulations to Dr Hope (Jan 8th): Rachel passes her PhD viva! Her examiners were Prof Ian Owns (Natural History Museum) and Andy Wilby (internal examiner).
New paper becomes highly cited

: Latest paper by ex-PhD student Sonia Povey is published in Journal of Animal Ecology and in July 2014 is earmarked as a "highly cited paper" (defined as receiving enough citations to place it in the top 1% of its academic field based). The paper is co-authored by Ken, Sheena and Steve Simpson. View it in our Publications section.

Biodiversity & Conservation Christmas Party (Dec 13th 2013): Once again, IPEG staff and students enjoy the festivities - this year at The Greaves Park.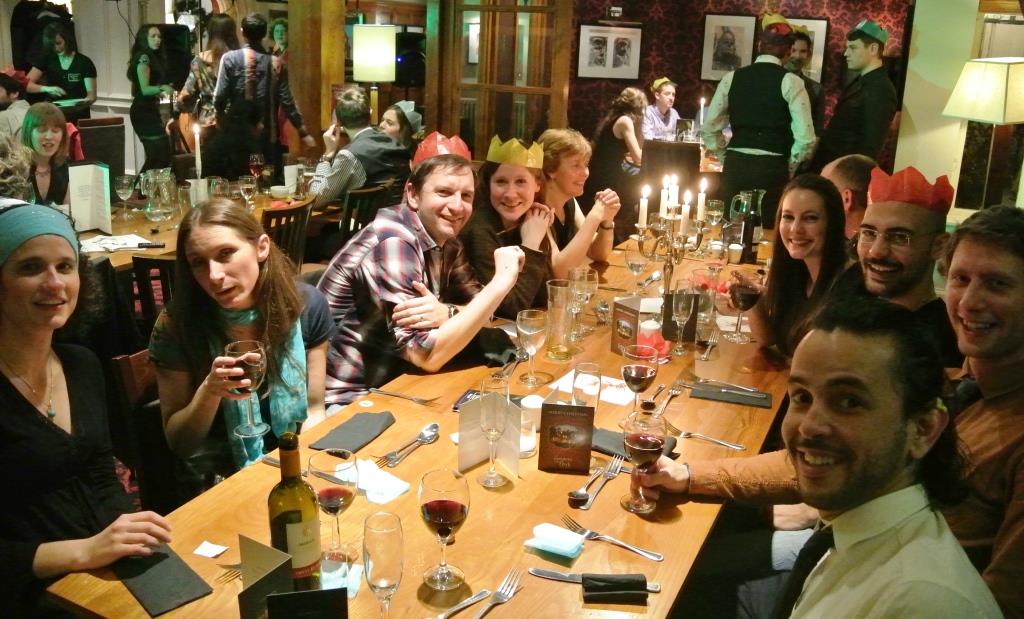 Rob, Juiane and Bump with other BGC folk at the Christmas party © Ken Wilson.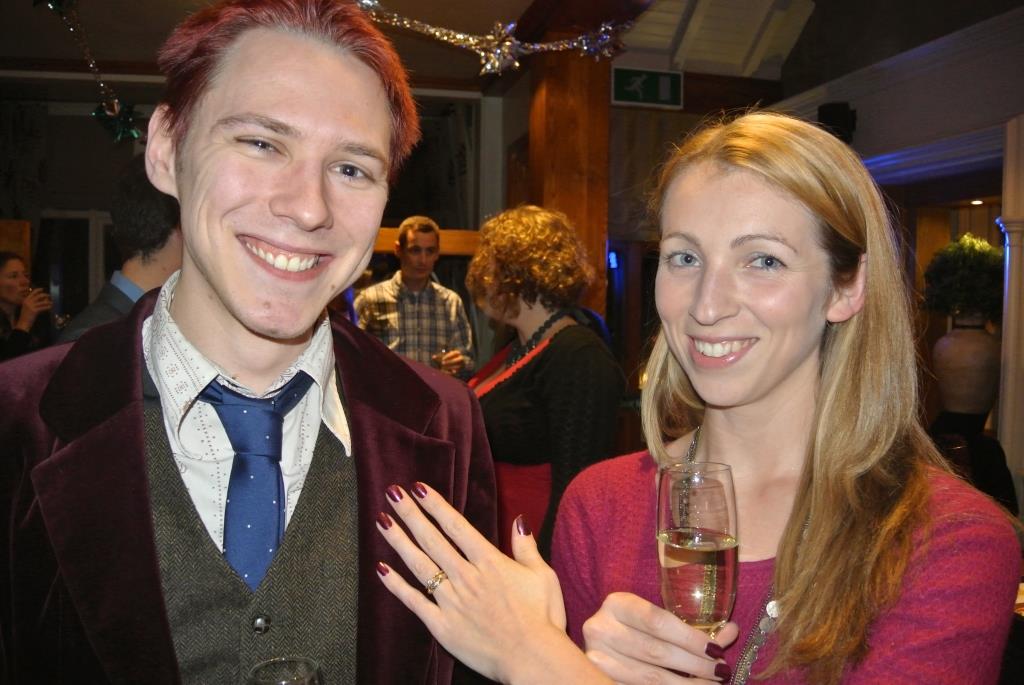 Philip and Jo at the Christmas party - matching jacket and nail varnish! © Ken Wilson.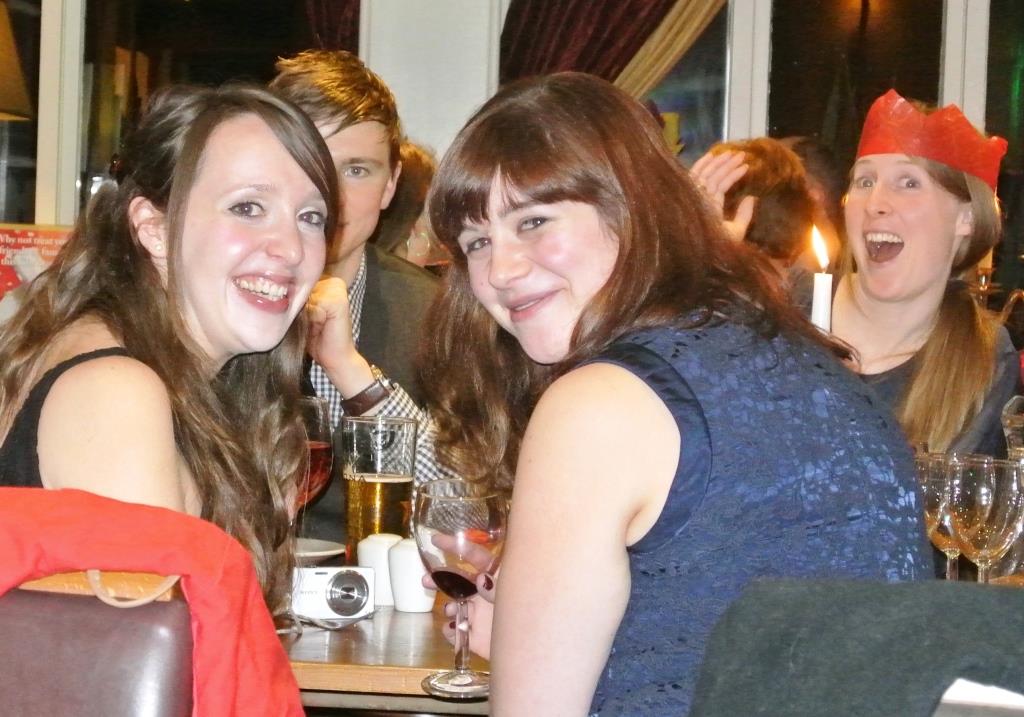 Left to right: Rachel, Al, Steph and Aislinn at the Christmas party © Ken Wilson.

New publication in Science: Ken and Rob, together with colleagues Tim Benton (RCUK Champion for Food Security) and David Grzywacz (armyworm collaborator from NRI, University of Greenwich) publish a comment on the Science Special Section on Smarter Pest Control, calling for more research into making biological pesticides 'smarter'. See Publications or click here.

Start of new academic year: And the end of Ken's year-long fellowship.

Rob and Ken visit CAAS in China (Aug 22nd): A short but productive visit to Prof Kongming Wu's lab at the Plant Protection Institute to discuss migratory crop pests and the pathogens.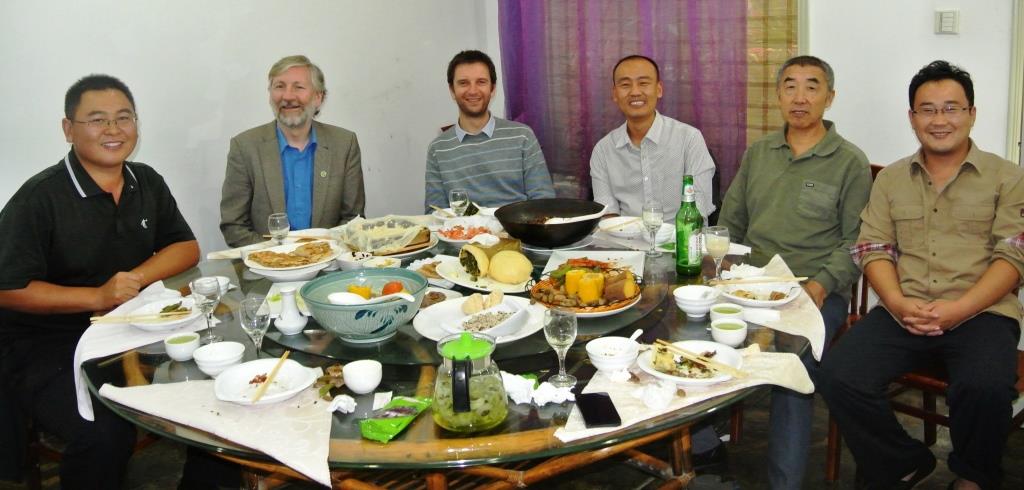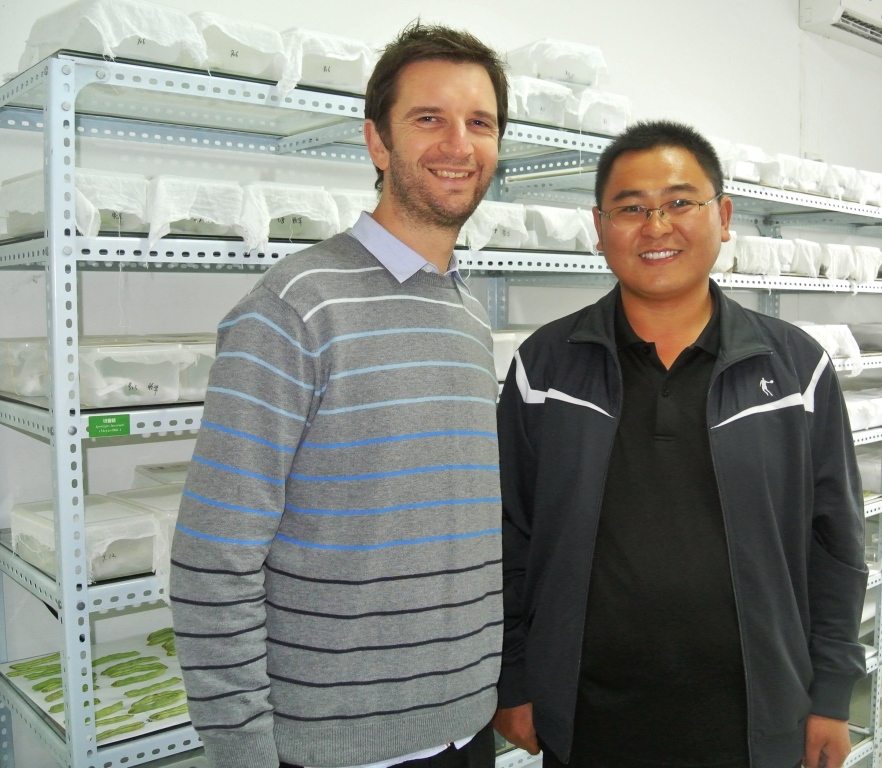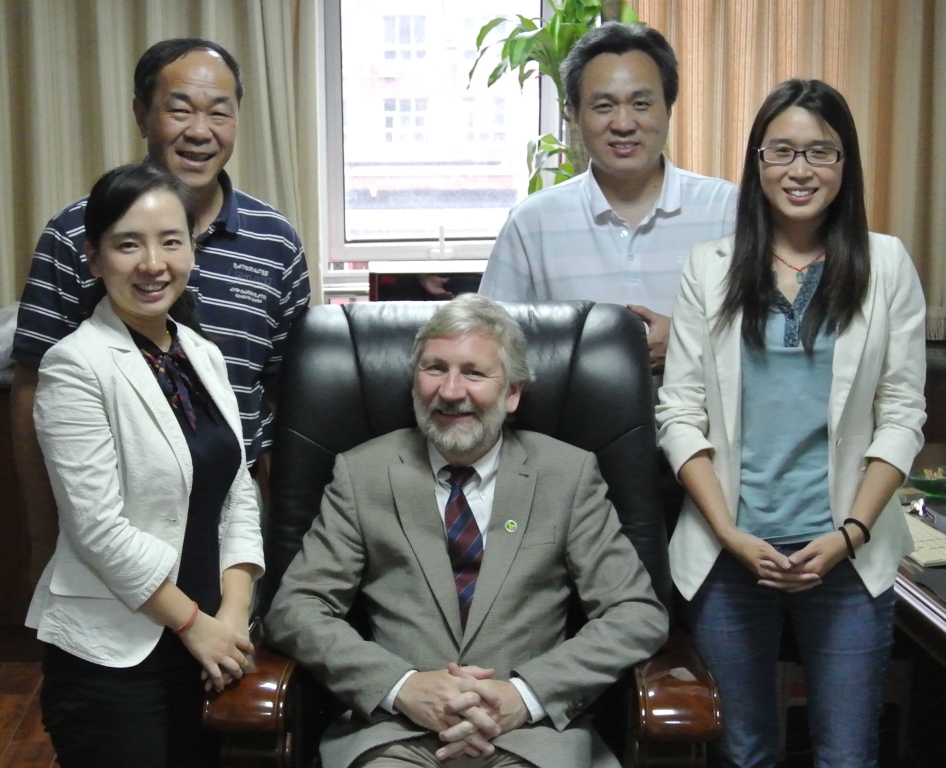 Rob and Ken in China with their wonderful hosts © Ken Wilson.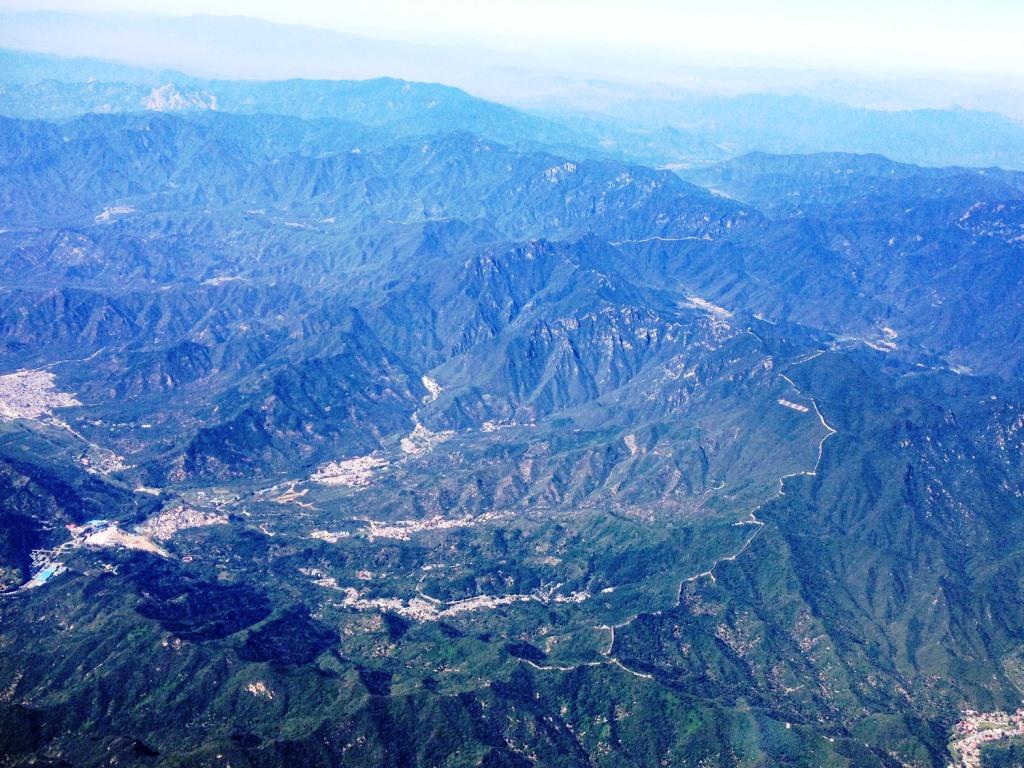 August 2013
Ken visits Australia (Aug 26th - Sep 20th):
Ken spends part of his Royal Society Leverhulme Trust Senior Research Fellowship in Steve Simpson's lab in Sydney. A great few weeks analysing data and discussing science!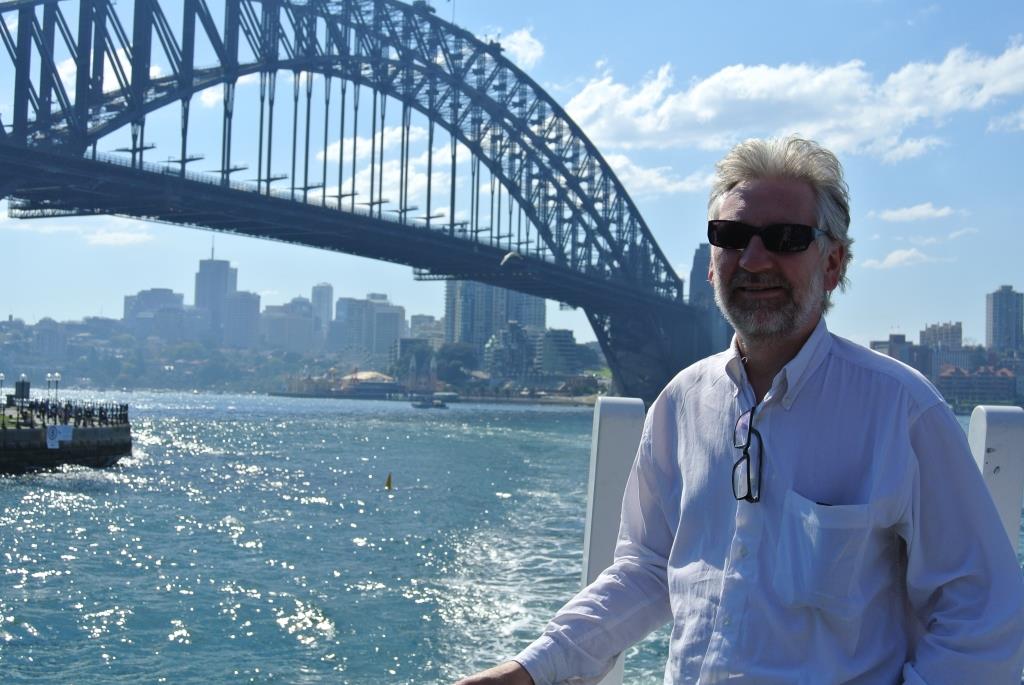 Ken at Sydney Harbour Bridge © Ken Wilson.
Congratulations to Jo Randall (Aug 22nd):
Jo has been elected to the Council as the British Ecological Society Early Career Representative!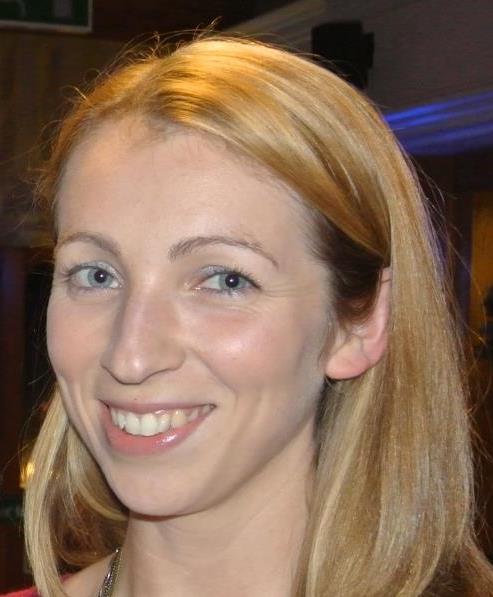 Jo celebrating her election to BES Council © Ken Wilson.
INTECOL (Aug 18th - 23rd):
Several iPEG and Biodiversity Theme staff and students present at the International Ecology meeting at the Excel Arena in London. Speakers included Jo and Ken. One of the symposia at the meeting, "Wildlife Disease Ecology", was sponsored by Journal of Animal Ecology and organised by Ken and Mike Boots (editors).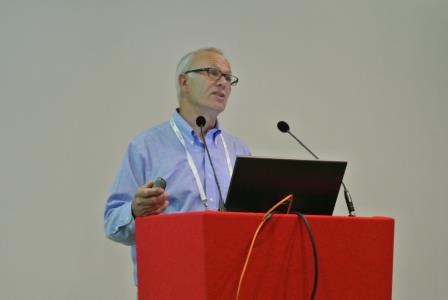 Prof Peter Hudson presented at Intecol © Ken Wilson.

July 2013
Royal Society Summer Science Exhibition (Jul 4th):
Ken is invited to attend the RS Summer Science Exhbition Soiree - some great exhibits and wonderful science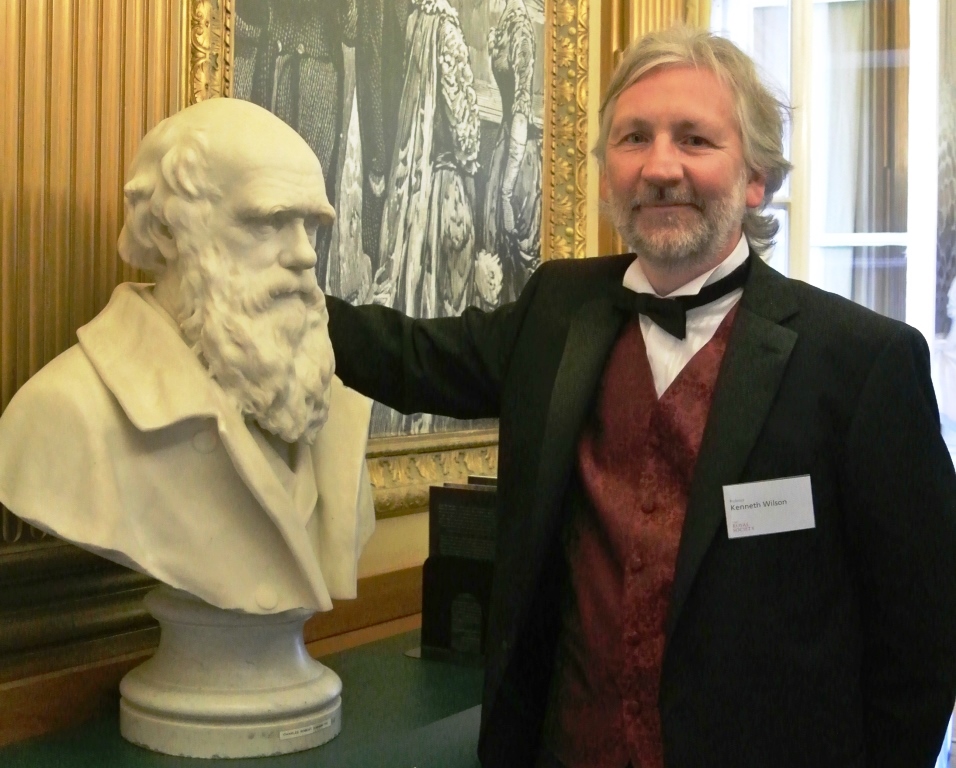 Royal Society Summer Science Exhibition - Charles Darwin and Ken © Judith Smith.

June2013
Bee news (Jun 15th):
Emily, Philip and Ken attend the formal opening of the Lancaster Beekeepers Apiary at Yealand Conyers. Speakers at the meeting included Councillor June Ashworth, Mayor of Lancaster; Dr Adam Vanbergen (CEH), Science Coordinator, "Insect Pollinator Initiative"; David Askew, Arnside & Silverdale AONB; and Dr David Aston, Chairman of the British Beekeepers Association.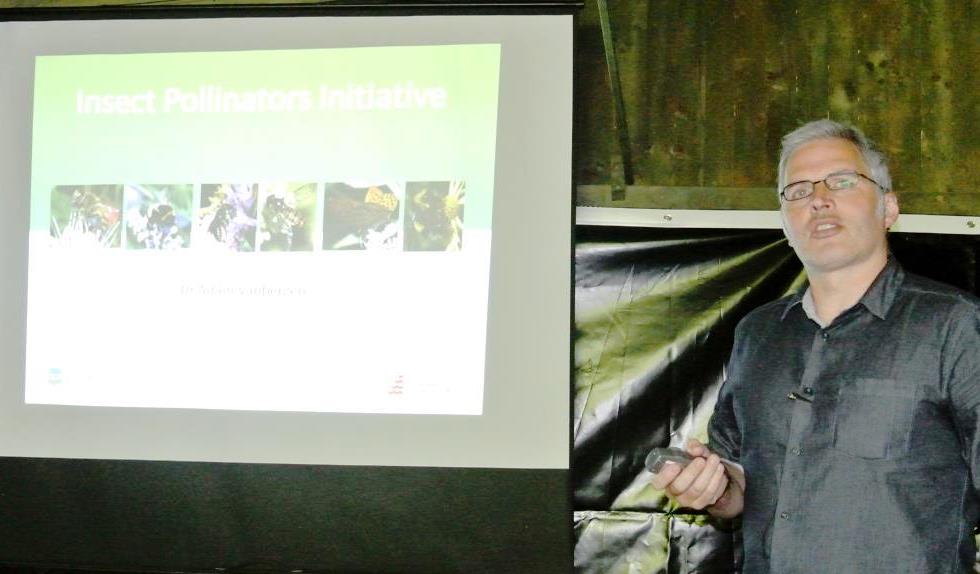 LBKA apiary opening: Adam Vanbergen © Ken Wilson.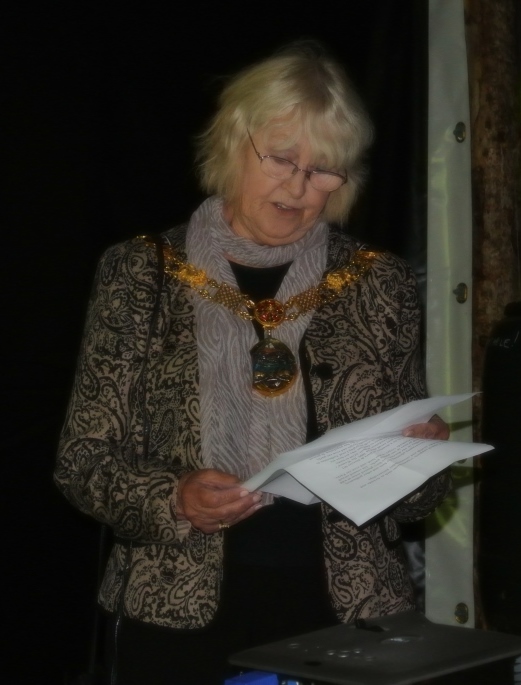 Major of Lancaster, June Ashworth © Ken Wilson.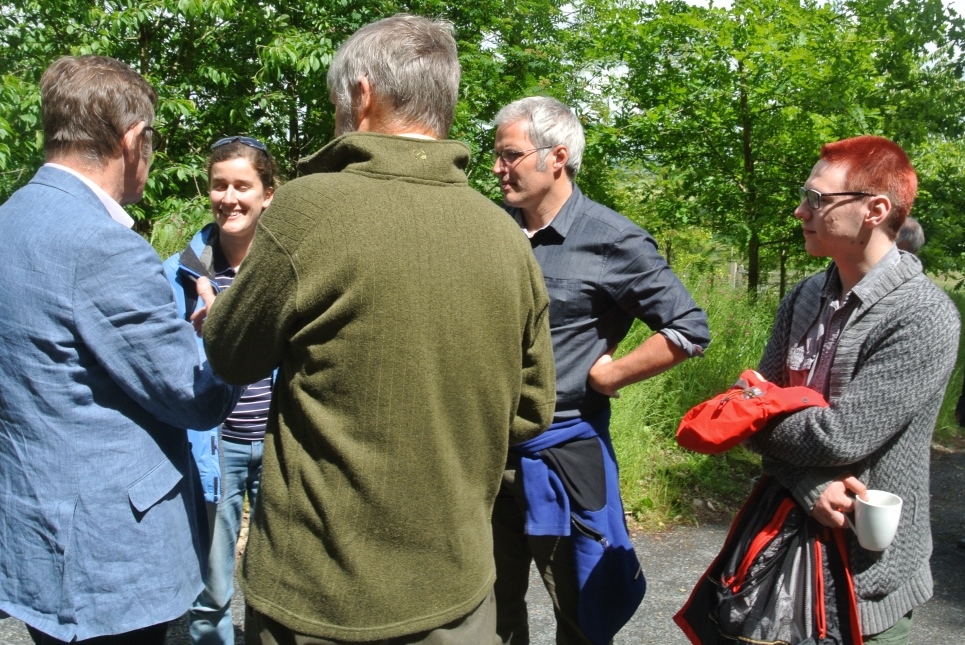 Martin Tovey, President of BBKA, Emily, David Aston, Chair BBKA, Adam and Philip © Ken Wilson.
Seminar - Falmouth (Jun 28th):
Ken visits the University of Exeter at Falmouth to give a seminar on the armyworm baculovirus project. A wonderful group of ecologists and a majestic coastline.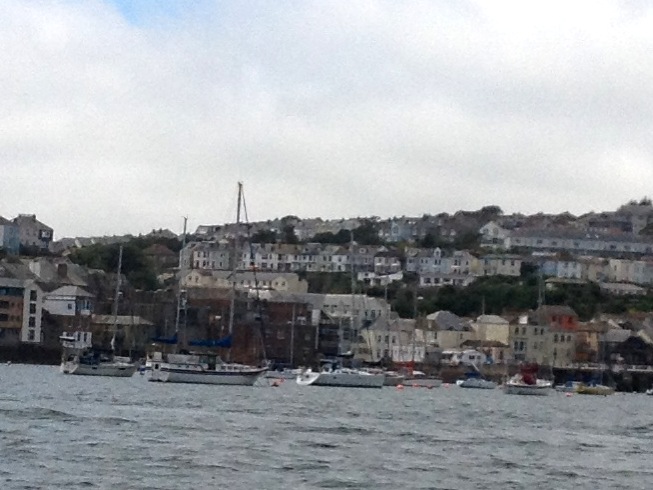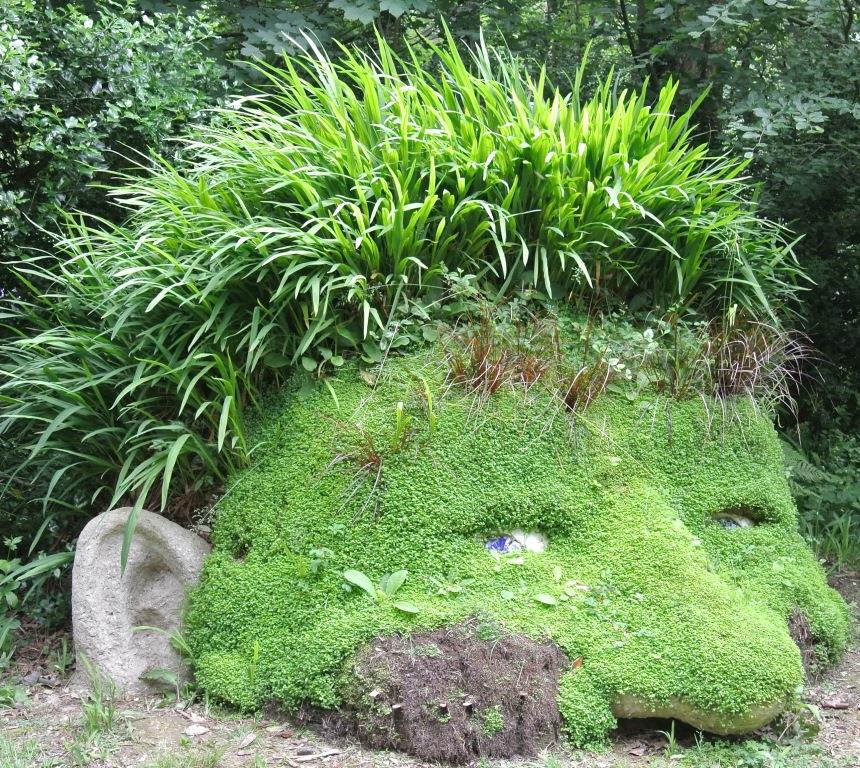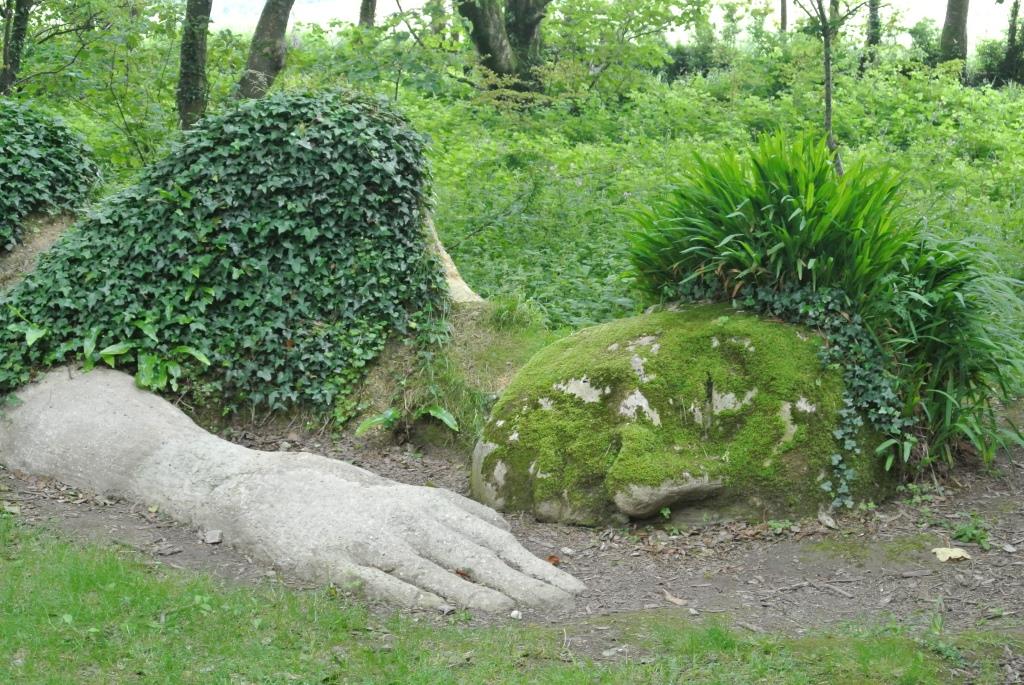 Falmouth: Falmouth Bay and Veg-heads at The Lost Gardens of Heligan © Ken Wilson.

May 2013
Nutrition workshop in Bonn (May 1st - 4th):
Jo and Ken present at a wonderful international workshop entitled 'Mechanisms of Insect Nutritional Homeostasis' at the University of Bonn's LIMES institute organised by Jeri Wright (Newcastle) and Michael Pankratz (Bonn). Speakers included Steve Simpson, David Raubenheimer, Spence Behmer and Scott Waddell.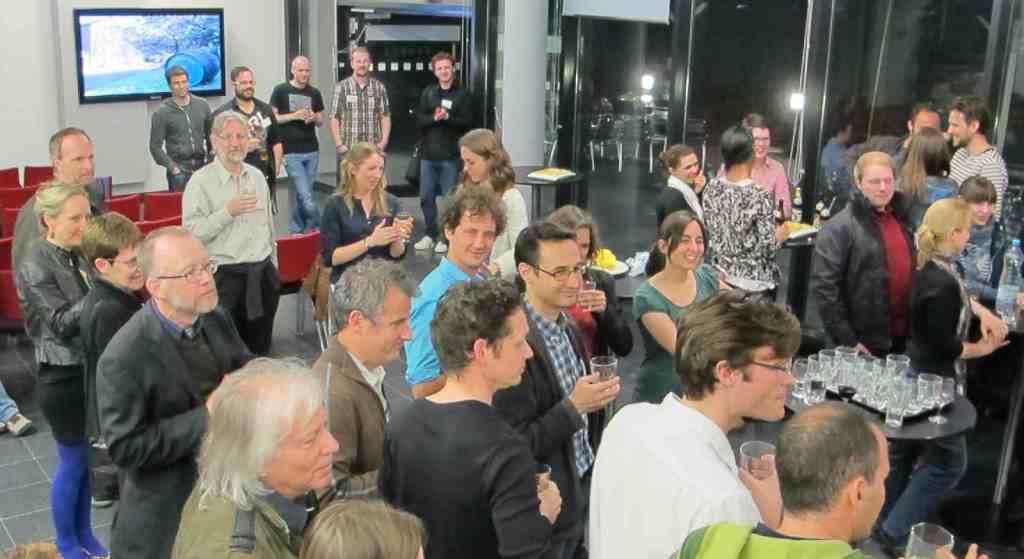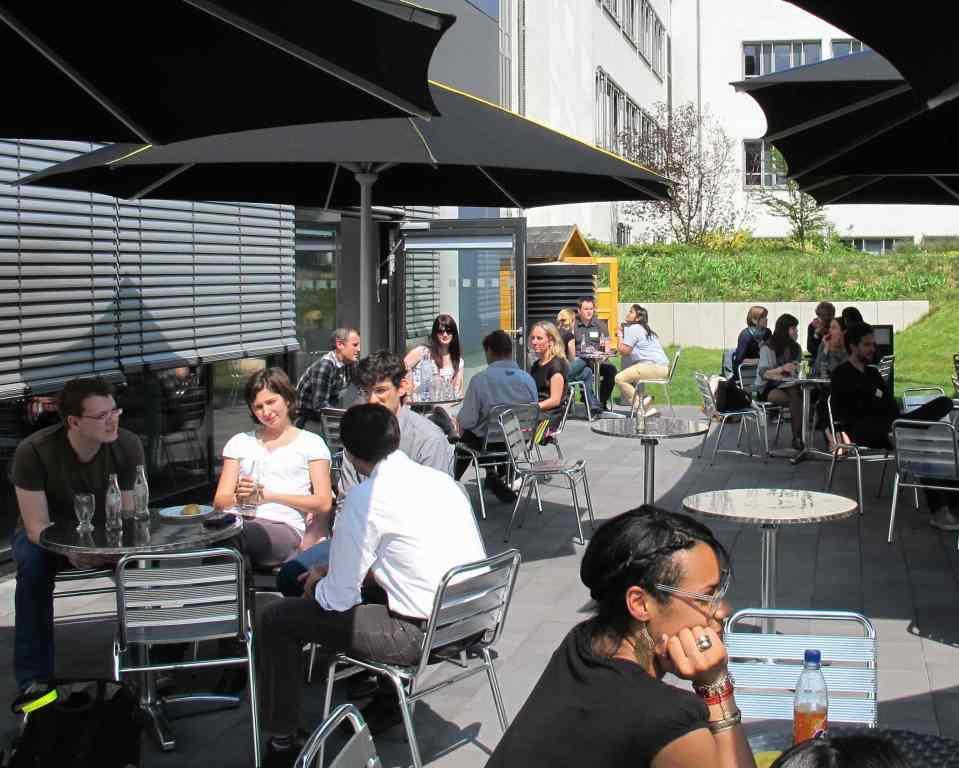 Bonn workshop delegates © Karl Crailsheim.
Nutrition workshop at Royal Society (May 29th - 31st):
Ken and Sheena attend an excellent workshop on 'Nutrition and Ageing' at the Kavli Royal Society International Centre in Buckinghamshire. The meeting was organised by John Hunt (Exeter) and other delegates included Tom Kirkwood, Dan Nussey, David Le Couteur and Nick Priest.

April 2013
iPEG Social: Wray Scarecrow Festival (Apr 26th - May 6th):iPEG staff and students dispaly scarecrows at Wray Scarecrow Festival. One of the themes for this year's festival is "Read Me!" and iPEG exhibit 3 scarecrows - a 9 ft tall 'Queen of Hearts', a recycled 'George & The Dragon' and a Groucho Marx 'Outside of a dog, a book is a man's best friend; inside of a dog it's too dark to read'. For more scarecrow photos see here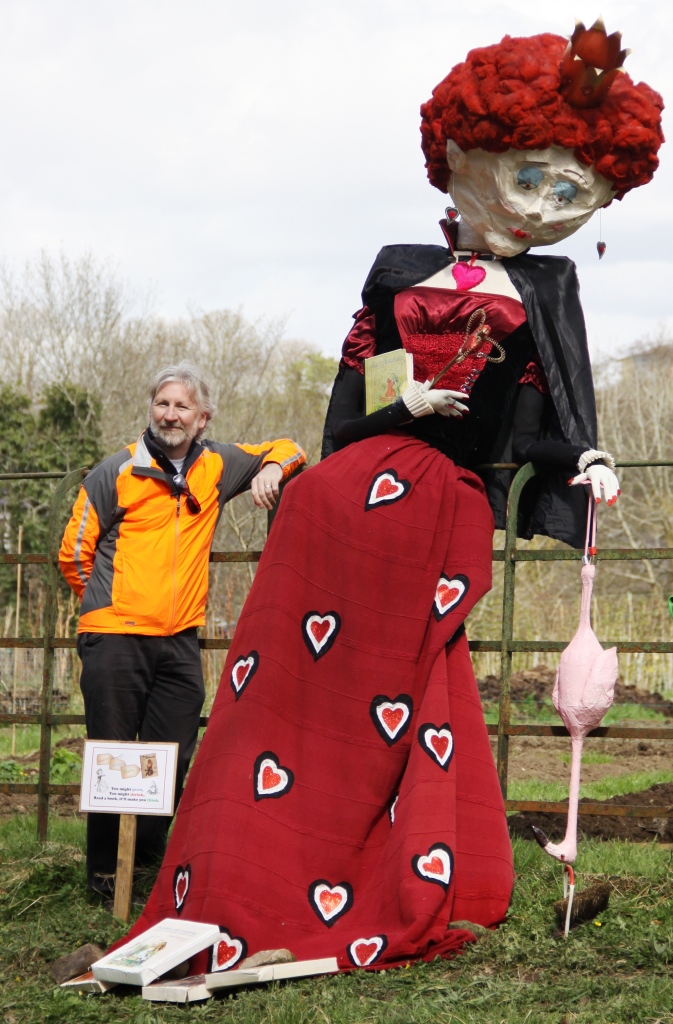 Scarecrows in Wray: Queen of Hearts with Ken © Ken Wilson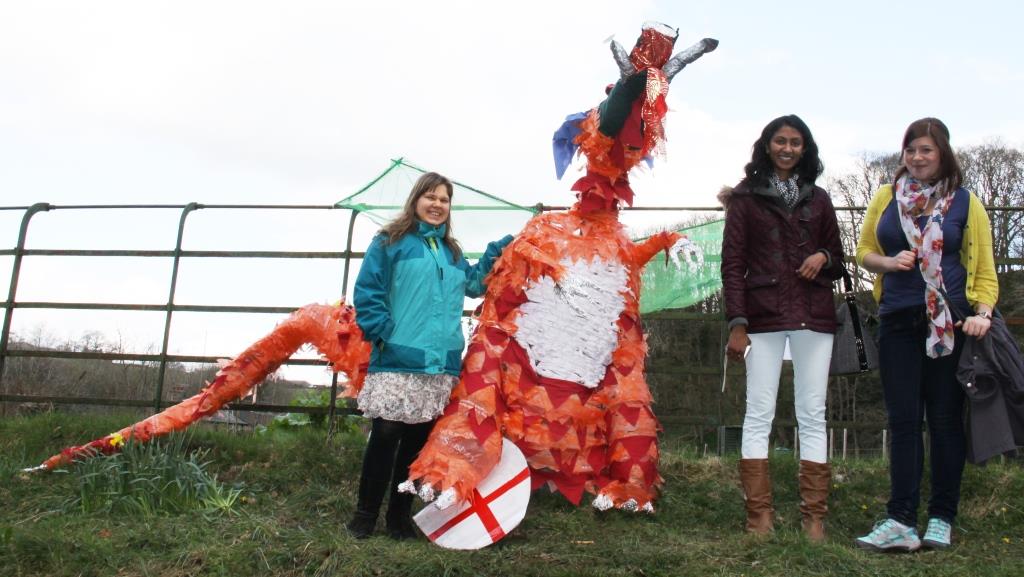 George & Dragon with Yamini and Steph © Ken Wilson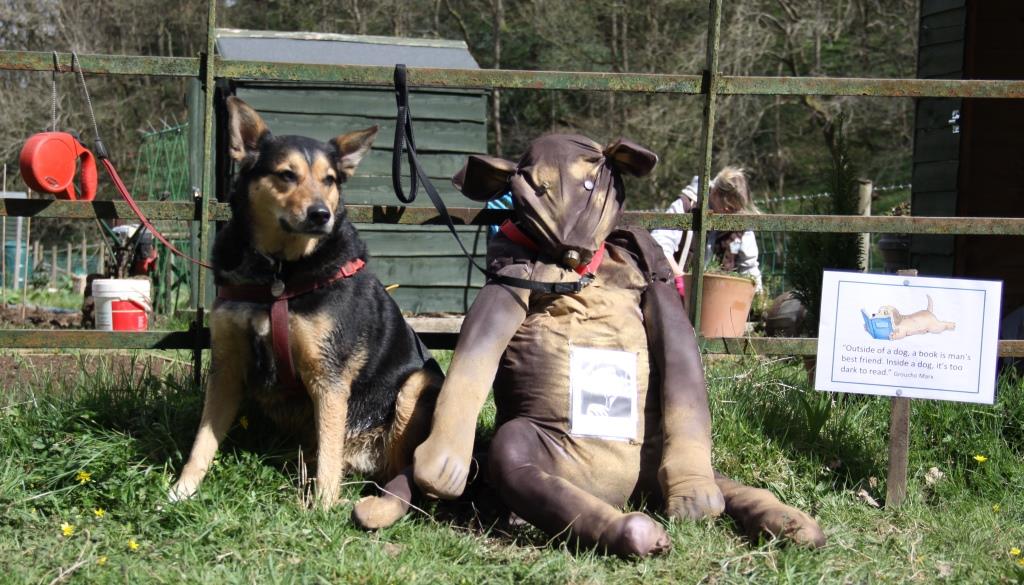 Quaver with Groucho Marx's dog © Ken Wilson
Video Blog (Apr 29th): The Global Food Security website releases a video blog made by Ken and the BBSRC. To read the blog or leave a comment, click here. The work also features on DFID's website here. The research was also highlighted in the BBSRC Business Spring 2013 magazine - click on the magazine below to view the article.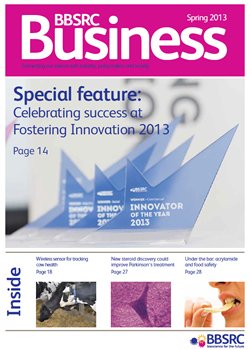 Hunting the African armyworm © bbsrcmedia.
Conference season (BSP: Apr 8th - 14th): British Society for Parasitology holds its Spring meeting in Bristol, with one of the highlights being a series of sessions on the ecology of wildlife diseases. Ken talks about the armyworm work.

March 2013
Quiet month: As Spring approaches, iPEG settles down to preparing for the coming field seasons and writing up papers and grant applications....and Ken goes skiing.

Febuary 2013
Fieldwork in Tanzania (Feb 20th - Mar 9th): Ken visits fourth African country in 8 weeks by going to Tanzania to conduct SpexNPV 'harvesting trial' and to train technicians at Crop Biosciences Ltd, in methods for culturing African armyworms.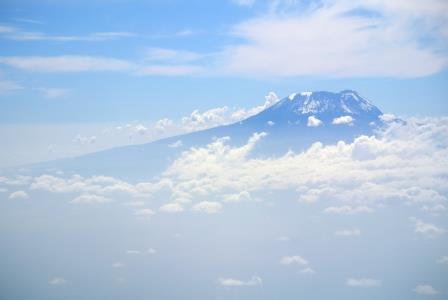 Mt Kilimanjaro, as viewed from the Precision Air flight from Nairobi © Ken Wilson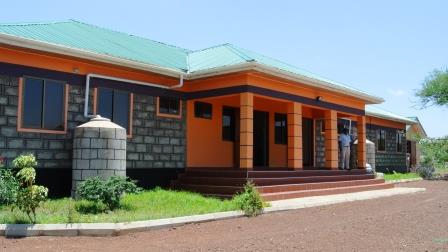 Crop Biosciences laboratory in Arusha © Ken Wilson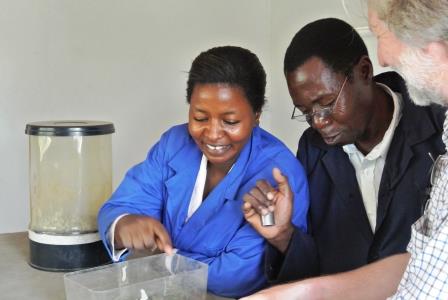 Ken training CB technicians in armyworm culturing methods

January 2013
BBSRC release video diary from Ken's trip to Zambia (Jan 28th): The video footage was recorded just prior to Christmas as Ken jetted out for a whirlwind trip to the country as it was being hit by armyworms. See news story on BBSRC website here. The video was also covered by DFID (Department for International Development) here. And by a science blog here.
ADAPPT 1st International Conference on Pesticidal Plants - ICPP (Jan 21st - 24th): Ken and Saskia Vermeylen present some of their findings from their ESPA project "Bridging Knowledge Systems" on using pesticidal plants to combat storage and field pests in Zambia.

ARCHIVE:
2012
2011
2010
2009