---

Project Activities.
The Project Team completed a full shooting list of desiderata of manuscript material from York archives, and a detailed breakdown of core material from the British Library. Scanning with the British Library Kontron camera proceeded, though progress here was inevitably somewhat slowed down by the demands made on staff time by the impending move to the St Pancras site. Olga Horner spent a very productive time in the Public Record Office, and we have continued to locate material in other libraries.
Another grant from UCSM has enabled us to pay St Martin's Imaging Science Department to scan further Project material: particularly Ektas of manuscript illuminations, and the E. Martin Browne Archive (see below). The Project Directors attended a course on imaging science at St Martin's.
Some time was spent in consolidating and writing up our research, notably on the 'Bolton Hours', on the relationship between the organisation of the York Corpus Christi Play and the liturgy, and on York Aliens and the Hull Customs accounts.
---
The E. Martin Browne Archive.
This archive, which consists of all Martin Browne's material on his productions of medieval religious drama, including the York Mystery Play revival, was given by him just before his death to Medieval English Theatre, and is housed at Lancaster. The Project decided that an electronic archive should be made of this material as a matter of urgency, starting with the 1951 Festival of Britain revival.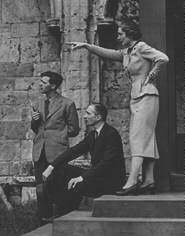 The archive consists of scrap-books, prompt copies, notes, programmes, correspondence, and photographs, most importantly of the 1950s and 1960s York productions, and includes eleven minutes of unique sound-recording of the 1951 production (including some lines from Doomsday), which has been lodged with the National Sound Archive in Kensington, who decoded it for us.
Norah Lambourne, who designed the set and costumes from 1951-1957, has very kindly lent us her material to be scanned and added to the electronic archive. This work is ongoing, and a detailed catalogue of these scans is being prepared by Ms. Helen Bennett, a Lancaster graduate.
Back to top.

---
The Belgian Connection: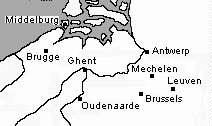 In April 1997 the Project received a grant of BEF 120,000 and £2,160 from the Fonds voor Wetenschappelijk Onderzoek - Vlanderen of Belgium and the British Council for a joint project with the Centre for Medieval Studies, Katholieke Universiteit, Leuven on links between Britain and the Low Countries in the later Middle Ages, with special emphasis on mercantile and cultural connections and pageantry.
The Project Directors made an initial visit to Leuven in July, to pursue research and discuss different aspects of the Project with key contacts. We particularly wish to thank our co-Director, Dr. Guido Latré, for his hospitality and advice; Professor Maurits Smeyers and Dr. Bert Cardon of the Studie Centrum voor Vlaamse Miniaturisten, who generously shared their expertise with us (particularly on the style and iconography of the 'Bolton Hours', and made us free of their impressive collection of slides and prints of pre-Eyckian miniatures; and Dr Chris Coppens, Keeper of Rare Books and Manuscripts in the University Library, who gave us access to his enviable codicological resources, and to material on William Boonen.
We also explored the countryside round Heist-op-den-Berg, locating places from which Brabant tradesmen emigrated to York, and where, according to their wills, they left relations and property; and went to Köln to look at Doomsday paintings in the Wallraf-Richartz Museum. (Professor King subsequently made a preliminary visit to the Van Eyck Doomsday painting in the Hôtel Dieu, Beaune.)
It was decided that the Project's initial production would be the dual-language edition and translation by Professor Twycross and Dr Latré of the ommegang section of the Liber Boonen on which work has already started.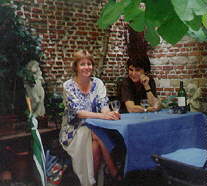 The Project Directors in Antwerp: Dr Latré is represented by his umbrella.


Back to top.

---

Publications:
Pamela M. King and Meg Twycross 'Beyond REED? The York Doomsday Project' Medieval English Theatre 17 (1997 for 1995), 132—148.
Pamela M. King 'The York and Coventry Mystery Cycles: a comparative model of civic response to growth and recession' Records of Early English Drama Newsletter 22:1 (1997) 20—25.
Pamela M. King 'Records of Early English Drama: Reflections of a Hardened User', Medieval English Theatre 17 (1997 for 1995) 52—57.
Meg Twycross 'The York Mercers' Lewent Brede and the Hanseatic Trade' Medieval English Theatre 17 (1997 for 1995) 96—119.
Meg Twycross 'Records of Medieval English Theatre' Archives (Journal of the British Records Association: 1997).

---

Conference Papers:
The Project sponsored a session at the May 1997 Colloquium for Medieval Studies at Kalamazoo, chaired by Andrew Prescott of the British Library. Papers were:
Louise Wheatley (Assistant Archivist, The Worshipful Company of Merchant Adventurers, York): 'The York Mercers' Records and the Organisation of their Doomsday Play';
Pamela M. King 'York Mystery Plays at the Festival of Britain, 1951: a multi-media presentation', based on the E. Martin Browne Archive;
Meg Twycross 'Aliens in York up to 1470' (read by Andrew Prescott due to her illness).

Other talks and conference papers included:
Pamela M. King, 'The York Doomsday Project 1995-1996' (multimedia presentation; CCUE meeting, Loughborough, 10-12 September 1996);
Meg Twycross 'Records of Medieval English Theatre' (British Records Association, SOAS, London University, December 1996);
Pamela M. King 'Clock, Calendar, Text: the Liturgy and the York Cycle of Mystery Plays' (Social History Society, University of Lancaster, January 1997);
Meg Twycross 'Celebrating Famous Women' (Annual Tucker-Cruise Lecture, Bristol University, February 1997): on the Leuven ommegang;
Pamela M. King 'The Coventry Plays and the Advantages of Electronic Facsimile' (Early Book Society, University College of Wales, Lampeter July 1997);
The Project Directors also attended, by invitation, the inaugural one-day symposium of the York Medieval Centre's 'Urban Household' Project, and engaged in an exchange of views on the 'Bolton Hours'.
Back to top.


---
---
&copy The York Doomsday Project and Meg Twycross